School's out, and the heat is on. Your kids are itching for fun, but you don't want to break the bank. New York is full of wallet-friendly, family- style events—from free movies with a view to free kayaking—that will keep boredom at bay until the school bell rings in September. Best of all, you won't have to deal with fidgety tots squirming in the backseat, as you can get to each of these events without a car.
1. What: Staten Island Yankees Baseball
Where: Richmond County Bank Ballpark, 75 Richmond Terrace, Staten Island
When: The season runs until September
The Financials: There are several bargain-priced promos. Wendy's Friends & Family Night gives you four tickets, four Staten Island Yankees hats and four vouchers for Wendy's Combo Meals for $36, or $9 per person. Note that there is no Wendy's at the ballpark, but you can use the vouchers at another time. If you can get a group of 10 together, try the all-you-can-eat option, which includes admission and unlimited quantities of hot dogs, burgers, chicken sandwiches, popcorn and soda for $20 per person. Summer birthday party anyone?
Why: The casual atmosphere here means that much of the fun takes place between innings, with activities like on-field races, t-shirt giveaways and fireworks. The level of play may not be stellar, but the low-key charm of minor league baseball hits a home run. The great view of New York Harbor offers lots of scenic appeal.
How to get there: Staten Island Ferry to the St. George Ferry Terminal. Richmond County Bank Ballpark is across the street.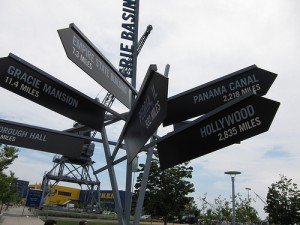 2. What: Ikea Water Taxi | info.ikea-usa.com

Where: The Ikea Water Taxi departs from Pier 11, located in lower Manhattan on South Street and Gouverneur Lane and takes you to Ikea in Red Hook, Brooklyn
When: The ferry departs every 40 minutes, starting at 11 a.m. on weekends, 2 p.m. weekdays
Why: This 20-minute ferry ride serves up great views of Manhattan and cool breezes. Ikea is surprisingly popular with the junior crowd. The Scandinavian mentality behind this conglomerate makes shopping as painless as possible. Drop the kids off in the playroom for a spell, have lunch at the cafeteria where a kid's meal will only set you back $2.49, and bring home a bag of frozen meatballs. When you crave a breath of fresh air, take a stroll around Red Hook and visit Erie Basin Park.  The park has some free family events scheduled, including a Maritime and Pirates Fest on July 30, and a Sunset Concert and Movie on August 30.
The Financials: Kids twelve and under ride free at all times. Everyone rides free on weekends. Monday-Friday will cost adults $10 round-trip, but if you purchase $10 worth of goods at Ikea, you will be reimbursed with store credit.
3. What: Swimming at the Astoria Pool | nycgovparks.org
Where: Astoria Park, 19th St and 23rd Dr., Astoria
When: Open through Labor Day
Why: This 330-foot family-oriented pool is the largest in NYC and it is a beauty. There is a 32-foot-high diving platform and a wading pool. Views here are so scenic, they should be on the inside of a snow globe. The snack bar serves up hot dogs and other summertime classics.
The Financials: Free
How to get there: N or Q train to DITMARS BLVD – ASTORIA STATION, walk Northwest for about 5 blocks.
4. What: Seastreak Ferry | seastreakusa.com
Where: Sandy Hook, NJ
When: Monday-Friday, kids ride free through September 5th
Why: Travel 40-minutes by ferry and spend a day at the beach in Sandy Hook, NJ.  The Ferry departs from East 35 and Pier 11 in lower Manhattan, near South Street Seaport on South Street and Gouverneur Lane. Once you arrive, you can start splashing in the surf.  This seven-mile stretch of ocean and bay beaches is packed on weekends, but you should have plenty of room to build sand castles during the week.  Free shuttle buses meet the ferry, and will drop you off at the beach of your choice.
The Financials: Two kids twelve and under travel free per adult, who pay $43 round-trip.
5. What: The Hong Kong Dragon Boat Festival | hkdbf-ny.org
Where: Flushing Meadows-Corona Park, Meadow Lake
When: August 4 and 5, 9 a.m.-5 p.m.
Why: This multicultural gathering is one of the largest Asian-American festivals in the world. Hundreds compete in this test of endurance, technique and teamwork. Each team rows a narrow boat decorated like a Chinese dragon with a colorful head and tail. Music, dancing, martial arts demonstrations, an ethnic food court, and lots more to entice the family.
The Financials: Free
How to get there: #7 train to Mets-Willets Point Station, transfer to the special event bus.
Allison is a native New Yorker, who has lived in Rome, Tuscany, Melbourne, Toronto and Los Angeles. She frequently contributes travel pieces to Family Travel Forum, using her own children as guinea pigs as they travel the globe. She is fluent in Italian and Spanish and laughably adequate in French. Her background as an Early Childhood Educator gives her an added understanding of what it takes to travel with kids in tow. She firmly believes that the most important part of education takes place outside of the classroom, on the road, around the world. She never misses a chance to sample local delicacies, as her love for travel goes hand-in-hand with her love for food and wine. Follow Allison at @gourmetrav.