Brookline's so close to Boston (walking distance to Fenway) that it feels more like an extension of the city than what it is: a town with its own distinct identity. Known in the 1600s as the Hamlet of the Muddy River—which soon gave way to the town's brook-inspired name—and what was once a popular summer retreat for wealthy 19th century Bostonians is today home to nearly 60,000 residents.
Brooklineites have it all at their fingertips: green spaces (like the uncrowded, rockstar-view Corey Hill Park and Larz Anderson Park), history (like JFK's birthplace and the colonial Devotion House), the arts (like beloved indie film spot Coolidge Corner Theater) and, in between, a city's worth of killer eating options.
The food in Brookline is a reflection of its population: diverse, with a significant Jewish influence. The journey from Coolidge Corner to Washington alone offers a full weekend's worth of eclectic noshing.
COOLIDGE CORNER | Getting There: Take the Outbound Green Line C train to Coolidge Corner.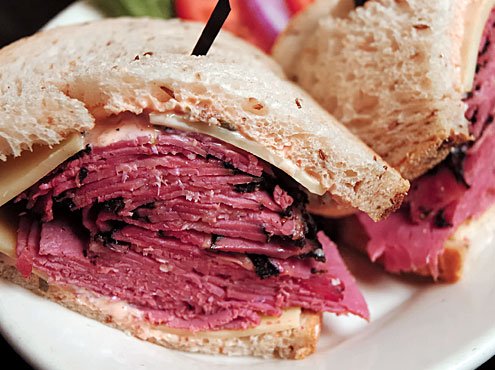 Zaftig's | 335 Harvard Street | 617.975.0075 | zaftigs.com
Almost Kosher (read the t-shirts), Zaftig's is arguably Boston's best deli and a solid choice for those in search of a fluffy bagel and housemade gravlax (thinly sliced raw salmon cured in sugar, salt and dill). Zaftig is a loving Yiddish term for "plump," and you may find yourself pleasantly so once you get hooked on Zaftig's hot corned beef and brisket sandwiches, cheese blintzes and decadent challah French toast.
Ramis | 324 Harvard Street | 617.FALAFEL | ramisboston.com
Pop into this small shop for fresh, kosher Sephardic Israeli eats. Jerusalem natives, Rami's owners focus on what they know best: Middle Eastern staples like shawarma (there is turkey), hummus, Israeli salad, bourekas (puff pastry with a variety of fillings), not-to-be-missed falafel and sweet Baklava.
When Pigs Fly | 1378A Beacon Street | 617.232.1077 | sendbread.com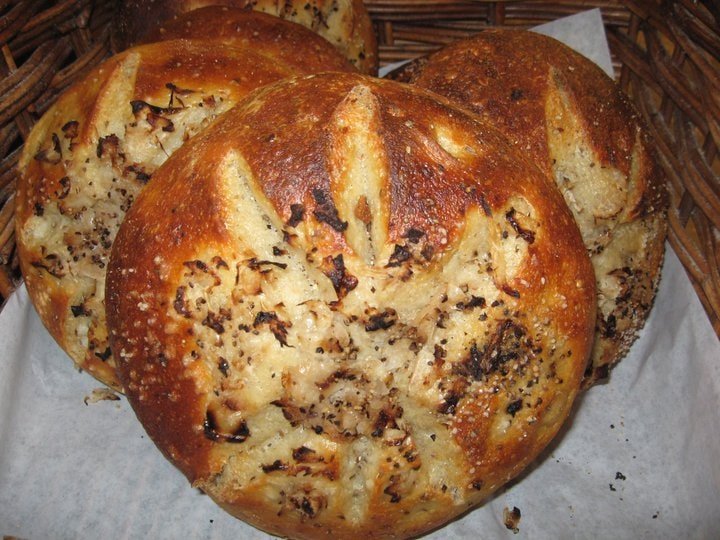 Another local chain, When Pigs Fly has six stores in Maine and Massachusetts. They mix all of their breads from scratch daily with all-natural ingredients. WPF's "Classic Breads" include the popular, chewy-crusted sourdough, the apple, raisin, walnut and seed-studded harvest bread and the hearty, organic wheat flour, molasses-infused Tuscan wheat. "Artisan Breads" include a range of crusty, savory and sweet goodness like strawberry banana brown sugar, orange, toasted walnut and cranberry and veggie potato latke bread.
Anna's Taqueria |1412 Beacon Street | 617.739.7300 | annastaqueria.com

Remember the day you bothered to pick a side on the Qdoba/Chipotle battle? Now forget it. Those fast-casuals will be memories of the past once you meet Mexican chainlet Anna. There are five Anna's Taqueria gracing the Boston area, but the Coolidge Corner location is the original. Anna's assembly-line service packs fresh ingredients into your choice of burrito, taco, quesadilla or Mexican plate. Fillings include chicken and steak for the meat eaters, grilled veggies for the herbivores and lengua for the champs. The quesadilla is essentially the burrito, but grilled; a stellar choice if you like your tortilla crispy and cheese oozing. Wash it all down with a Jarritos Mexican soda, horchata (sweet, cold Mexican beverage made from crushed almonds and milk) or Jamaica (another traditional, cold Mexican drink made boiled from Passion Flower petals).
Getting there: For a shorter walk, take Green Line C train to Summit Ave stop
WASHINGTON SQUARE | Getting There: Burn off a few carbs from lunch by following Beacon Street for another half mile past Anna's to arrive at Washington Square, or hop on the Green Line C train at Summit Ave or Coolidge Corner and get off at Washington Square.
Athan's European Bakery | 1621 Beacon Street (at Washington Street) | 617.734.7028 | athansbakery.com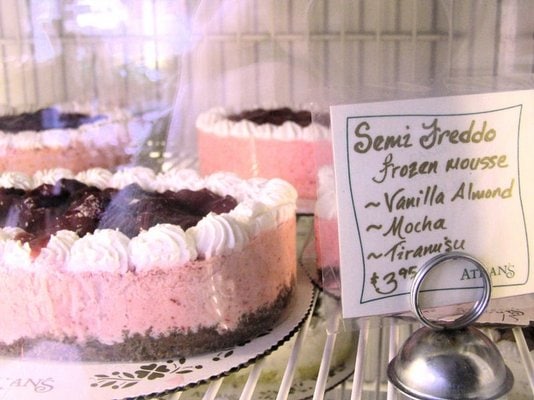 While When Pigs Fly is all New England, Athan's is all Greece. The Brookline/Brighton mainstay actually has a sister store in Greece. If you're feeling overwhelmed by the selection of cookies, cakes, gelatos, breads, chocolates, mousse tortes and pastries, focus on the pastries. From ten flavors of baklava to poufy, airy Napoleons, dark chocolate and cherry-filled Jamaicas and the lemon curd, mousse and sponge layered Citron, you'll still have plenty to choose from. Sample a few sweets at a marble table in the old-world café.
The Fireplace | 1634 Beacon Street | 617.975.1900 | fireplacerest.com

Host to events like Fireside Chats tastings, Jazz Wednesdays and Latin Thursdays, this green certified restaurant serves up New England cuisine in a welcoming, group-friendly environment. If the award-winning braised spring lamb shank (with goat milk cream & garlicky spinach over mixed squash stew & cheesy cornmeal porridge) and cider glazed pork chop (over bourbon spiked grits with smoky cream, hearth baked brussel sprouts & crispy parsnip chips) aren't in your budget (both over $30), check out the more humbly priced "Humble Offerings" for $17-20.
The Publick House Beer Bar & Kitchen | 1648 Beacon Street | 617.277.2880 | thepublickhousebeerbar.com

Settle into one of Publick House's wooden church pew seats with your pick of some 150 artisanal beers. The bar boasts 27 rotating drafts, with a host of exclusively Belgian beers served in the "Monk's Cell." Pair your brew with a heaping pot of mussels in one of four beer-infused sauces, with grilled bread for dipping and a side of house Belgian frites; or add more comfort to your fireside setting with Belgian meatballs with braised onion, Belgian endive and Duvel gravy or a mac & cheese of orecchetti pasta doused in a five-cheese sauce and your choice of add-ins like bacon, scallop and truffle cream.
The Longwood Inn | 123 Longwood Ave. | 617.566. 8615 | longwood-inn.com
A Victorian mansion built in the early 1900's has modern amenities like free wifi and affordable rates from $134 per night. The property's tranquil tree-shrouded environment and relaxing rooms are much appreciated after a day spent eating and exploring your way through Brookline. The inn is located three blocks from four different subway stops on two different branches of the MBTA's green line.
How to get there: Consult oM's Public Transportation Guide to Boston, then read oM's guide to the best things to do in Boston
A Self-Guided Brookline Food Tour

View A Self-Guided Brookline Food in a larger map
Photos:Kent Kanouse, respective destinations