What: 2011 Philadelphia International Flower Show: Springtime in Paris
Where: Pennsylvania Convention Center, 12th & Arch Streets, Philadelphia, PA
When: Sunday, March 6 through Sunday, March 13. Mon-Fri: 10:30 am to 9:30 pm, Sat: 8 am to 9:30 pm, Sun: 8 am to 6 pm
Why: You need a dose of vie en rose while the March skies are still shaded grey. No site is more spectacular for the senses than the 10-acre Philadelphia International Flower Show, brimming with blooms that, crocuses aside, are the first signal of winter's demise.
Philly, Je t'aime
A Taste of French Culture in the
City of Brotherly Love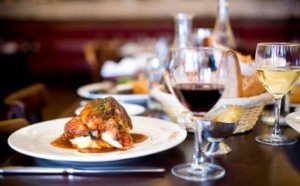 Parc (227 South 18th St.) Don't miss this French bistro & outdoor cafe for brunch and people-watching along Rittenhouse Square.
Philadelphia Museum of Art (26th St. and the Benjamin Franklin Parkway) March 1 marks the opening of the exhibit Paris Through the Window: Marc Chagall and His Circle.
Miel Patisserie (204 South 17th St.) Craving a French macaron or pastry? Miel's are a must.
L'Etage (624 South 6th St.) This cabaret and night club, with its unique Parisian flair, is a Philly hot spot for cocktails and dancing.
Beau Monde (624 South 6th St.) Enjoy sweet or savory crepes at L'Etage's relaxed downstairs neighbor, a restaurant modeled after a traditional Breton creperie.
Bistrot La Minette (623 South 6th St.) This restaurant's classic French dishes, from escargot to boef Bourguignon, are local favorites.
Caribou Cafe (1126 Walnut St.) Stop by this cozy bistro for authentic French dishes from Provence, Gascony, Loire, Burgundy, Brittany, Paris, Lyon and more, plus a stunning Art Deco bar.
Save the $700 plane fare to the City of Light and hop a train or bus to Philadelphia, where the best of Paris, from the jardins and sidewalk cafes to the artwork and catacombs, beckons for one week in March. The show pays tribute to the many sides of Paris, from the opulent and the romantic to the gourmet and the artistic, with thousands of floral displays and competitions. Plan to spend the day or stay overnight, since the world's oldest and largest indoor flower show offers more than just an opportunity to be intoxicated by the flora. Stroll through Parisian-inspired indoor gardens, with larger-than-life topiaries, a 33-foot recreated arch of the Eiffel Tower and tributes to great French artists.
Visit the Carousel Stage for dance and cabaret performances. Stop by the Gardener's Studio for hourly demonstrations on topics like green roofs, urban foraging, bee keeping, gardening with recycled materials and culinary herbs. Shop for artwork, garden supplies, crafts, plants and flowers from national and international vendors in the indoor Marketplace. Pause for an espresso, Garden Tea or wine and food tasting, or catch culinary demonstrations by local celebrity chefs. Did we mention that the annual event is one of the 1,000 Places to See Before You Die, according to the 2003 bestseller of the same name? Francophile or non, it's your must-see ticket to spring.
Parents, bring the kids for Family Nights on March 11 and 12, and be sure to stop by the Family Lounge for crafts, games and videos (or a moment's rest) during your visit.
Proceeds from the Philadelphia International Flower Show support the Pennsylvania Horticultural Society's Philadelphia Green program, which restores neighborhood parks, creates community gardens, conducts large-scale tree plantings, revitalizes vacant land, engages thousands of citizens in community development activities, and maintains treasured public landscapes. As the nation's largest comprehensive community greening program, Philadelphia Green serves as a model for cities across the U.S.
Cost: Adult Opening Day (March 6th): $30, Adult Monday-Friday: $26, Adult Closing Weekend (Sat., March 12 and Sun., March 13): $28, Student (17-24): $20, Child: $15.
A specially priced Family Fun Pak includes tickets for two adults and two children and a one-year membership in the Pennsylvania Horticultural Society for $70.
Order tickets online or purchase at the show box office.
*Pick up a Bloomin' Fun Pass (or download one here) for discounts on dining, shopping and entertainment during the Flower Show.
Book a stay: Check out Flower Show packages at local hotels, included the Sofitel Philadelphia, which was awarded the eco-friendly 4 Green Keys certification.
How to get there: Consult the Philadelphia Transportation guide in the Transportation Advisor section of offManhattan.
Photo: Courtesy of Pennsylvania Horticulture Society and Parc Restaurant