Abby Denson is the founder and creative spirit behind TheCitySweetTooth. She draws and documents the best pastry shops, bakeries, and cafes in New York City and beyond. Check out Abby's blog citysweettooth.com or follow her at @citysweettooth.
If you've ever entertained the thought of doing a dessert bar crawl, Brooklyn has a seductive assortment of sweet spots worth an outer borough trip. When the snow has melted, take a walk south on Court Street for some award-winning, locally made ice cream at Blue Marble (196 Court St.) where a cone'll run you $3-$4. During any time of year, turn down Dean Street for a visit to One Girl Cookies (68 Dean St.) for a whoopie pie–with or without some liquid courage–and an adorable classic cookie collection ($1 and up).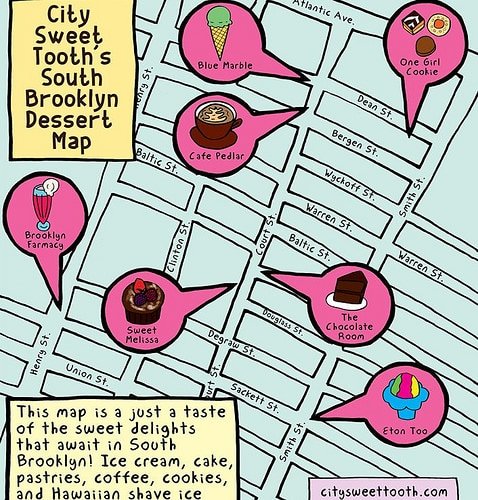 For a good cup of joe, head back up to Court Street and order a Stumptown Latte ($4) at Cafe Pedlar (210 Court St.). If you need to give your dessert pouch a break, Court is choc-full with funky, non-foodie shops like Olive's Very Vintage (434 Court St.), Book Court (163 Court St.), Lily (209 Court St.), and Store 518 (518 Court St.). When you're ready to resume the dessert crawl, stop into The Chocolate Room (269 Court St.) and ask for their flourless chocolate cake, usually listed as a special.
Next up, pop in to Sweet Melissa Patisserie (276 Court St.), brimming with lovely baked goods ($3-$8), a nice tea selection, and delicious savories. Head west towards the nostalgic Brooklyn Farmacy & Soda Fountain (513 Henry St.), home of soda jerks, egg creams, and killer sundaes ($2.50 and up). Finally, stroll over to Smith Street and check out Eton Too, home of some damn good dumplings–the chicken with mushrooms (about $4) are the best. Come spring, finish the tour with a Hawaiian style shave ice topped in syrups of your choice.