Once part of the long dismantled Greystone estate, Untermyer Park in Yonkers is yearning for winter visitors. Some claim the grounds have been haunted from the beginning. Upon purchasing Greystone at auction from presidential hopeful Samuel Tilden in 1899, successful lawyer and botanist Samuel Untermyer constructed the gardens for his wife who died before completion. Others argue that David Berkowitz–also known as Son of Sam–cast a pall across the realm with rituals he performed in a cave at the bottom of the property in the 1970s.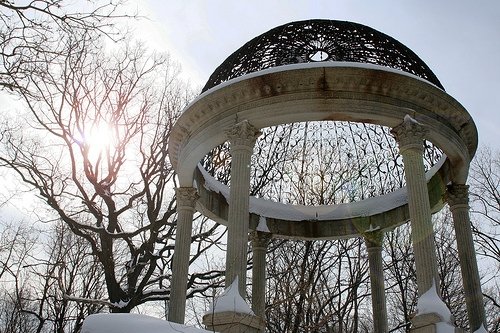 Today, the bewitching lure of the land might be explained by the Beaux-Arts structures, which stand largely forgotten, much as they did when Untermyer died and left Greystone to the State of New York, which was ultimately acquired by the City of Yonkers in 1946. On a recent visit, we discovered no paths were cleared to the enclosed garden. Some gates were locked; the old stone griffins beyond standing sentry. Where the doors are open, you can strap on your snowshoes (or choose to walk) and explore the old property, peeking into the ancient fountains where remnants of once masterful mosaics now lie in a state of ruin.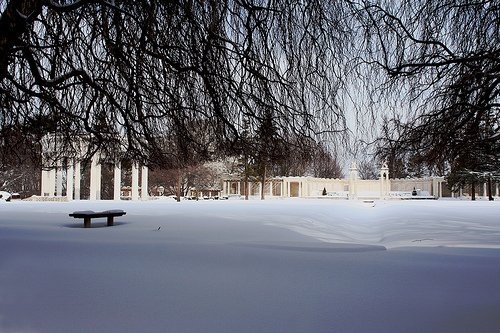 Take a few moments to appreciate the views before crossing the sea of snow to the Eagle's Nest. This long-neglected water feature incorporated into a rock garden and topped with a wrought-iron dome was completed for the society wedding of Untermyer's daughter. Now there is some evidence of teenage vandalism, though it continues to feel like a child's pastoral fortress overlooking the Hudson.
There are other elements of architecture to admire on the property, unless you'd like to leave some things to be explored in spring, when picnickers are welcome to enjoy a concert under the old Corinthian colonnade. The dramatic landscape lends itself to performance—Isadora Duncan's dance troupe even performed here in the 1920s. Check with The Untermyer Performing Arts Council for scheduling.
How to get there: Take Metro-North's Hudson Line train to Yonkers. From the Yonkers train station, take the Westchester Beeline 6 bus heading towards Pleasantville and exit at St. John's Hospital in Yonkers. Untermyer Park is at 945 North Broadway, just south of the hospital. Visit REI SoHo for snowshoe rentals.

Photos: Courtesy of the author