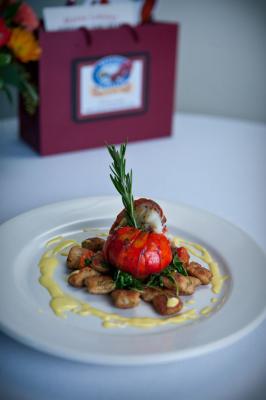 October on the East Coast is all about celebrating the reawakened senses, the taste of freshly picked apples, smell of firewood burning, the trees bursting with bright autumnal colors—but especially the sense of taste. This month, raise a glass to the harvest season with these six culinary getaways, from celebrity chef workshops in the Bronx to a craft beer tour in Brooklyn to Portland's own wine and food festival to an Italian-inspired bash in New Jersey and a giant wine fête in Norfolk, Virginia—a city making a name for itself as a car-free destination.
What: New York Botanical Garden Conservatory Kitchen, Celebrity Chef Demonstration and Tasting
When: October 9-11 and 16-17
Why: If you didn't make it to the Bronx on Columbus Day weekend for demonstrations by Chefs Lidia Bastianich and Bill Telepan, mark your calendars for October 16-17 at the Conservatory Kitchen's season finale, when no less than Mario Batali, Todd English and Greek food Master Michael Psilakis will be showing off their kitchen chops. Check the schedule for exact demonstration times.
How to get there: Take the Metro-North Harlem local line to Botanical Garden Station. Walk across Kazimiroff Boulevard to the Garden's Mosholu Gate entrance. It takes 20 minutes from Grand Central Station. By subway, take the B, D, or 4 train to Bedford Park Blvd Station. From the station exit, take the Bx 26 bus east to the Garden's Mosholu Gate entrance. Or walk eight blocks down the hill on Bedford Park Blvd to the end (approximately 20 minutes). Turn left onto Kazimiroff Blvd and walk one block to the Mosholu Gate entrance.
What: Wave Hill Cooking Workshop: Herbal Harvest Series-Session II, Pickling

When: Saturday, October 16, at 1p.m.

Why: Learn the art and science of pickling, a traditional method of preserving seasonal fruits, vegetables and herbs. Using fresh local produce, participants will learn how to sterilize jars and make a brine in this hands-on workshop. You will put up several jars of pickled produce that are yours to take home. On November 13, consider returning for a Herbal Vinegars Workshop. Each session costs $20 for non-members, $15 for members.
How to get there: Take the Hudson Line local train originating at Grand Central Station to Riverdale. Wave Hill is a safe and lovely–although steep–15-minute uphill walk from the station. Walk up 254th Street; turn right onto Independence Avenue and continue two long blocks to the Wave Hill Main Gate at 249th Street. For free shuttle information during April – October months, and for other public transportation routes, go to wavehill.org (West 249th St. and Independence Ave., 718.549.3200)
What: Urban Oyster's Fermented NY Craft Beer Crawl
When: Saturday afternoons and Thursday evenings through December.
Why: October would not be complete without a proper tribute to its beverage of the month, beer. The place to pay your respects to this brew is Brooklyn, once home to 48 breweries. These days, the borough is enjoying a resurgence of craft breweries. This three-hour walking tour will introduce you to the wonders and complexities of craft beer. You'll visit a variety of craft beer bars in Williamsburg, gaining expertise along the way. Learn how beer is made, how to properly serve it, how to distinguish between different varieties of beer and how to pair beer with food.  When it's over, you will have learned to savor beer the way professional tasters do. For $55, including sampling at least 10 different beers and substantial food, the price is right. Reserve in advance.

How to get there: Your meeting point is Mugs Ale House, 125 Bedford Avenue, Williamsburg. Take the L train Bedford Avenue Station and head towards 10th Street.
What: Chowderfest, Mystic Seaport, CT

When: October 9-11, 11a.m.-4p.m.

Why: If you're enjoying a long weekend, head a few hours north of New York for a steaming cup of clam chowder with your fall foliage at this seafood celebration. The catch of the day couldn't be any fresher in this port town, and will pair well with a cold beer, cider or beverage of your choice. Leaf-peepers are invited to board the steamship Sabino to get a colorful view of the foliage from the water. Live Music and "clammy" art activities for the kids are on tap too. If you have not visited Mystic Seaport, a living maritime museum with a comprehensive collection of historic ships, this is a good weekend to explore its nautical possibilities.
How to get here: By train, take Amtrak out of New York Penn Station. The ride is approximately 2 hours and 45 minutes, and a round-trip ticket can cost up to $150. Peter Pan Bus Lines offers service to Mystic through its Bonanza Bus Line from New York Port Authority. Tickets are $60/round trip, and the ride is approximately 3 hours.
What: Harvest on the Harbor in Portland, ME

When: October 21-23, various times

Why: If you missed the Food Network NYC Wine & Food Festival, enjoy a real escape to foodie paradise in Portland at Oceanside Pavilion, where over 140 vendors, wineries, breweries, epicurean purveyors, farmers, and grill masters will share BBQ recipes, pairing tips, sustainable seafood samplings, baking strategies, and much more. Several hotels, like the Inn by the Sea, are offering special overnight packages, so check the website for details. The Savory Samplings at the Marketplace session tickets cost $35 and admission to The Ultimate Seafood Splash is $45.
How to get there: The Amtrak Downeaster runs from Boston's South Station to Portland (2 hours, $24 each way). To get from New York to Boston take Amtrak from Penn Station to (approximately 4 hours, around $80 each way or $145 each way for the high speed Acela train). Fung Wah (139 Canal St., $15 each way) runs to Boston's North station (transfer to South station via subway takes approximately 15 minutes) and Bolt Bus (34th St at 8th Ave., $20 each way) goes directly to South Station. Or consult our Boston Transportation Guide for more travel options.

What: 23rd Annual Town Point Virginia Wine Festival, Norfolk, Virginia

When: October 16-17, 11a.m.-6p.m.

Why: The event is one of the state's largest outdoor festivals, showcasing more than 30 Virginia wineries in addition to local gourmet fare and live music. Sample some of the state's finest wines as you nibble your way through local delicacies. If Virginia wines are not on your radar, they should be, because this state is producing some very drinkable wines at a variety of price points. Town Point Park, this city's showplace downtown waterfront park, is the scenic venue for this outdoor extravaganza.
Exploring Norfolk without a car is easy with its pedestrian-friendly streets, scenic waterways and free downtown electric NET shuttle. Guests can also call on F.R.E.D. (Free Ride Every Day), for a downtown ride in a solar-powered, battery-operated cart. Hotels convenient to the Festival and downtown attractions include the Norfolk Marriott Waterside, the Sheraton Norfolk Waterside and the Tazewell Hotel and Suites.
How to get there: Delta Airlines flies non-stop from LaGuardia to Norfolk in just over an hour. There are currently some deeply discounted fares, so see if you can snag one.
Allison is a native New Yorker, who has lived in Rome, Tuscany, Melbourne, Toronto and Los Angeles. She frequently contributes travel pieces to Family Travel Forum, using her own children as guinea pigs as they travel the globe. She is fluent in Italian and Spanish and laughably adequate in French. Her background as an Early Childhood Educator gives her an added understanding of what it takes to travel with kids in tow. She firmly believes that the most important part of education takes place outside of the classroom, on the road, around the world. She never misses a chance to sample local delicacies, as her love for travel goes hand-in-hand with her love for food and wine. Follow Allison at @gourmetrav.