If there is one time of year to bolt out of Gotham to explore happenings among the artsy towns throughout western Massachusetts, it is during the fall season. Once all glitz and glamour, the Berkshires played host to the east coast elite during the Gilded Age and simultaneously became a hub for various industries, from paper (Crane & Co. is still located in Dalton, MA) to energy and textiles. Anchored by the arrival of Berkshire Theatre Festival (1928) Jacob's Pillow, (1931) and Tanglewood (1937), the area has become known for its cultural impact, and more recently, its leading role in the farm-to-table movement.
Where to Sleep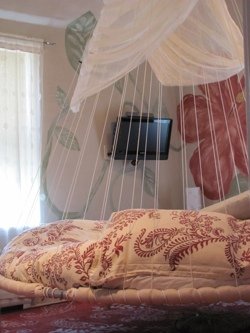 The Topia Inn($150-$260/night) is possibly the greenest and quaintest bed & breakfast you can find in the Berkshires—featuring organic beds and linens, American clay earth plaster, IceStone recycled glass countertops and renewables such as solar panels, biodiesel fuel and sustainable wood. Conceived by co-owners Nana Simopoulos and Caryn Heilman with contributions from an array of artists and builders, this eco-friendly sanctuary is nestled in the sleepy town of Adams with easy access to the Ashuwillticook Trail. The inn offers bike rentals for $20/day, so consider riding off on the historic 11-mile path, which showcases several Berkshire County communities and beautiful scenic vistas. Once settled in, take advantage of an aromatherapy rain shower or chromatherapy bath and array of complimentary organic bath products.
Where to See Art + Culture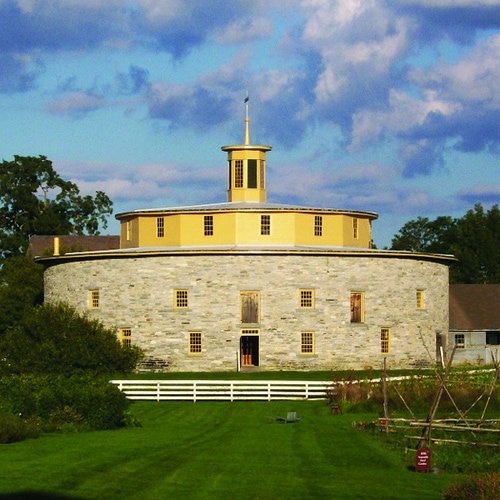 There are a wide range of activities that capture the locavore culture and rich historical traditions of the Berkshires. Hancock Shaker Village ($17 admission) is a historical landmark, comprised of 18 buildings and more than 22,000 objects exemplifying the original "green" movement. In nearby Stockbridge is the Norman Rockwell Museum ($15 admission), celebrating the iconic work of a master illustrator and portrait artist.
For contemporary inspiration, head to Pittsfield, the epicenter of the Berkshires. The city's Office of Cultural Development is steadily cultivating its pool of visual, performing and literary artists. Visit the Berkshire Museum ($15 admission), the Ferrin Gallery, or for a taste of something truly dramatic, Barrington Stage Company ($15-$35 tickets).
Where to Eat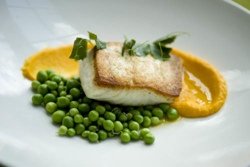 If you're craving something meatier than onstage drama, the Berkshires food culture does not disappoint. Berkshire Grown is a community-driven organization that promotes local food, farming and culture, and has created a database of more than sixty member restaurants. Must-eats include Route 7 Grill—restaurateur Lester Blumenthal's homage to barbecue—featuring an array of smoked meats, local produce and delicious local libations from Berkshire Mountain Distillers including a New England corn whiskey. Also not to be missed is Mezze Bistro + Bar, a special occasion restaurant that sits just outside of Williamstown overlooking Sheep Hill. Future plans include edible gardens, sustainable landscaping, and architecture, but for the time being guests will have to be satisfied with the impeccable locally sourced creations of Chef Joji Sumi, including Boston mackerel escabèche, heirloom bean and vegetable ragout, or house-made tagliatelle with braised Cricket Creek Farm veal.
Where to Enjoy the Great Outdoors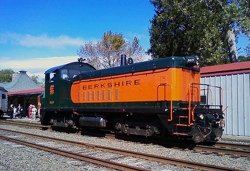 No fall trip to the Berkshires would be complete without an outdoor adventure. The Berkshire Scenic Railway offers a 90-minute roundtrip excursion between Lenox and Stockbridge, capturing the region's rich industrial traditions and natural scenic beauty along the Housatonic River. And for a final stop before heading back to the concrete jungle, be sure to visit Hilltop Orchards, a family-run 200-acre property offering apple picking, guided bike rides, hay rides, and a new hiking trail designed by seven-time Olympian John Morton ($5 entrance fee with a portion of proceeds donated to land preservation).
Whether you are a leaf peeper, art enthusiast, foodie fanatic or outdoor adventurer, the Berkshires offers city-dwellers one of the most diverse range of activities in the Northeast.
How to get there: From Port Authority in midtown Manhattan, hop on the Peter Pan bus to the Great Barrington stop in Massachusetts. The trip will take under 4 hours and depending on the days of travel, cost $85 roundtrip. Use the Berkshire Regional Transport Authority bus system to get around town once you're there , or consult oM's Guide to Renting Hybrids in NYC. For those interested in covering a lot of ground on a weekend getaway, renting a car (preferably a hybrid!) is advised.
Photos in order: Courtesy of the author, Hancock Shaker Village, Jennifer Mardus, and Ovondrak
Map of Things to Do in the Berkshires

View Things to Do in the Berkshires in a larger map