Forgoing the stuffy upper crust vibe on Nantucket, I set my sights on New England's most intimate and pristine island, Block Island, R.I. My interest in a visit early in the summer season turned out to mean lower rates, fewer people, sales at the shops, no waits for restaurant seating, and ultimately more peaceful seclusion.
With close to 50 percent of its landmass designated as protected green space, Block Island is home to some of the most breathtaking scenery. So much so in fact, that The Nature Conservancy named Block one of the 12 "Last Great Places" in the Western Hemisphere. In recent years, the Nature Conservancy has joined forces with the Block Island Land Trust to ensure its green tradition, charging a 3% sales tax on all property sold on the island that is re-invested in purchasing, expanding, and protecting the island's green space. The island is also currently researching possibilities of offshore wind turbines that would contribute clean and sustainable energy to the island.
A Room With a Sea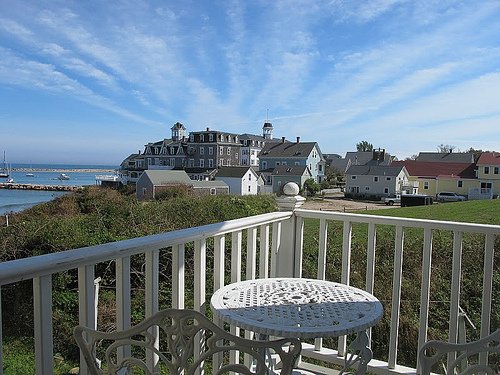 Sifting through many inns, hotels, and B&B's. Two Victorian properties caught my eye. The Blue Dory Inn and Avonlea, Jewel Of The Sea boasted the convenience of being close to the Old Harbor and the highest concentration of restaurants on the island, while also being steps to the beach. Which one to choose? I believe this is what they call a win-win situation. We arrived at the adorable pet-friendly Blue Dory Inn (two nights/$270) and couldn't have been happier with our experience. We had a private porch and private entrance that overlooked the ocean. Sleeping with the windows open, we could hear the waves lapping on the beach. The décor was quintessential charming New England. Staying in a private entrance room, I was impressed by how clean the space was—and not a trace of discouraging smells or pet wear and tear. Cheers to their impeccable staff on that one, and to the hotel for the quality and comfort of the mattress, something that is an oft-overlooked detail at even the most respected hotel and is a real drag when your vacation is less comfortable than your life.
The neighboring Avonlea (two nights/$330) is equally impeccable and has been recently voted as the inn with the best view on all of Block Island. Both properties serve a breakfast buffet and a pre-dinner wine hour with hors d'oeuvres and their signature Block Island Barnacle Cookies. Coffee is available all day long, which is a nice treat especially in the off-season when many of the local business have limited hours. It's a rare gift when your room is as appealing to spend a day in—take advantage of the jacuzzi tub and lovely private porch—as it is to go to the beach.
Nibbles and Bits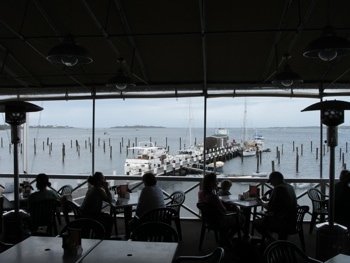 Once settled at the hotel, it won't take long before the cravings for New England coastal food arrive. Our innkeeper suggested Finn's and it did not disappoint. We ordered up a feast of New England Clam Chowder, a pint of Steamers, two lobsters, corn on the cob, and some wine. Finn's keeps it simple with their cooked seafood, serving either steamed, broiled, or fried accompanied with dipping sides of the natural juices and drawn butter. Another culinary highlight was the restaurant at the Manisses Inn. They have the kind of menu that makes you want one of each. We narrowed it down a tad with Roasted Garden Beets, the Duck Confit Tamale, Oysters on the Half Shell, the Seafood Shephard's Pie, and finally the Jumbo Wild Shrimp Fra Diavlo. They offer both half and full portions of most of their items, which enables more taste testing of their exquisite menu. For more casual fare The Mohegan and Sharky's offer a varied and satisfying menu. For lunch, Three Sisters and The Oar are great spots for a bite. The Oar, with its ceiling surprises, has a stunning view of New Harbor whether your craving a lobster roll or a just a beer at their cozy bar.
Where to Relax in New England Paradise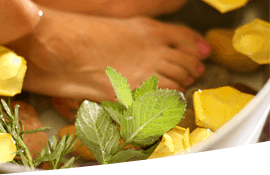 With a full belly, you may need a little down time before setting off to the hiking trails and walks along the beach. Koru Eco Spa delivers first class rejuvenation and bodywork and lives up to its name with a strong commitment to the environment. Affiliated with carbon-fund.org, they use energy efficient appliances, furniture made with reclaimed wood or re-used antiques. Their paint, uniforms, and t-shirts are organic. All products are organic and vegan. As we sat and enjoyed our superb pedicures, our eyes wandered out the window that overlooks the Old Harbor, where passengers leisurely come and go on the ferry. The spa produces many of their organic products, some of which have celebrated attention at NYC Fashion Week. The atmosphere is serene, the staff impeccable, and the results not lacking from their animal-tested and chemical filled counterparts.
Exploring Block Island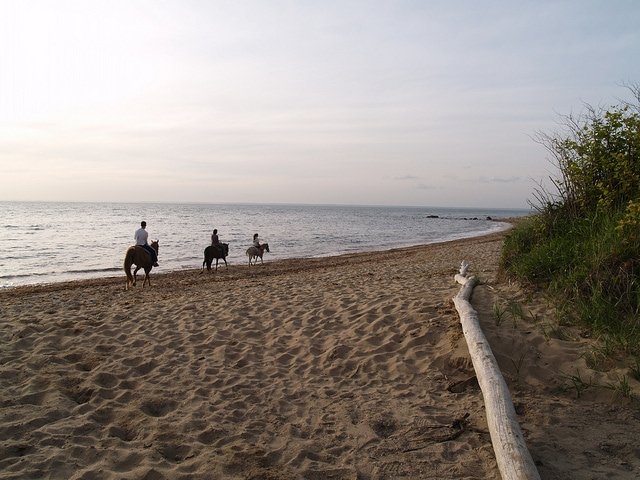 After full rejuvenation and recuperation, the true allure of Block Island lies in its landscape. The island is quite small at almost 10 square miles and is easily traveled on horseback with Rustic Rides Farms or by bicycles that are available for rent, which offers great discounts on half and full day rentals. There are also Smart Car and moped rentals if you need to rest your legs and seek fuel-efficient means to cruise along. The popular beaches are steps from the main roads. Many hiking trails lead to secluded beaches with stunning cliffs, rocky shores, and the splish splash of waves.
We ventured on the hike to Clay Head. A ¾ of a mile trip down to the beach from the roadside trailhead delivers you to the beach. Take in a truly breathtaking beach. The trail continues from the beach for another three miles that take you high along the cliffs along the ocean, continually opening up to amazing vistas of raw ocean. The trail passes equally serene inland reserves where one can spy deer and quail playing hide and go seek from us humans. After leaving the main road in pursuit of the Clay Head Beach, we didn't see another person until we returned back to the main road four hours later.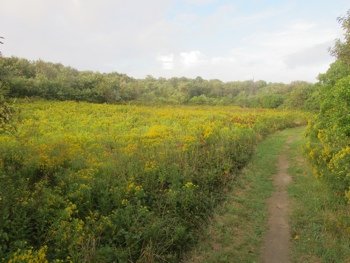 An equally beautiful hike to shoreline solitude is the trail that meanders through Rodman's Hollow towards the beach at Black Rock. For less demanding access to the raw and breathtaking shores, a convenient stairway through a cliff ravine leads to Mohegan Bluffs. These bluffs seem to be home to the largest concentration of sea stones that many travelers have stacked along the beach into little natural temples. The effect is near spiritual. With the convenience of the access comes more presence of other people, though still very few.
What to Know When You Go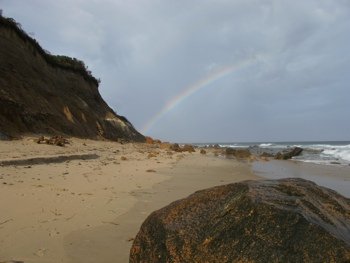 In the quiet season, the restaurant hours are more limited. When you arrive, take a little time right when you settle in to call all the restaurants in the area and get their hours so you can map out your food itinerary depending on the days and hours they're open.
How to get to Block Island from NYC
In peak season, you can take Amtrak to New London, then walk a few steps to the high speed ferry or take the LIRR to Montauk, and take the ferry to Block Island ($35 RT). Or take Megabus from NY to Providence from Port Authority or an Amtrak train from Penn Station. Once in Providence, you can hop bus number 60 run by RIPTA from Kennedy Plaza towards Newport to catch the Block Island Ferry. During off peak season, you can only take the Block Island Ferry departing from Point Judith. The ride takes 55 minutes, consult the schedule here. Take Amtrak from Penn Station to Kingston, Rhode Island. Then take RIPTA bus 66 to Great Island Road Far Side Coast Guard and walk a couple minutes to the Pier for the ferry.
Where to Book in Block Island
The Blue Dory Inn | 68 Dodge Street | 401.466.2254
Avonlea, Jewel Of The Sea | 68 Dodge Street | 401.466.2254
Koru Eco Spa | 232 Water St. | 401.466.2308
Finn's | 212 Water Street | 401.466.2473
Manisses Inn | 5 Spring St | 401.466.2836
The Mohegan | 213 Water St | 401.466.5911
Sharky's | 596 Corner Neck Rd | 401.466.9900
Three Sisters | 443 Old Town Rd | 401.466.9661
The Oar | 221 Jobs Hill Rd | 401.466.8820
Photos: All Courtesy of the author, except photo courtesy of Koru Eco Spa
KPICASA_GALLERY(AnOffSeasonGetawayToBlockIsland)
Getaway to Block Island