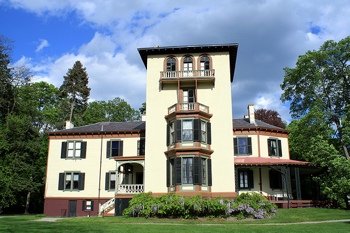 The last stop on our culinary escapade through Dutchess County, NY will allow you a moment to appreciate the sunset over the Hudson River, food and wine in hand.
What: Sunset Sensations, Locust Grove, Poughkeepsie
When: Thursday, October 14, and November 11, 5:30-7:30 p.m.
Why: It begins with a gathering of 100 or more people drinking a glass of wine and nibbling on a local chef's delectable creations, half-sourced from an estate's Heritage Vegetable Garden in which you stand. The Hudson Valley is noted for its many historic estates, grand homes formerly inhabited by the likes of Franklin and Eleanor Roosevelt and assorted Vanderbilts. Locust Grove, once home to Samuel Morse (Morse Code), is one of the areas lesser known estates. It is comprised of a 40-room Italianate Mansion, elegant gardens and five miles of scenic hiking trails for public enjoyment. The kitchen garden has been providing fresh produce for over 200 years. You can taste the garden's seasonal produce as part of Sunset Sensations, a food and wine sampling series.
As part of the series, guests will dine on foods prepared by local chefs starring Hudson Valley ingredients. Many Culinary Institute of America grads choose to stay in the area, making it a hotbed for great cuisine, so high expectations for delicious food is thoroughly justified. Tour the gardens, watch cooking demonstrations and enjoy the Hudson River sunset with a glass of wine and hors d'oeuvres. CIA Graduate and chef-owner of Lola's Cafe and Catering, Chef Ed Kowalski is October's featured Chef. Another CIA grad and catering business owner, Chef Susan Holbert-Crocker will host the culinary portion of the event in November.
Cost: All food, drink and merriment is $26, $24 in advance.
How to get there: Locust Grove is less than two miles from the Poughkeepsie Train Station. Taxis wait at the station and the ride should cost around $8. The Metro-North Hudson line takes you to Poughkeepsie, and you will be at Locust Grove in under two hours.

Allison is a native New Yorker, who has lived in Rome, Tuscany, Melbourne, Toronto and Los Angeles. She frequently contributes travel pieces to Family Travel Forum, using her own children as guinea pigs as they travel the globe. She is fluent in Italian and Spanish and laughably adequate in French. Her background as an Early Childhood Educator gives her an added understanding of what it takes to travel with kids in tow. She firmly believes that the most important part of education takes place outside of the classroom, on the road, around the world. She never misses a chance to sample local delicacies, as her love for travel goes hand-in-hand with her love for food and wine. Follow Allison at @gourmetrav.