You have finally gotten used to lugging your tyke's stroller down the subway stairs, maneuvering his or her giant backpack through mid-town traffic at rush hour. Now it's time to give your self a break from the big city.
In the first of our four kids activity guides that support a kinder, gentler pace, perfect for family travels, New Haven offers weekend fun for everyone—free museums, a kid-friendly Fiesta Latina party, a new cozy, modern hotel— with a rhythm that will be just right for the pint-sized members of your crew.

Why It's a Fun Family Field Trip
Yale University's deeply endowed pockets have blessed this city with a wealth of museums. The big draw for families is The Peabody Museum of Natural History. Dinosaur fans will be smiling big when they enter the Great Hall of Dinosaurs, home to the museum's collection of dinosaur skeletons and to a huge mural of, you guessed it, dinosaurs. The Discovery Room houses a colony of leaf-cutter ants that you can view going about their busy days through clear plastic tubes. Colorful Poison dart frogs are attention getting. Fiesta Latina takes place every October when Latin American cultures are celebrated with music, dance, crafts and storytelling for kids of all ages. Admission is $13 for adults, $6 for kids 3-18.
The Yale Center for British Art greets visiting families with an interactive Family Gallery Activity pack that should keep the kids engaged. Yale University Art Gallery presents the 2nd Sunday Family program: Stories and Art on the second Sunday of each month at 1pm. Gallery staff members read folktales from around the globe and relate them to various works of art in the collection. Drawing materials are provided. These museums are free of charge.
For a family night out, head to the theater for an off off Broadway production in town.
Where to Snuggle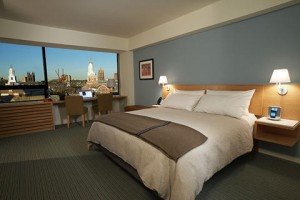 The The Study at Yale is a great choice for family friendly digs and tiny techies should enjoy its communal Mac, located in the lobby. The whole family will like the free seasoned popcorn and drinks served in the lobby each afternoon. Parents will like that while it is kid-friendly, it clearly aims to please adults. It is stylish and centrally located on Chapel Street, within walking distance of most major restaurants and attractions.
What to Eat
As New Yorker's are often weaned from the bottle straight to pizza, New Haven's plethora of pizzerias should mean even fussy eaters will find a pie to satisfy. Choose Sally's Apizza or Frank Pepe, or try them both. Claire's Corner Copia is an organic (and gluten-free) food haven and the place to go for inspired vegetarian cuisine, a great breakfast and Claire's famous Lithuanian Coffee Cake, often served by the charming owner herself. See our Gourmet Getaway Guide to New Haven for more ideas.
How to get there: Metro North New Haven line to New Haven in 90 minutes. Consult offMetro's Public Transportation Guide to New Haven for travel alternatives.
Allison is a native New Yorker, who has lived in Rome, Tuscany, Melbourne, Toronto and Los Angeles. She frequently contributes travel pieces to Family Travel Forum, using her own children as guinea pigs as they travel the globe. She is fluent in Italian and Spanish and laughably adequate in French. Her background as an Early Childhood Educator gives her an added understanding of what it takes to travel with kids in tow. She firmly believes that the most important part of education takes place outside of the classroom, on the road, around the world. She never misses a chance to sample local delicacies, as her love for travel goes hand-in-hand with her love for food and wine. Follow Allison at @gourmetrav.