It has been a long, few months of hibernation. Finally, you can shed your layers and meander outdoors towards nature trails, fresh seafood, and the Bronx.
Remove those quizzical looks, and throw out any stereotypical misconceptions you may have about this borough. With a spring in your step, lace up your Nikes and get out of town. It's time to do some hiking and fishing in City Island.
Arriving at Pelham Bay station at the end of the 6 train, you will marvel at how residential and almost suburban the neighborhood feels. You may wonder what a one-bedroom will fetch for and why you never heard about Pelham Bay Park, the largest park in the city—three times the size of Central Park—a place with a public beach, horse stables, and a golf course.
Prefer to listen to us reading the post for you? Click the clip below:
Cross the footbridge over the highway (I-95) and begin your two-mile hike across bridges and through wildlife preserves. Follow the bike and walking path that runs north along the road, eventually continuing beside Shore Rd. As you walk past the picnic tables and BBQ pits, you will encounter hordes of black squirrels, wild green parrots that live in the stadium lights overlooking the baseball fields in the park, and quail—although their numbers have declined due to summer mosquito spraying. Soon after crossing the first bridge, bear right on the path which will now take you parallel to City Island Rd.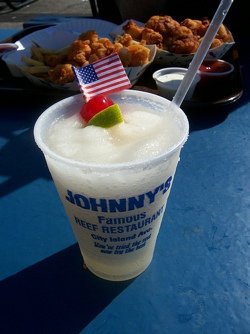 Where to Eat
With your iPhone in hand or a talkative friend at your side, hasten your pace for the last mile and a half to get in more of a workout or stroll and let the absence of car buzzing be music to your ears.
You have arrived when the bay and bridge surface with a large welcoming banner. Walk down to City Island Avenue and take your pick of fresh seafood at any of their lovely, local restaurants. Assuming you are still energized by the scenery and clean air, press on to the end of the island for Johnny's Reef Restaurant. While it doesn't sport the fancy food of the Lobster Box, it offers fresh fare and is welcoming to slightly sweating, sneaker-toting newcomers. The Manhattan clam chowder and fried lobster tails are highly recommended.
Fishing in City Island
Another day, early morning, come back to charter a boat, catch flounder and blackfish. The Riptide III is a ninety-foot party boat that will take you into Long Island Sound. For a more private fishing experience, head to Jack's Bait & Tackle, which will set you up with your own motorboat for the bargain price of $49.99 on weekdays and $59.99 on weekends, including gas and fishing gear.
Lobster Box | 34 City Island Ave. | 718.885.1952
Johnny's Reef | 2 City Island Ave. | 718.885.2090
Jack's Bait & Tackle | 551 City Island Ave. | 718.885.2042 | jacksbaitandtackle.com
Riptide III | 701 Minnieford Avenue | 718.885.0236 | Visit their Facebook Page
How to get there: Take the 6 train to Pelham Bay Park station and begin the approximately 40-minute hike outlined above to City Island from this point.
If you want to skip the walk and get directly to City Island from Pelham Bay Park station, walk South on Bruckner Blvd. to the intersection of Bruckner Blvd. and Wilkinson Av, where you can pick up the Bx29 local bus (schedule), which travels down City Island Ave. The bus runs until midnight, but there are cabs if needed. On the first Friday of every month, there is also a free Brooklyn Trolley from this same bus stop that runs in the evening.
What may be more convenient for some, is the BxM7b express bus (schedule) which goes directly from Manhattan to City Island for only $5 (payable by Metrocard). It picks up on Madison Ave. (from 24th St. to 71st St.) and 3rd Ave. (at 86th St and 120 St.), and returns down 5th Ave. for the drop-off.
Photo: Author, Dougtone