Looking for a Hudson Valley gem for your next weekend getaway? The Diamond Mills Hotel & Tavern is a perfect weekend or weekday base for exploring Saugerties and the surrounding regions. This place is ideal for outdoor enthusiasts like you and me, who enjoy exploring our country. This area offers an abundance of activities year-round — including hiking, bicycling, rock-climbing, kayaking, tubing, skiing, and more.
Saugerties Steamboat Co. Diamond Mills's sister property is one of four nearby locations on the creek to launch kayaks or canoe tours, and only 20 minutes from Woodstock and other quaint towns in Ulster County.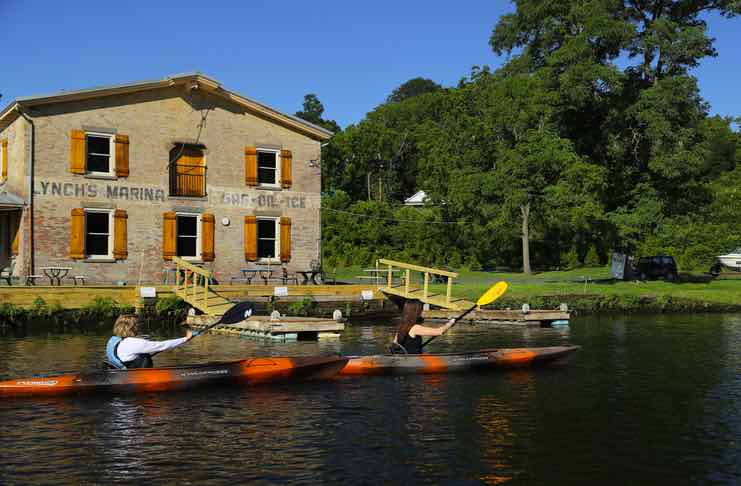 Aside from outdoor activities like kayaking or rock-climbing, there's of course, the wine. While traveling in the Hudson Valley you'll be able to taste some of the best wine New York State has to offer. The region is home to over 30 wineries, among them the oldest winery in North America. But a delicious wine tour will require a good place to spend the night.
Check out this video to learn more about Diamond Mills:
How Will a Diamond Mills Hotel Experience Look Like?
Well, The Hotel is now ready to serve visitors in a very safe and comfortable environment, letting you enjoy the beauty and luxury Diamond Mills is known for.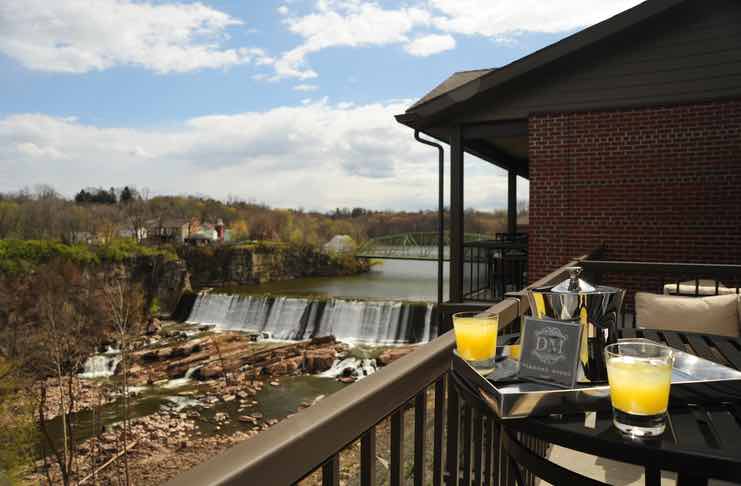 Your Diamond Mills experience will include indoor and outdoor dining at The Tavern, as well as take out service to enjoy in the privacy of your room. Their enhanced cleaning and safety protocols will definitely ensure the safety of all guests. The hotel has been open for almost a month now and The Tavern is one of the only places offering outdoor waterfront seating.
While there, we always take advantage of the fresh mountain air, star-filled night skies, and of course, the spectacular waterfall view from the balcony of our room. Diamond Mills is currently offering several special local packages that can be found on their website.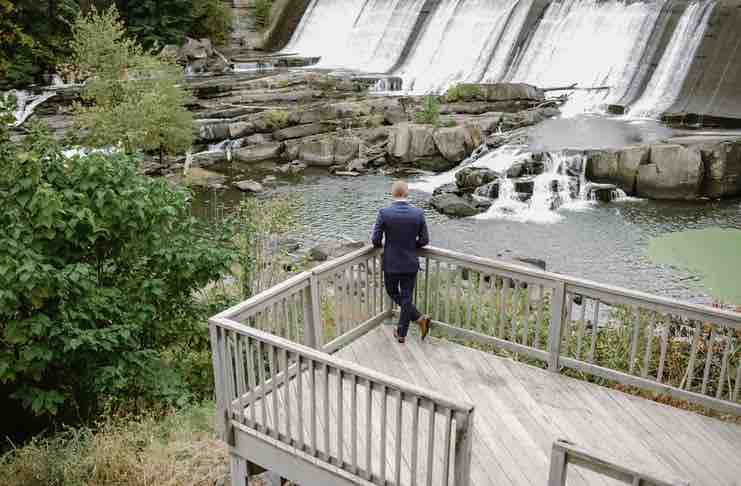 Dining at The Tavern at Diamond Mills
The Tavern is just a few steps outside The Hotel and serves lunch Wednesday through Friday, brunches on weekends, and dinners every evening. The dramatic main dining room has a fireplace and 27-foot foot ceilings with windows that look out to the large outdoor Terrace where you can dine al fresco with a view of the Esopus waterfall. Gorgeous.
Inside there are a number of intimate areas off the main dining room that are suitable for business lunches or celebratory family gatherings. A welcome bar area, which looks like it came straight out of the Prohibition Era, offers locally distilled spirits and craft brews in addition to a full wine and cocktail menu.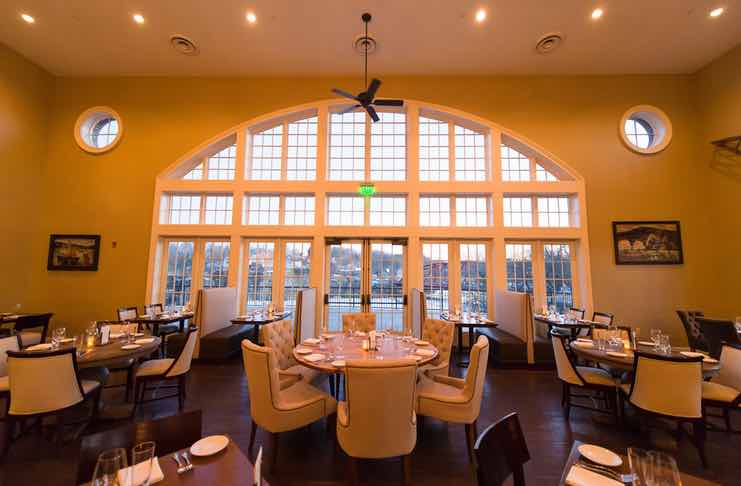 The Tavern is currently open for indoor and outdoor dining, with protocols in place to comply with mandated COVID safety precautions guidelines. The Tavern is serving up a contemporary, American menu created by their new Executive Chef, Marcos Castro. A graduate of the Culinary Institute of America, Chef Castro comes from West Hills Country Club. His dishes showcase many locally sourced Hudson Valley products, including artisanal cheeses, fresh fruits and vegetables, farm-raised chickens, and premium meats and seafood.
Outdoor Adventures You Should Try When Staying at Diamond Mills
The Esopus Creek is a 65.4-mile-long tributary of the Hudson River that drains the east-central Catskill Mountains. From its source at Winnisook Lake on the slopes of Slide Mountain, it flows across Ulster County to the Hudson at Saugerties. (Read more here: Wikipedia)
Here are three of our favorite outdoor adventures when we visit Hudson Valley:
Hiking in the Wilderness
Diamond Mills's backyard and surroundings offer stunning peaks to conquer. You can explore the rich topography of the nearby area, or go for longer excursions like the Kaaterskill falls. Just 20 minutes by car from Diamond Mills, the beauty of these falls are definitely worth the drive. The hike itself is around two and a half miles long and isn't that difficult (rated as moderate), but the falls are grandiose. However, you don't really need to drive anywhere for a good hike in the area.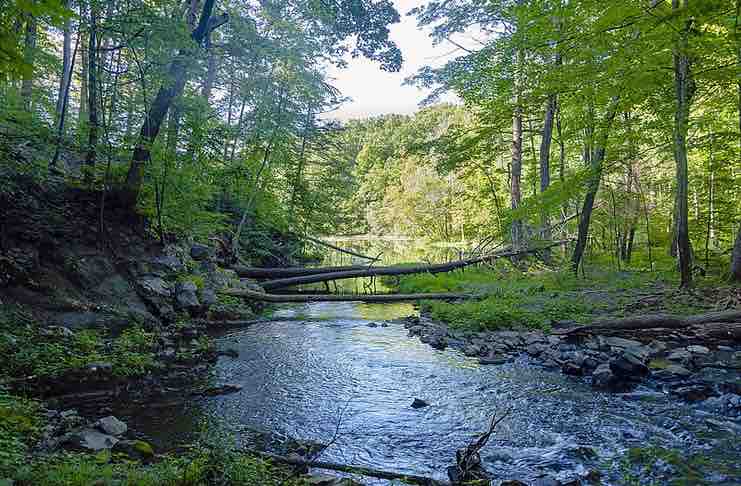 Our Hiking Tip: You should definitely visit the Falling Waters Preserve. This place features a carriage road that used to provide access to a riverfront ice house. You'll enjoy the babbling waterfalls, amazing Hudson river views, as well as picnicking and bird watching. It's approximately 7 minutes drive from Diamond Mills Hotel. Trail conditions could be muddy, so be prepared. Address: Dominican Lane, Saugerties, NY.
Rock Climbing on the Most Popular Cliffs in the Country
From the moment you reach their foothills, you can't get enough of the Catskill Mountains. For the more extreme travelers – rock climbing on these gorgeous, majestic mountains is a lifetime memory. We recommend driving a bit (45 minutes or so) to the Shawangunks, or "the Gunks". These cliffs are among the most popular climbing rocks in the country.
Fly Fishing at the Birthplace of This Angling Method
This is not as extreme as rock climbing on the Gunks, but it's a ton of fun. Diamond Mills perches above the Esopus Creek Falls, which is regarded as the "Birthplace of American Fly Fishing." What exactly is it? Well it's an angling method that uses a light-weight lure, called an artificial fly, that is used to catch fish. The Esopus river is a haven for exceptional trout fly fishing, including brown trouts and wild rainbows.