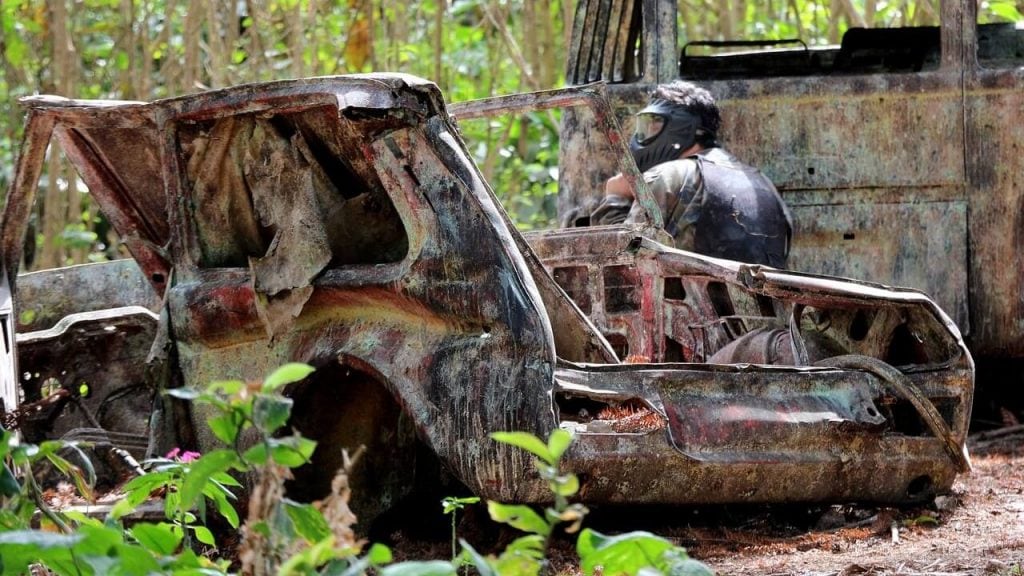 To some, paintball appears to be a barbaric activity, when in reality it is an adrenaline-fueled game of tag or capture the flag for all ages. There is a wide range of places to play paintball near New York City.
From the traditional outdoor fields, to the air conditioned indoor arena, to the amusement park shooting gallery, there is something for every skill level. If you haven't tried paintball before, now is the time, and here's where to go
1. Indoor Extreme Sports
47-11 Van Dam St, Long Island City, NY | 718.361.9152 | http://indoorextremesports.com/lic/
The only indoor paintball center accessible by subway, NYC Paintball is just a few stops outside of Manhattan on the 7 train. If you don't want to get messy, there is also laser tag.

How to get there: Take the 7 train to 33rd Street stop, then head southeast on Queens Blvd toward Van Dam St., turn right at Van Dam St., and look for 47-11 Van Dam St.
2. New Breed Paintball
7-05 Fair Lawn Avenue, Fair Lawn, NJ | 201.791.0377 | newbreedpb.com
A train ride out to Fair Lawn's New Breed Paintball will get you entry, air, and a case of paint this summer.

How to get there: Less than a 40 minute bus-ride from NYC, take the NJ Transit bus 171, or take Bergen County Line on NJ Transit to Broadway station.
3. Cousins Staten Island Paintball
2727 Arthur Kill Road, Staten Island, NY | 631.698.6230 | cousinspaintball.com
Take in the sites on the free ferry ride over before splattering your enemies with paint. Starting July 5th, enjoy $5 Fridays and other great deals at this outdoor facility.

How to get there: Take the SI Ferry or S84/S74 Bus
4. Cousins Long Island Paintball
88 Granny Road, Coram, NY | 631.698.6230 | cousinspaintball.com
Choose from 26 fields at Cousins Paintball's Long Island's location. The fields are huge—88 acres!—and the deals are the same as the other Cousins properties.

How to get there: LIRR Port Jefferson Line, off at Port Jefferson stop, then call a taxi for a quick ride to the field.

5. Manchester Paintball Park
750 Whiting-New Egypt Road, Manchester, NJ | 631.698.6230
If New Jersey is more convenient for you and your team, head to Manchester Paintball Center.

How to get there: Take the bus heading to Atlantic City-Wildwood out of Port Authority and get off at Toms River Terminal