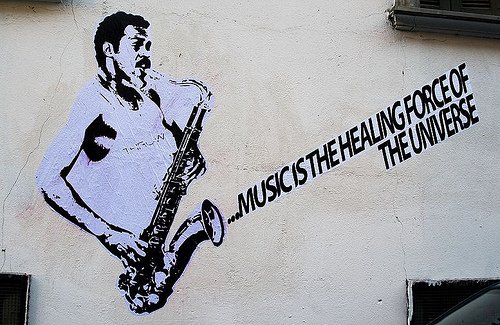 Four free cultural events are coming to the central green lawn at Roosevelt Island Riverwalk Commons this summer. Just off the F stop on the island, Roosevelt Live (or L!ve) starts the series on Saturday, July 10 with a marathon record fair and musical celebration honoring influential avant-garde jazz tenor saxophonist and composer, Albert Ayler. A contemporary of John Coltrane and Ornette Coleman, Ayler further explored and advanced the possibilities in the abstract realms of sound and atmosphere with an emphasis on timbre. His aggressive approach to the saxophone unlocked a new way of thinking about the instrument and its potential.
Disappearing in New York on November 5, 1970, Ayler was found dead in the East River on November 25. Mystery still surrounds his cause of death as either potentially a victim of murder or suicide. 40 years after his death, this all day festival brings together over 30 musicians and 20 record vendors to commemorate his memory and artistic contributions to jazz.
A steel sculpture entitled, HiveMind, by artist Deborah Yoon will be on display in Riverwalk Commons from July 18 to August 14 as part of a forum for interactive art. The organization responsible for presenting this emerging artist work, FIGMENT, will also bring the installation of Gamelatron on the weekend of July 24 and 25. A work by sound artist Zemi17, Gamelatron is the world's first fully robotic Indonesian Gamelan orchestra. A Gamelan is a set of Indonesian instruments including metallophones, xylophones, drums, gongs, and bamboo flutes that are tuned and built together. Although this may sound culturally advanced and wordy, this is the type of installation that will have people of all ages and all walks of life taken aback with intrigue. Zemi17's website, www.gamelatron.com, is a good place to start to get more of a feel for what's in store.
In the last weekend of July, Conscious Cycle will bring artists and recycled materials together to create a grand canvas emphasizing sustainability, community, and a theme of life's cyclical quality. The weekend will be a variety show of sorts featuring additional performances by DJ's and dancers, while artists and yogis teach, demonstrate, and interact. The weekend's events will be filmed for a time-lapse production to encapsulate the entire experience into yet another artistic creation.
Roosevelt L!ve's final event of the summer is Yelp's So Long Summer BBQ on Sunday, September 12. Members of the Yelp online community will enjoy food provided by Riverwalk Bar & Grill. This party is RSVP only so check out yelp.com to sign up.