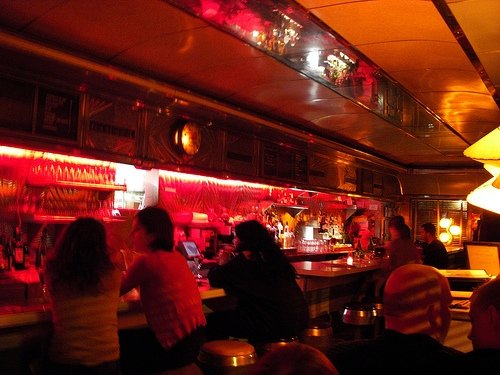 Update: This establishment has now closed.
Relish:
noun a clumpy, gooey, and green substance that is to condiments what Steve Guttenberg is to Hollywood (forgotten save for a once-a-year hot dog craving or a reality show, respectively)
noun a pleasing or appetizing taste, flavor, or quality
verb to enjoy or take pleasure in
verb to add spice or zest
noun the sleek Williamsburg diner encompassing all of the above definitions of its name
Poblano relish, which is the only instance of the forgotten condiment on the Relish menu is—like everything else in this kitsch classic come Bohemian-chic diner—a modern, edgy adaptation of the outdated and less appealing original. But as far as appetizing flavors, pleasure, and zest are concerned, this restaurant is true to the definition of its name. The steel dining car brightens up an otherwise unremarkable block of Wythe Avenue. The bikes parked out front actually belong to the motorcycle shop across the street but complete the effect of transporting passersby back to a James Dean era of cool when the greasy spoon diner reigned supreme.
The car itself is from that very era. Built by Mountain View Diners in 1952, it resided in Queens for fifteen years until it was shipped to and installed in its current location. It opened in 1968 as The Wythe Diner, owned and operated by a Ukranian family. After closing in 1988, it sat vacant until a local writer and designer purchased and refurbished what became a five-year labor of love. The current incarnation of the dining car opened in 2000, and has since been a favorite haunt of the hip, artsy Brooklyn set. Inside, sexy red lights and a well-stocked bar lend a sleek modern vibe to chrome walls and Formica tabletops.
The menu is a potpourri of culinary delights, most of which—like the mozzarella grilled cheese sandwich with spicy marinara sauce or the rich and scrumptious "macaroni and many cheeses"—are fun modern twists on traditional all-American fare. For those not content to dine even on elevated diner food, Relish has an array of dishes that appeal to a "more sophisticated" palate, from tuna au poivre to pan-roasted pork tenderloin. To say nothing of brunch, which serves up specialty omelets, biscuits and gravy, and cheese grits.
The former parking lot is now a delightful garden patio, which is usually packed in warmer months. A built-on back lounge is a little swankier than the dining car, with cocktail tables and plush seats. It is a great place to indulge in an evening tipple, especially given Relish's long list of specialty cocktails, which evoke the glamorous martini sipping elite of days gone by, those who knew of greasy spoons but avoided them assiduously. They would have flocked to this one. And they'd have relished every minute.
How to get there: Relish is located on Wythe Ave. and North 3rd, just six blocks from the Bedford Ave. L station. For directions from anywhere on Manhattan, click the HopStop link below. (225 Wythe Ave., Brooklyn, NY, 718.963.4546, relish.com)

Photos: All photos by Suzanne Russo, except patio photo courtesy of Relish.