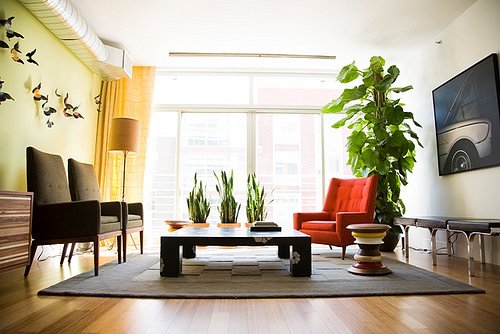 Over the east river into Brooklyn, you will find yourself smack dab in the middle of a neighborhood dubbed "Condoburg." It's a humorous and quite accurate play on the rapid development occurring in Williamsburg. These days the neighborhood is the epicenter of new glass-and-steel, look-alike condo buildings. But all is not as it appears in Condoburg. There is at least one unassuming gem of a building in the Lorimer area known as the Greenbelt. It is an eco-friendly, recently constructed residential structure on Manhattan Avenue that offers market-rate condos with a twist—a nonprofit component on the ground floor and a mission to support the artists who called Williamsburg home before it was "cool."
Just a short journey out of Manhattan on the L train will plant you in Greenbelt, located at 361 Manhattan Avenue near the Lorimer Street stop. The five-story white building with a clean-lined, minimally-ornamented exterior offers eight market-rate residential units. From across the street, you can't miss the array of solar panels on the roof, the first visible testament to the building's "greenness," but only the beginning of a long list of energy-saving features. The homes will be LEED-accredited residences, the first private green development of its kind, which will make for an easy sell to the young eco-conscious professionals flocking to the area. Sales of the market-rate condos will help support the 3,800-square-foot nonprofit arts space on the ground floor, the Center for Performance Research (CPR). When complete, CPR will become New York City's first LEED certified performance space.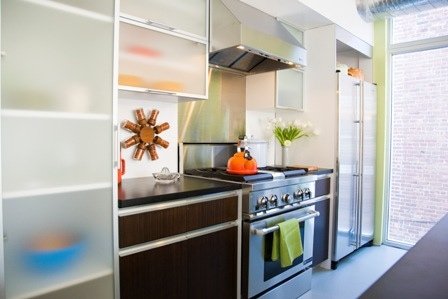 CPR recently ran a free exhibit called "Displacement," which gave viewers a glimpse into the mind of the struggling artist. Six artists used a variety of mediums—everything from oil paint on film to raw concrete, light bulbs and construction materials—and all expressed the personal theme of artists being displaced by development and construction sweeping through their neighborhoods.
In addition to the art, CPR visitors get to experience the unique raw space of a building still under construction—white, open, and as-of-yet untouched walls, short of the few sparsely placed exhibits. Introspection and personal reflection can't be avoided. Visit their website at cprnyc.org to stay updated about upcoming exhibits. Greenbelt, CPR, and the Williamsburg 'hood merit a weekend excursion to this transcending outer borough. Here's a look at more offManhattan coverage on the Brooklyn nabe.
How to get there: Take the L train to Lorimer Street (the second stop in Brooklyn). Walk east on Metropolitan Avenue approximately two blocks to Manhattan Ave. Turn left onto Manhattan Ave. Walk three blocks—Greenbelt will be on your left, between Jackson St. and Withers St. The gallery is open every Saturday and Sunday from noon to 6pm and visiting is free. Visit the Greenbelt website for more information. For directions from anywhere on Manhattan, click the HopStop link below. (361 Manhattan Ave., Brooklyn, NY, 718.963.4546, greenbeltbrooklyn.com)

Photos: The two interior condo images courtesy of aptsandlofts.com, photos of art from exhibit "Displacement" courtesy of Ann Billingsley of Auster Events, and all others by Elizabeth Hewitt.