Getting outside is what warm weather is about. For many, Queens is an afterthought. The advantage of getting less attention is you often experience more bang for your buck. This list of seven places will give the other boroughs a run for their money in quality, décor, price, and atmosphere. And let's be honest here, whatever strangers you end up sitting next to in Queens will likely rate lower on the annoying index than Manhattan, Brooklyn, The Bronx, and Staten Island. This list is a brief introduction to the myriad charms of outdoor dining in queens.
Dominies Hoek | 48-17 Vernon Blvd., Long Island City | myspace.com/dominieshoek
This neighborhood gem in LIC keeps a mellow vibe, perfect for conversation and relaxation. The Hoek is un-pretentious yet not rough around the edges. The back patio is open year round and boasts the following specials at all times: $2 PRB Cans & Busch Cans, $5 Beer + Shot Specials, $3 Miller High Life Bottles. In addition, their happy hour features $3 for all beers, and Sangrias from Noon till 7pm Mondays through Fridays. If you're hungry, they serve up some delicious sandwiches and burgers.
LIC Bar | 45-58 Vernon Blvd., Long Island City | licbar.com
Charming décor without being too hip or wussy, LIC Bar is good any time of year. The inside offers a cozy and dimly lit classic New York City watering hole. The spacious outdoor garden sits like a courtyard flanked by brick walls. Beers, single malts, stiff drinks, and tunes all blend together for the perfect (dog-friendly!) hang. Bands and DJ's provide entertainment multiple days of the week. Both casual and cool, LIC Bar adds a touch of classy and classic to a laid-back imbibing experience.
The Beer Garden at Bohemian Hall | 29-19 24th Ave. (29th St.), Astoria | bohemianhall.com
You all know this one. It's very possible that more New Yorkers have visited Queens for The Beer Garden than to see the Mets play. Picnic tables, pitchers, Czech beer, and Brats make for a festive outdoor party every night of spring and summer.  Besides being a perennial favorite, Bohemian Hall holds a place in history as one of the oldest bars in all of New York City.  Weeknights ensure shorter lines and easier entry. Though they have no drink specials, you will not break the bank on their beers, which are available as pints or pitchers. Check their website for a live music and cultural festival calendar.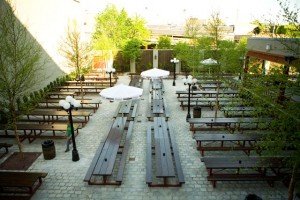 Studio Square | 35-33 36th St, Long Island City | studiosquarenyc.com
So everyone's willing to make the trek out to Astoria to go to The Beer Garden? Why not open another one? Studio Square is a more upscale take on the beer garden concept, close in appearance to a hotel resort. The space is sprawling yet still crowded on weekends. It's not close by foot to the original beer garden, but if the line at Bohemian stretches to the train, you can hoof it over to Studio Square to see if getting in has any better chances. They boast no regular specials but check their website for upcoming events.
Quaint | 46-10 Skillman Avenue, Sunnyside, | 917.779.9220 | www.quaintnyc.com
Nominated for Best New Restaurant in Queens in Time Out New York, this treasure on the ever-charming Skillman Avenue is a great destination for date night al fresco. They specialize in New American cuisine with an emphasis on local products, which will quench your carbon footprint concerns. Go for dinner, hang out a little longer for a drink, gaze into your significant other's eyes, and feel the love.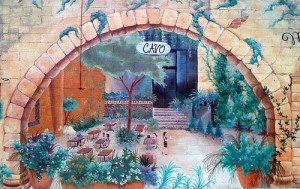 Cavo | 42-18 31st Avenue, Astoria | cavoastoria.com
Award-winning chef, Richard Farnabe, runs the kitchen in this sprawling Greek restaurant. In addition to the dining and bar space indoors, they boast a large multilevel outdoor space complete with dining area, bar, and cocktail tables. Friday nights at 9:30, belly dancers warm up the floors to lead into a DJ extravaganza of House, Hip-Hop, and Greek booty jams.  Whether you're craving a selection of fish or just a glass of Sangria, Cavo's outdoor garden will have you soaking up spring in style.