In the far reaches of Canada, on the easternmost point in all of North America, some of the nicest people in the world live in candy-colored clapboard houses.
The province of Newfoundland and Labrador is, to say the least, unique. The island of Newfoundland and southeastern Labrador on the mainland of Canada are on Newfoundland Time—90 minutes ahead of eastern time—while the rest of Labrador is on Atlantic time (60 minutes ahead of eastern time). This offbeat nature of the province—the bright and stunning landscape, the friendly locals who hang their laundry to dry in the fresh sea air and welcome anyone and everyone—is just part of what will make the trip one of your most memorable adventures.
Get Spirited Away
From lively locals in their favorite pubs to the ghosts that keep its history alive, Newfoundland and Labrador is one spirited place—in every sense of the word. Nowhere are spirits of every sort more prevalent than on the hilly streets of St. John's, the province's capital city.
Since St. John's is one of the oldest cities in North America, its spooky spirits stalk the narrow brick lanes, which are often awash in eerie, scene-setting fog. Take a Haunted Hike (June through September) to experience the true spirit(s) of St. John's history; or try the more traditional (less spooky) route, through historic sites, from picturesque, centuries-old churches to the famed Signal Hill; the strategic hilltop location that once provided an ideal vantage point for defending the harbor now affords dazzling panoramic views (and a wealth of historical insight).
In the evenings, it's all about mingling, dancing and enjoying a laugh or two with the spirited locals. Live music, from modern rock to traditional Celtic strains, streams from the local pubs and bars, and you'd be well advised to save yourself for a dance or two, because around here when the sun goes down the place goes up.
In Labrador, there's no setting better for a sense of history (and perhaps some whaler spirits) than Red Bay and Battle Harbour. Both Saddle Island and Red Bay take visitors back to the 1500s, when Basque whalers lived a prosperous yet dangerous life in the unruly waters and on the mystical shores. Situated on a small, near-shore island, Battle Harbour, once the salt fish capital of Labrador, is a priceless collection of natural attractions and heritage. Battle Harbour preserves and interprets the rich history of the 19th and 20th century Labrador fisheries and brings 200 years of history to life.
Walk on the Wild Side
There's the nightlife, and then there's the wildlife that encompasses leviathans—imposing icebergs— and some of the most beautiful, awe-inspiring landscapes imaginable. In short, Newfoundland and Labrador is the nature-lovers Nirvana.
There's something inspiring, even spiritual, about the massive rock formations and untouched wilderness of Labrador, magical under the ethereal glow of the Northern Lights and awesome in its long history and vast expanse. Newfoundland and Labrador is home to 29 species of whales; porpoises, and dolphins; caribou, black bears, and 1,000-pound moose, plus countless hiking trails on which to see them; along with a plethora of plant life, including the native pitcher plant.
This is one of the few remaining stretches of untamed wilderness in the world, and a wonder to behold. In spring and early summer, you can catch a glimpse of the colossal, magnificent icebergs that drift down from the northern tip of Labrador to the eastern coasts of Newfoundland, nicknamed "Iceberg Alley."
Watch this video by Newfoundland and Labrador Tourism to get a glimpse of "Iceberg Alley":
A great place to start exploring is Gros Morne National Park on the western coast of Newfoundland. Also known as the "Galapagos of Geology," its myriad natural wonders include bronze-colored rocks from deep within the earth's crust, and a glacier-carved freshwater fjord. Seafaring souls should venture afield to the Witless Bay Ecological Reserve; the four islands just off Newfoundland's east coast are home to North America's largest Atlantic puffin colony and innumerable other seabirds. Eco-tour operators like Gatherall's Puffin & Whale Watch operate tours to the reserve.
Culinary Curiosities and Rooms With a View
Traditional Newfoundland and Labrador grub is anything if not hearty. We're talking delicacies such as moose stew, caribou sausage, and, of course, lots of fresh seafood. The codfish tops the list, and can be had (in various forms, from a cod tongue appetizer to baked cod au gratin) at the comfortable, casual down home joint Velma's Place (264 Water Street, 709.576.2264) in St. John's. For other traditional food stops and Newfoundland's "nouvelle" cuisine, as well as some "non-traditional" for the less adventurous eaters, check out the province's recommendations.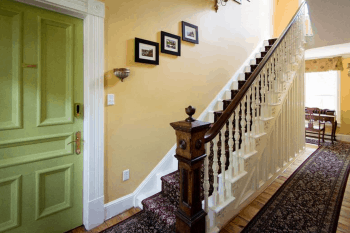 As for sleeps, the Bears Cove Inn is a cozy, woodsy property in Witless Bay, where you can watch for whales and puffins from your deck or head out easily for adventures along the East Coast Trail (15 Bears Cove Rd., Witless Bay, $129-$179). For a taste of Newfoundland history, try Elizabeth Manor, a beautiful 1894 property in downtown St. John's that was formerly the Prescott Inn, the city's first bed and breakfast. Its new incarnation has maintained the charm—and the architectural heritage—but added a few modern amenities like Jacuzzi baths (21 Military Rd., St. John's, $80-$199 in high season).
How to get there: Newfoundland and Labrador is easily accessible from New York City by daily air service from Newark to St. John's with Continental Airlines. DRL Coachlines is Newfoundland's cross-island bus route; one bus per day travels from St John's to Port aux Basques (13½ hours), making 25 stops near popular attractions along the way. Other public transportation is limited to small, regional shuttle vans that connect with some of the major towns. The Provincial Ferry Service runs ferries to various island outports.
Photo: natalielucier