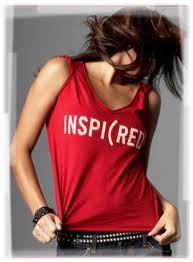 All things being equal. They are not. —The (RED) Manifesto
offManhattan is breaking the rules of travel-only articles this month to bring attention to an issue that's near and dear. The RED Campaign, created by Bobby Shriver and Bono, and fostered by celebrities such as Oprah, is celebrating the $50 million contribution mark with a new product in 2008. Words can only do so much. It is our actions that the people dying of AIDS in Africa need most.
To help fight AIDS, send a Hallmark e-card or put a recycled 20% post-consumer fiber card in the mail, brighten someone's day, and make a difference. 8% of Hallmark (PRODUCT) RED net wholesale sales will go to the Global Fund. Cards start at $1.49, and echo the messages found on the campaign's Gap t-shirts: inspi(RED), sha(RED). Some cards make sounds, while others can imprint a card with a photo of your choice.
Check out www.joinred.com to see other products like ipods, watches, and clothing. You can even calculate your personal (RED) impact.
What's your New Year's resolution?
Visit these off Manhattan stores to pick up your cards:
Brooklyn, NY: Hallmark Gold Crown (172 Montague St., 718.625.7000)
New Jersey: Meadows Cards & Gifts, Harmon Meadow Plaza (700 Plaza Dr., Secaucus, 201.864.7677)
(Or a Manhattan store near you)
The co-founder and editor-at-large at offMetro, Lauren is a sustainable travel specialist and freelance journalist with frequent bylines in National Geographic, Bicycling Magazine and Shape. Follow Lauren's adventures at @laurenmati.