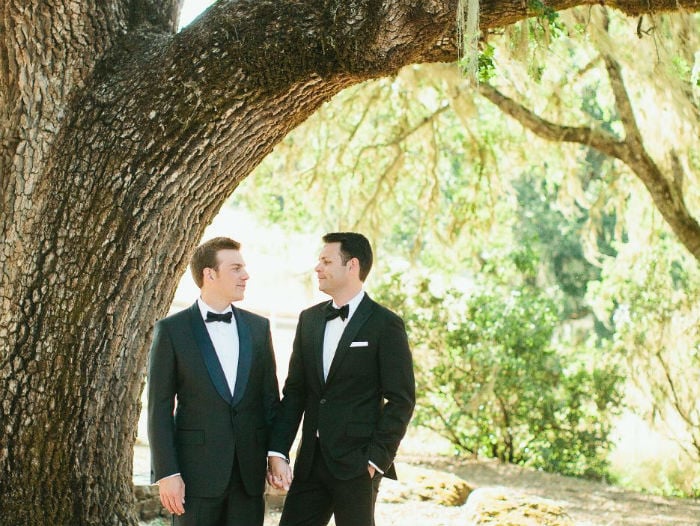 Like the throngs at City Hall, in the Castro, and beyond, we at oM SF were giddy at the strides toward equality that were made when the Supreme Court overturned Proposition 8. And we thought we'd celebrate the best way we know how: By putting together a guide to beautiful gay wedding venues in California.
Now, full disclosure: I don't eye bridal magazines in the grocery story checkout line, or pause at boutique windows to consider which gown would show off my collarbones best. I'm not that girl with a Pinterest page dedicated to Mason jar centerpieces and picture-perfect wedding venues. The idea of being force fed cake does give me a certain thrill, but that's as far as I go with wedding plans. I draw the line at cake, people.
So when we decided to find great same-sex wedding destinations in California, I felt like I was ordering my first drink: clueless and sticker-shocked. That's why I called in the "I do" crew—three of San Francisco's flyest wedding gurus, who helped me put together a list of the best places for couples to make history and celebrate their special day.
Meet the Crew
Laurie Arons, of Laurie Arons Special Events, has been a wedding planner for more than 18 years. Laurie says, "I love nothing more than helping two people plan the perfect celebration of their love for each other. I'm so happy that all couples who want to marry will have the chance to do so."
Mark and Scott have been happily coupled up since 1992, and were married in 2008. Their site, Purple Unions, launched in 2003 and is a comprehensive resource for gay and lesbian couples looking for gay-friendly wedding vendors.
And now, meet the destinations…
Marry me? Wine not!
Rolling hills, neat rows of grapevines, streaky sunsets, and you, saying "I do."
Channel Your Chic Sophisticate at Durham Ranch, St. Helena
When I asked Scott and Mark about scenic destinations, they immediately suggested Napa Valley. In this legendary region, food and wine lovers can find their paradise at Durham Ranch, a stunning spot situated 20 minutes outside of St. Helena. A former cattle ranch, the 76-acre property is set among olive groves and ancient oaks. The venue is clean and classic, from the white, contemporary-looking barn to the dirt paths and modern pool deck. Interiors, designed by Ken Fulk, are in Laurie's words, "chic, chic, chic!"
The place comes with the elegant event stylings of Paula LeDuc Fine Catering, an operation really puts the word "cater" in catering—meeting every whim from hand-dipped cones for an ice cream-loving father of the bride to a back-to-the-land fete for former Chez Panisse chef Aaron Rocchino. Its secluded setting makes the ranch feel like a world of its own, and you can kick off the honeymoon at the on-site 1940s rancher's cottage, with its picturesque porch (rockers included) and wood-burning fireplace.

Experience Joie de Vivre in Santa Ynez
The French may still be fighting for marriage equality, but you can wed South-of-France style right here on the central coast. Laurie recommends Sunstone for those looking to avoid the tourist swarm that invades Napa and Sonoma. Set atop a bluff in Santa Ynez—where the delicate scent of French lavender floats, the mountains provide dramatic background, and the river winds through the valley below—the property can be described in three words: total rustic charm.
Weddings take place both at the winery itself and at the villa which overlooks it. This gorgeous five-suite building is Provencal in both style and substance—it's built from reclaimed materials, like French limestone walls, a Napoleon-era prison cell door, and hand-sewn pine beams that in another life held up Queen Victoria's lavender factory. Needless to say, it's an amazing spot for wedding photographs," says Laurie, "It truly feels like you've been transported to another world."
Au Naturel
California is hard to beat when it comes to natural beauty, making out-of-door nuptials especially magical.
Be Ladies of the Canyon in Santa Barbara
Scott and Mark say nature lovers won't be disappointed in Santa Barbara's El Capitan Canyon. Located 20 minutes north of Santa Barbara and minutes from El Capitan State Beach, the luxury campground folds in mountains, sea, and sky with plush comforts. Your guests can sleep in luxury cabins and yurts, and take time before or after the wedding to bike through the Los Padres National Forest or take an ocean-view hike to the llama farm. Come the big day, you can exchange vows surrounded by nature in all its glory, and then retire to an airy tented lodge or yurt to dance the night away. Your party will feast on California bounty, from the resort's own organic garden in addition to a number of other Santa Barbara County growers.
And after the rice has been tossed, the incredible area makes for a grand honeymoon. Laurie recommends that newlyweds make the trip over to San Ysidro Ranch, a charming hideaway in the Monticello foothills, with cottages dotting the tranquil garden grounds. You can even stay in the Kennedy Cottage, where none other than Jackie and John F. Kennedy rendezvoused on their own honeymoon back in 1953.
Indulge Wildflower Wishes and Ocean-View Dreams in Mendocino
Perched above the craggy coast, surrounded by golden meadows and a confetti of wildflowers, Sea Ranch Lodge is one of those places so breathtakingly beautiful it cannot possibly be real. Yet real it is, and you can march down a grassy aisle to a soundtrack of crashing surf, either at the small and secluded (25 people, standing only) Bihler Point, or on larger Black Point Lawn, under the gaze of a splendidly rustic 19th-century barn.
Nature is never far away indoors, either. Reception spaces vary from intimate and cozy (warm redwood walls, picture windows, stone fireplace…) to the festive and airy party tent surrounded by greenery and twinkling lights.
Funky and Fabulous
Whether you go for sleek and modern or wildly eccentric, an interesting space sets the tone for tying the knot.
Get into the Groove in San Luis Obispo
After San Francisco writer, performer, and funny gal Sara Faith Alterman recommended the Madonna Inn as one of her favorite places to get away, I asked the San Luis Obispo mainstay if they host weddings. Sure enough, they do—and the fabulously frilly locale is now hands-down the favorite wedding location of this not-a-wedding-planner girl. Although the property has no relation to Madge, it is equally free-spirited, with each of its six banquet rooms (which can accommodate anywhere from 40 to 250 people) flaunting a distinct personality, ranging from "The Gay 90s Room" to "The Venetian Room."
You can even have some fun assigning guest rooms, since the 110 rooms are also themed. I'm talking all-out "Safari," bubblegum pink "Sugar and Spice," and the "Swiss Bell," which could be the set of Snow White & the Seven Dwarfs. But the true selling point for me was the Madonna Inn's personal pastry chef, who crafts a one-of-a-kind wedding cake to suit your style (I said I was all about the cake!).

Live the Eco-Urbanite's Dream in Los Angeles
Formerly an automobile showroom in the heart of LA, Marvimon is now an eclectically decorated interior and exterior event space, accommodating up to 250 people. The vertical garden patio, mosaic mirrors, spiral tile flooring, and antique knickknacks lend an artful but uncluttered charm. And to the green-heart's delight, the management strives to maintain a low carbon footprint by refurbishing recycled furniture, using skylights to reduce energy, and working with green companies.
After the last dance, roll out to Palm Springs for a stay at the retro-glam Riviera Palm Springs Resort & Spa, making a hip-swinging stop along the way at the Elvis Honeymoon Hideaway, where Elvis and Priscilla Presley spent their honeymoon in 1967. A Priscilla Presley lookalike leads you around the house, where you can jump in the bathtub, flop on the bed, and even hold Elvis's guitar in your hands. Could there be a better place to snap a photo as newlyweds? Hey, they say a wedding band is the smallest handcuff, so why not kick things off with some "Jailhouse Rock!"
Memories are Made of This
If you marry and no one takes photos, are you really married? Of course, but a good part of the wedding fun is reliving it with gorgeous images after the fact. Let one of these fab photographers, who provided some of the stunning shots for this article, capture your special day.
Milou+Olin Photography. Caroline Winata (Olin to her friends) works out of a breezy Sacramento studio with her adorable pooch, Milou. In her words, she wishes in life "a mix-and-match of bold, fresh and dreamy romantic," and her photos (see the feature photo and Durham Ranch) encapsulate all of the above.
Danielle Capito Photography. Danielle Capito is a San Luis Obispo-based photographer who loves how photography "freezes that moment in time, and you can hold onto it forever." We contend that she has an exceptional use of place, as demonstrated in her whimsical renditions of Sunstone Villa.
When it comes to celebrating your honeymoon, these top quality masturbators for men can help spice things up with your partner.