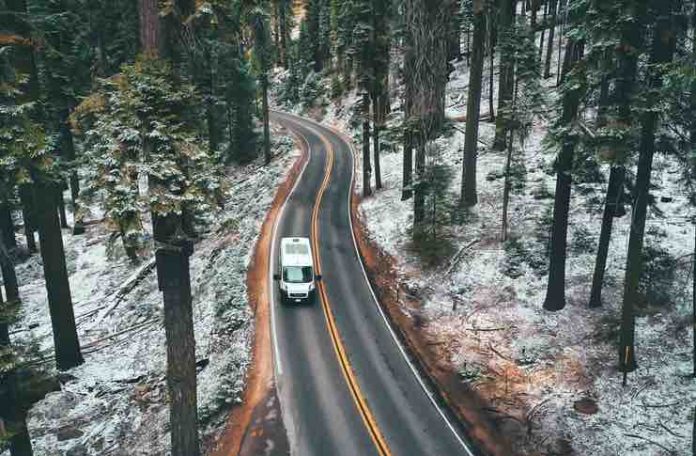 California hosts some of the finest routes for winter trips. Read our article on some of the best winter road trips in California you can take this year.
Road trips can be a fun, stress-relieving experience. If you are tired of the bustling city noises and lights, a road trip with your friends or family can be refreshing.
Take your eyes away from the bustling boring city structures, and satisfy them with the beautiful sceneries California has to offer. Summer road trips can be exhausting because of the heat and traffic that is why we prefer winter trips. If you plan properly, road trips can be far less expensive than most other trips.
Here is a list of our favorite winter road trips in California you can try this year.
1. Lake Tahoe to Lone Pine or Yosemite National Park
This 234-mile-long route to Lone Pine from Lake Tahoe, or 215-mile-long route to Yosemite National Park will divert your mind away from your busy schedule.
The gas cost will be around $200-$228 if you are using an average fuel economy passenger car. The costs can be different if you are using rental cars. Make sure to look for the best rental car coupons to get discounts and save money on your trip.
The beginning of your journey will be right after ice skating over the frozen Lake Tahoe. On your journey to Yosemite or Lone pine, you will be able to see snow-covered volcanic rocks, freezing waterfalls, and snowy Tufa towers.
It will feel as if you are entering an eerie area void of life where snow spirits dwell. On your way there, you can take a break at Bishop and enjoy some top-quality bread and bakery.
2. From Malibu to Lompoc
Beaches are not ideal for winter trips, but that doesn't mean it is not enjoyable to look at. The total length of your trip will be 120 miles long, so expect to have 3-4 hours of traveling experience.
Your journey will start in Malibu. You will be going through curved roads at the base of the Santa Monica Mountains.
Once you cross the mountain areas, you will see the Channel Islands National Park. You can take a break and walk over to the beach.
After You leave the park, the road will go inland, and you can see large ranches and enjoy the gorgeous sunset.
3. From Beach to The Desert in San Diego
From sky blue oceans to vast deserts, San Diego has everything. This trip is not something that you will enjoy mid-winter, so take this trip when the temperature is a little high, and it's almost the end of winter.
The weather will be slightly warmer as the snow starts to melt away. Start your journey from the beaches of La Jolla or Del Mar.
From there, head towards highway 67. The roadsides will be full of farmlands. Take a turn into highway 78, and the farmlands will suddenly change into the Cuyamaca Mountains.
Once you cross this mountain pass, you will enter the 600,000-acre Anza-Borrego Desert State Park. Since it is near the end of winter, you will be seeing a lot of flowers ready to bloom. Stay at any hotel by the road, and at night, witness the dazzling starry night sky.
4. San Francisco To Fort Bragg
Everything about San Francisco screams adventure. This highway is a sight to behold during winter. Your journey will start when you cross the Golden Gate Bridge and head into Sausalito and Marin County. There, you will be greeted by the snow-covered coastal hills and redwoods of Muir Woods National Monument.
Go further down the road, and you will see the remote beaches of Point Reyes National Seashore. Your next stop will be at Sonoma County's wine country. But do not drink and drive.
Buy some for later to have it at the comfort of your home. After you take a quick break, keep going ahead till you reach Mendocino. Take a turn north, and you will eventually reach Fort Bragg.
McKerracher State Park in Fort Bragg has sea seals and migrating whales. But the biggest attraction will be the glass beach, which looks as if it is covered in crystals.
5. From Cajon Pass to Big Bear
California or the southern part of it is well known for its summer beaches and cozy springs. But very few people know there is a beautiful mountain pass along highway 18 that connects Cajon pass to big bear. The whole road is 117 miles long, so this could be one of those short road trips.
These brown Rocky Mountains get completely white during winter. Some even claim them to be the Alps of Southern California. Your journey will begin at Cajon Pass, just one hour away from Los Angeles.
If you have time in your hands, you can also go for a winter hike. But make sure to carry some winter gear if you plan on hiking.
6. Trip Around Las Vegas
Las Vegas, the city of casinos. The harsh cold of winter could never stop the bustling activities of Las Vegas. Since it is winter, and Christmas will arrive soon, you can bet that the city will glow even more than usual.
This is more for those who love to party and hang out rather than diving into the peace of nature. Go around the hotels and USA Casinos, and you will find that each establishment is trying to outshine the other because of all the upcoming events.
7. Destination Lassen Park
One of the lesser-known parks of California, this park has a lot to offer to its visitors. Although northern California witnesses some pretty serious snowfall, regular plowing of highway 89 makes reaching this park very easy. Along the way to the park, you will witness the wondrous mountain around the curved paths gently blanketed by a thick layer of snow.
Once you reach Lassen Park, there will be no shortage of winter activities. Skiing, sledding are some common activities. However, do not go for a dive at the pools of Lassen Park. Even during winter, these pools are too hot for swimming because of geothermal activities.
Final Thoughts
Amazing journeys do not need to start once you reach a certain destination. Most memorable journeys can be made on the road. It all comes down to your personal preference and perspective. If you like long drives and enjoy the cold breeze coursing through your hair, then go on a road trip across the state of California this winter.