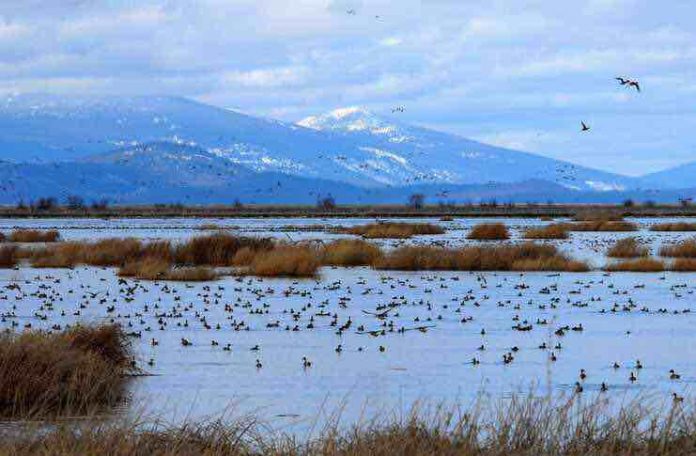 Looking for a few scenery tips for hunting in California? Well, you've reached the right place. In this post, we'll cover five of our favorite spots to hunt in California – where we enjoy the views and landscapes even more than hunting itself.
California isn't all about beaches, movie stars, and great weather. Because of this last factor (great weather), the Honey Sunshine state is the perfect place to spend traveling outdoors. However, if you want to have the perfect travel experience, you can check out a helpful site like https://madeinturkeytours.com/blue-cruise/ for your best preferences!

The California Department of Fish and Wildlife is huge. They manage over 1 million acres of fish and wildlife habitat across more than 700 properties. These areas have an extremely rich diversity of wildlife, fish, and plant species. Out of all these vast landscapes, I picked my favorite 5 spots, although it wasn't an easy task. So here we go…
Top 5 Spots For Hunting In California:
1. Los Padres National Forest
This U.S national forest is located in the southern and central part of California and includes lots of stunning mountainous landscapes along the CA coast (from Ventura to Monterey). The Jacinto Reyes byway, for example, passes through the Ojai Ranger district and part of Mt. Pinos.
This byway travels through amazingly scenic and diversified terrain. You'll see beautiful vistas along the route, as well as breathtaking cliffs, lush riparian habitats, rock formations, and more. Los Padres National Forest contains unique geology, plant and animal life – which also capture the interest of hunters from all over the country.
Like in most other spots, hunting in Los Padres is a seasonal activity and is permitted during hunting seasons set by the California State Department of Fish and Wildlife (CDFW).
What can you hunt in Los Padres National Forest? Big Game includes deer (mainly Columbian Black-Tailed and California Mules), black bears, and wild boars. Small Game includes Doves, Pigeons, Rabbits, Turkeys, and Quails. In some parts of the forest, like Chew's Ridge or Upper San Antonio – you'll also find Wild Pigs.
Don't forget – you'll need a California State Hunting License for hunting Game. And if you're going for big game hunting in California – do it safely and use rifle slings. These rifle slings, or carrying straps as some call them – have saved the lives of thousands of animals.
Watch this video to get a glimpse:
2. The Angeles National Forest
Another beautiful spot for hunting in California is Angeles National Forest, which attracts more than 100,000 hunters every year. Sitting right on the outskirts of L.A, it contains one of the most well-known trails on the west coast, The Pacific Crest Trail. This wondrous place offers adventures ranging from hiking, camping, bungee jumping, hunting, and more.
Along the way, you'll encounter spectacular mountains and valleys, scenic vistas, and overlooks. You should definitely hike to the San Gabriel Mountains National Monument.
Check out this 3-minute clip of the PCT:
The Angeles National Forest is huge, and spans over nearly 694,187 acres, with superb hunting areas that are also an open year long. You'll be able to hunt for doves, pigs, rabbits, but the most popular is deer. You'll be free to hunt the mules, whitetails, sikas, fallows, axis, sambars, and blacktails – only during the general deer season.
Since you're only allowed to hunt in zoned areas – don't forget to take a map that shows the hunting zones. Also, take a few layers of clothing in your backpack – as the Angeles forest is characterized by extreme temperature changes.
3. Sierra National Forest
Another great spot for hunting in California is located on the western slope of central Sierra Nevada, in Central CA. The Sierra National Forest meets Yosemite National Park on its northwest border and Kings Canyon National Park on its south. It offers beautiful mountain scenery, stunning lakes, and much more.
One scenic trip is the Sierra Heritage Byway that begins in the San Joaquin Valley and goes up the western slope of the Sierra Nevada Mountain Range up to Kaiser Pass Meadow. This byway will take you around 4 hours to drive, but you'll get to see several charming resort towns, popular lakes, and dazzling views.
Another wonderful road trip you can make is the Sierra Vista Byway. This one starts near the community of North Fork and takes you for 100 miles through the Forest. It's a bit longer and will take you around 5 hours, but you'll enjoy the grand scenery and views of the Sierra Nevada Mountain Range.
What about hunting? In the Sierra National Forest, you'll be able to hunt for quails, turkeys, rabbits, squirrels, deer, and bears. Note this: If you're thinking of camping and having an open fire – you'll need to get a California campfire permit.
Watch this and get excited to hunt here:
4. North Cow Mountain Recreation Area
This marvelous CA hunting spot is located in Northwestern California within the Mayacamas Mountains, west of Lakeport and east of Ukiah. North Cow Mountain Recreation Area offers approximately 30 miles of hiking, biking, and horseback-riding trails.
This outback destination offers diversified landscapes, from steep canyons and rocky hills to lush forests of oak, pine, and fir. Its elevations range from 800 to 4,000 feet, with amazing views of Ukiah and Clear Lake. North Cow Mountain is perfect for hikers, campers, mountain bikers, horseback riders, and of course – hunters.
With 13 wildlife reservoirs and excellent habitats for bears, blacktail deer, wild turkeys, and other upland species – North Cow Mountain is a hunter's paradise. It also has a designated rifle range.
Watch this video of a few guys exploring North Cow Mountain:
5. Lower Klamath National Wildlife Refuge
This is definitely the most special place on our list of five spots for hunting in California. Why may you ask? Well, because it's the country's first national waterfowl refuge, established by President Theodore Roosevelt back in 1908.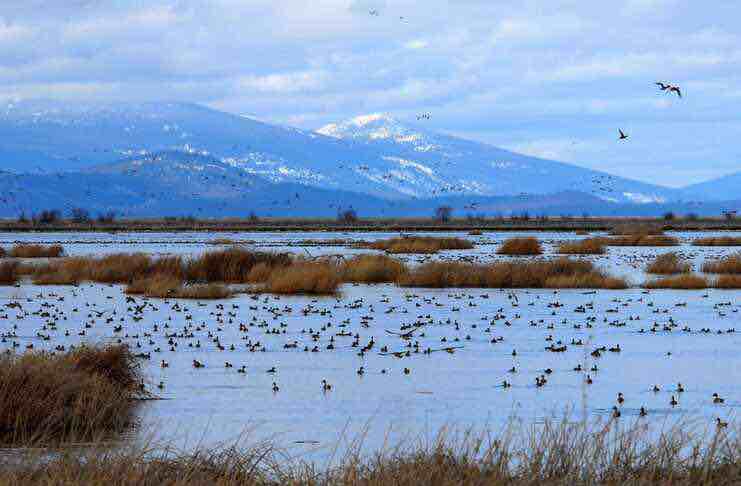 With more than 50,000 acres of open water, grassy uplands, marshes, and croplands, Lower Klamath National Wildlife Refuge is one of the most biologically productive habitats in the Pacific Flyway. At peak seasons, the waterfowl (all varieties of ducks, geese, and swans) population at the refuge can reach almost 2 million birds. Naturally, this makes it one of the perfect hunting locations in California.
So what can you hunt in the Klamath National Wildlife Refuge? Waterfowl hunting is of course very popular and includes ducks, geese, and mergansers. Pheasant hunting is also possible in the Lower Klamath National Wildlife Refuge and the Tule Lake National Wildlife Refuge. Deer hunting is allowed only at one section of the area – Bear Valley National Wildlife Refuge. Aside from that, you can also hunt for coot, moorhens, and snipe.
Want to read more of our hunting-related posts? Check out our 9 tips for your next hunting trip or our list of best shooting ranges in NY.