Is traveling in style and comfort possible? Or do you have to travel in style over comfort or the other way round? These are common questions that most travelers struggle to answer. However, the answers to these questions are easy. You can definitely travel in style and comfort at the same time. You don't have to neglect style for comfort or comfort for style.
Here are some helpful tips to ensure you feel comfortable and stylish when traveling.
1. Travel By Air
There are different modes of travel. You can travel by road, rail, sea, or air. While all traveling modes are perfect and will get you to your destination, traveling by air looks classy and can be quite comfortable, depending on how you do it. Besides that added class and potential comfort, traveling via airplane is easier and faster.
Nevertheless, if you're more into comfort and style, and have the means – you should book a business-class ticket instead of a regular one. This is because business class traveling offers an experience that economy class doesn't.
For instance, if you book business class on American Airlines, you'll have the privilege to enjoy spacious legroom, lie-flat seats, and complimentary wine and beer. What a luxurious and comfortable way to tour the world!
2. Consider Carrying A Backpack
A designer clutch or a crossbody bag might be your ideal option if you're looking forward to elevating your sense of style while traveling. However, such traveling bags are limited in size and might not fit everything you need to bring along on your trip.
As a result, you'll need to bring another travel bag to ensure you have everything you need. In such a situation, you won't only be dealing with multiple bags but also need to keep track to avoid losing them.
Instead of all the hassle, consider carrying a big tote or backpack: different designer totes and backpacks on the market match different personalities and styles. Therefore, finding a bag that suits your style can be very easy.
A tote or a backpack will shelter all your items, saving you from carrying more than one bag. Besides not worrying about losing your possessions, a backpack or a tote will ensure you adhere to sticking to the policy of one carry-on baggage.
3. Don't Forget To Accessorize
Accessories can elevate any style into a designer look. Therefore, don't forget to accessorize your look using classy sunglasses, a belt, and some eco-friendly jewelry. You can also bring along a scarf, a hat and maybe a cool warm jacket if you're traveling during winter.
4. Pack Your Essentials
It's important to note that traveling in style goes beyond your outfits. You need to look and feel good to be comfortable. Therefore, you should consider packing essentials such as lip balm, lipstick, a comb, and moisturizer to keep your look on point.
At this point, you'll understand why carrying a backpack or a kit is necessary. It'll ensure your essentials are within reach, enabling you to freshen up whenever possible. This way, you'll feel comfortable and beautiful throughout the journey, experiencing improved self-esteem.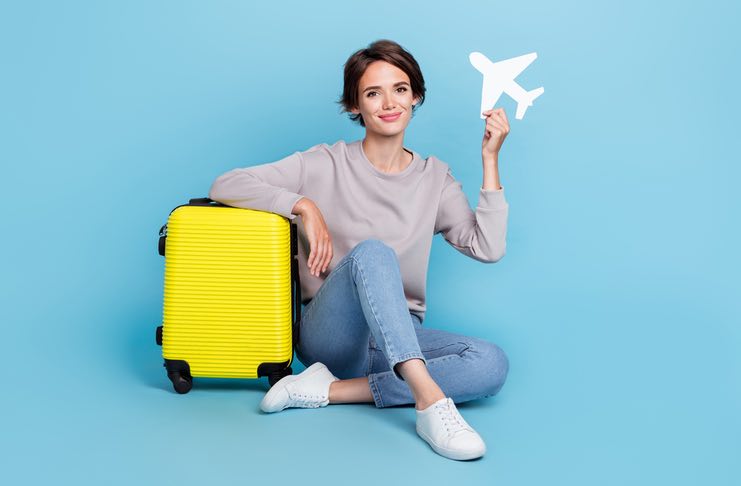 5. Settle For Natural Fabrics
When selecting clothes for your trip, considering the fabric is essential. While most fabrics look classy and nice, not all offer the comfort you need during long travels. It's vital to understand the climate of where you're traveling to avoid packing clothes with the wrong fabrics.
The reason why natural fabrics are ideal for traveling is that they're breathable and comfortable. However, many travelers think twice when picking natural fabrics since they might not sound luxurious or stylish. Nevertheless, this shouldn't be the case since countless stylish pieces, such as cotton pullovers and linen pants, are made of natural fabric. With the proper styling, the natural fabric can elevate your style into a look that's out of this world.
6. Avoid Tight Clothes
In most cases, travelers tend to concentrate on style and neglect comfort. For example, many travelers are likelier to prefer tight clothes that portray their curves without thinking of how uncomfortable they can be in clothes that narrow them down for prolonged hours.
Consider wearing loose pants and tops to prevent discomfort from wearing too tight clothes for hours. Loose linen pants and breathable tops will enhance your comfort without interfering with your style.
7. Choose Comfortable Sneakers
The most comfortable pair of shoes for traveling is sneakers. Such shoes are comfortable and cute. Unlike heels or boots, sneakers provide room for your toes to breathe. Sneakers also make movement easy, especially if you're planning to be constantly moving. Additionally, you can easily pack sneakers in a travel bag if you need to bring an extra pair.
Conclusion
Traveling in style and comfort is as easy as it sounds. It begins with your means of travel and your outfit. Unfortunately, many people neglect one for the other. As a result, the trips get unbearable and tiring. For example, wearing heels or tight pants instead of comfy shoes and loose pants might seem stylish but uncomfortable. Therefore, finding a balance between style and comfort for an enjoyable trip is important.
If you're planning a trip and want to travel in style and comfort, the above-discussed tips will greatly help.