We all know how important it's to take care of our environment, but sometimes we're so busy trying to keep up with the hustle and bustle of life that we forget there are more straightforward steps to help curb climate change. One such step is choosing walking as your preferred mode of transport when getting from one destination to another. We loved Teri Tynes's book, Walking Off The Big Apple.
Exploring local neighborhoods or traveling new routes by foot not only helps reduce carbon emissions but can also deepen your connection with the places you visit, create stronger ties with your community, and has significant physical and mental health benefits. So why don't we do more of it? In this article, let's look at ways to make travel greener (for ourselves and the planet) by encouraging walking.
Invest in Vegan Shoes
Taking the environment into account is an essential priority before traveling. Individuals must consider their impact on the planet during their travels and seek ways to lessen it. One tip for reducing an individual's footprint on their journey is investing in vegan waterproof shoes.
They are more eco-friendly and resilient due to being made from materials such as pineapple husks, recycled plastic bottles, and cotton scraps, and they can last much longer than traditional leather boots. With animal welfare additionally in mind, investing in vegan waterproof shoes would be a great way to travel greener while still enjoying a safe, fun, and stylish journey.
Pack Light
Due to the minimalist nature of walking, it is necessary to keep your packing light, and this not only saves you time and allows you to be more mindful as you explore. Avoiding heavy suitcases and bags or multiple changes of clothes can help reduce your environmental impact while traveling by foot.
Opting for reusable items such as water bottles and travel mugs to avoid excess waste is a great way to save the planet while exploring.
Take Advantage of Public Transport When Walking Isn't an Option
If walking isn't an option, then public transport is the way. Taking the time to research and compare your choices can make a massive difference in reducing carbon emissions.
Public transport also helps reduce traffic congestion, making roads safer for pedestrians and cyclists alike. It's also often cheaper than traditional modes of transport such as cars and planes. Believe me, Car-free travel beats any road trip.
Don't Forget The Sunscreen
Remember to protect yourself and your skin while traveling on foot. Investing in eco-friendly sunscreens is a great way to do this, as they are free from the synthetic chemicals found in conventional products that can damage our health and the environment.
These natural products contain ingredients such as zinc oxide and titanium dioxide, which act as natural blockades to the sun's harmful rays. And the bonus is that they are often vegan too.
Use Second-Hand Items Whenever Possible
Another great tip in your quest to travel greener is to look for second-hand items when you need something new. It can include clothing, accessories, and other things such as luggage or camping equipment.
Buying second-hand saves you money, reduces waste in landfills, and prevents further demand for new items. As a bonus, you may find some unique pieces that add character to your journey.
Look Out For Pedestrian-Friendly Paths
When researching routes, take the time to look for paths that are designed for pedestrians. It will make your journey safer and more enjoyable, as you will likely find less noise and pollution and more comprehensive pathways with fewer obstacles.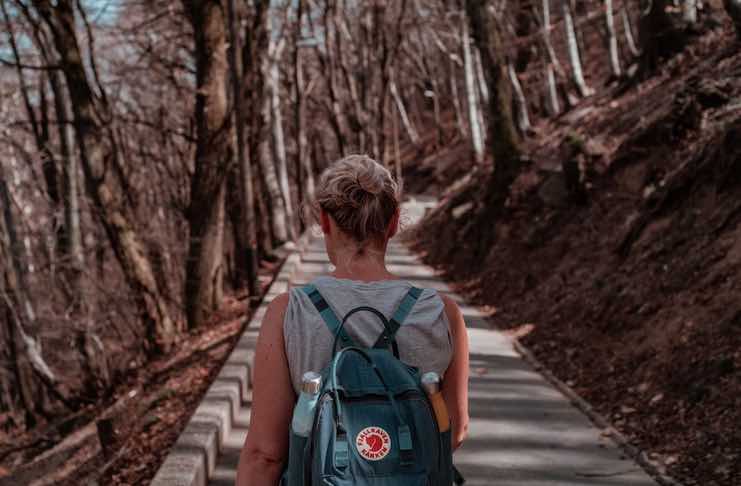 Additionally, these paths often provide scenic views and a chance to appreciate nature in an up-close capacity. In some cases, they can even lead you to tourist attractions or areas of historical interest that you would otherwise miss.
Track Your Progress
Tracking your progress is a great way to stay motivated and measure your environmental impact as you travel. It can be done through tracking apps that record the time it takes to complete each journey, and the total distance traveled.
Using this data, you can calculate how much carbon dioxide you have saved and compare this with other modes of transport. Additionally, tracking your progress can help you assess whether walking is the best option for future trips and determine whether public transport might be more suitable.
Reward Yourself With a Break
After a long walk, you must take a break and reward yourself for your hard work. Find a spot with natural beauty and allow yourself to relax, reflect and appreciate the views around you.
It will help clear your head and renew your energy levels before continuing your journey. And if you find yourself getting peckish, you can also snack on some locally sourced produce to fuel up and be kinder to the environment.
Share Your Experiences
Sharing your walking experiences can be a great way to inspire others and empower them to travel greener. Whether through social media, blogging, or even just by word of mouth, this is an effective way of spreading the message and encouraging more people to participate.
Encouraging people to walk where they want to be is also a great way to explore and discover new places. So what are you waiting for? Start planning your next walk today and see how good it feels to travel greener. You can find lovely walking tour ideas online for bigger journeys.
Conclusion
By taking simple steps such as opting for public transport, using eco-friendly sunscreens, buying second-hand items, looking out for pedestrian-friendly paths, tracking your progress, and rewarding yourself with a break, you can positively impact the environment while also enjoying the benefits of travel by foot. So why not start walking today? The planet will thank you for it.