More than 11 million people visit Pigeon Forge every year. If you ask locals where to go for fun in Tennessee, the chances are they will unanimously refer to this hill town. Visitors to Pigeon Forge have been treated to once-in-a-lifetime experiences for the past 60 years. When you take your family on vacation to Pigeon Forge, you will not have any trouble finding activities that everyone in your group will find entertaining.
In this post, we have highlighted the best Pigeon Forge has to offer in terms of family-friendly activities so you can make the most of your time:
1. Dollywood
Dolly Parton's Dollywood is one of the major motivations that attract tourists to Pigeon Forge. As a child, Dolly Parton spent time in the Sevierville and Pigeon Forge area, which she would later develop into a major tourist attraction. There are almost 40 rides in the theme park, including both thrill coasters and fun rides. It also features shows for all ages, shops, excellent restaurants, and a 20-minute steam train ride through the Smoky Mountains, making it an ideal vacation spot for families.
Wheelchairs and scooters are welcome at Dollywood. They even have a pet daycare so owners can participate in park activities without worrying about their furry companions. Dollywood Splash Country is another exciting option if your vacation falls during the warmer months. It is a seasonal water park with exciting rides, including a water coaster.
Yet, unlike in the past, finding family accommodation near Dollywood is not an issue, thanks to the nearby Pigeon Forge cabins that are packed with all amenities.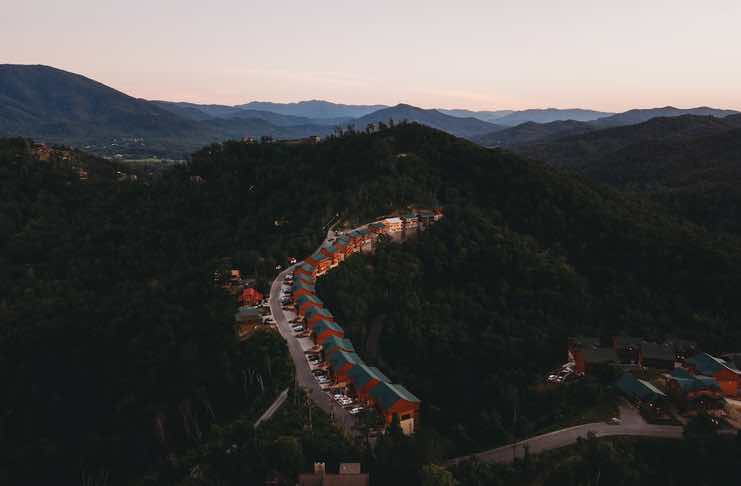 2. Titanic Museum
The Titanic Museum opened its doors in 2010. It is a fascinating interactive experience for the whole family. It not only replicates the appearance of the famous ship but also features more than four hundred informative Titanic displays. You can do things like touch icebergs, measure how long your hand can stay immersed in 28-degree water, and descend a grand staircase that was built using the exact blueprints of the original ship.
This museum will virtually make you feel like you have gone back in time to 1912. Near the museum's exit, a memorial wall bears the names of all 2,208 passengers and crew members who survived or died in the shipwreck. Just do a quick online search to find out what happened to the person whose name is on your boarding card.
3. Crave Golf Club
Crave Golf Club is considered the best mini golf course in America. It has revolutionized the way families spend their vacation time in Pigeon Forge. Broadly put, it is a sugar-coated paradise with 38 holes of playable customization, including indoor, outdoor, and rooftop courses.
At Crave Golf Club, you may also play mini-bowling. It retains all the excitement of standard bowling while being played on a more compact scale. The kid-friendly small bowling lanes do not require any specialized footwear. All you have to do is grab the miniature bowling ball, roll it down the alley, and smash the tiny pins. Moreover, you will adore the ambiance, which is enhanced by the lanes' fantastic lighting effects and a sophisticated lounge.
Be sure to stop by the Sweet Shop for a wide variety of candies to quench your cravings. This sweet paradise has everything from a wall stocked with Jelly Belly candies to giant canisters of Nerds to pixie sticks that are four feet long. If you want to eat ice cream, Crave Golf Club has you covered there as well.
4. The Island
Next to the LeConte Center, The Island in Pigeon Forge is a massive family fun center and entertainment complex. This attraction is open 365 days a year, with only minor adjustments made to its regular business hours to accommodate holidays. The island's main feature is a giant Ferris wheel that towers over 200 feet into the air and offers passengers amazing vistas of the Great Smoky Mountains. It provides year-round rides on its 42 climate-controlled gondolas. The wheel welcomes riders of all ages.
There is also a fountain that puts on a total of 14 different musical presentations. In addition to the amazing geyser that blasts water 60 feet into the air, the fountain's display is paced by more than 89 vertical nozzles that swirl smoothly to the beat of the music. Monday through Sunday, between 10 a.m. and 11:30 p.m., the fountain performs at the top of every hour.
Watch this to get a glimpse of the place:
5. Beyond The Lens
Creating this family-oriented attraction took seven years of intensive research, careful planning, and development. Beyond the Lens is an expansive 20,000-square-foot space with something for everyone. The building's striking front depicts a collapsed structure and a giant camera being seized by photographers. So you will be impressed even before you step inside. Click a snapshot in front of this stunning scenery. You will have multiple opportunities to pose for the camera throughout your stay. Some more memorable options include taking selfies atop a pallet full of money and within a space ball pit.
Inside, you will observe a wide variety of displays on topics like conspiracies, crime, gossip, and celebrities. The artifacts relating to the JFK assassination plot, the O.J. Simpson trial, and Princess Diana's tense relationship with the media are particularly noteworthy.
6. Outdoor Gravity Park
The Outdoor Gravity Park in Pigeon Forge first opened its doors to the public in April 2015. You can visit Gravity Park any time of the year. For a wet and exciting adventure, you may go zorbing in a specialized H2OGO. During the summer, the OGO's 10 liters of water provide a refreshing coolness, while it provides a cozy warmth during the winter. Riders do not fall over or feel dizzy because the water makes the interior slippery enough for them to slide inside as it spins.
The attraction also has a dry option called DRYGO, which is just as entertaining but does not involve getting wet. Dry zorbing only operates on the Speed Demon track and is only accessible in the fall, winter, and early spring. The attraction films your whole visit, so you may watch the footage whenever you want to relive the experience all over again.
Conclusion
Family vacations are an ideal way to spend time together and bond. However, the success of your trip heavily depends on your destination. That is why visiting Pigeon Forge should be right on top of your list. It does not matter if you are traveling with a large or small group of relatives or just the grandkids; everyone is guaranteed to have a blast in Pigeon Forge.