Tennessee is a treasure trove of weekend getaways that offer a little something to delight and entice every traveler. These experiences provide a wealth of diversity, ranging from luxury hotels and metropolis attractions to the unfiltered charm of the wilderness. It's the ultimate state to rejoice in Southern hospitality and carve out a romantic hideaway in the mountains.
Are you traveling with your partner or the entire family? Tennessee is perfect for romantic getaways, family vacations, nature explorations, backpacking, and luxury staycations. People can rent luxurious alpine cabins nestled in the heart of the wilderness and explore the beauty of historical heritage and explore action-packed theme parks.
Tennessee welcomes food lovers to experience southern gastronomy and a wealth of delightful cuisines with unique farm-to-table culinary experiences. It is the land of strongly brewed whiskey blends, Southern-fried chicken and flavorful BBQs, and of course, soulful country music. We've created the perfect round-up to help you explore the best attractions for a weekend getaway in Tennessee.
Six Great Weekend Getaways in Tennessee:
1. Sevierville
Famous as the hometown of the legendary singer Dolly Parton, Sevierville offers a lot more than her bronze statue. Nestled on the feet of the Great Smoky Mountains, Sevierville beckons travelers with its scenic vistas and vibrant community. The town of Sevierville is brimming with breathtaking beauty and the soulful energy of country music.
To make their stay in the area memorable, families can book Sevierville cabins TN and enjoy a luxurious Tennessee experience with spectacular views of the Great Smokies. Travelers can carve out luxury and enjoy modern-day comforts while immersing themselves in the wilderness. A centrally-located accommodation will ensure easy access to nearby nature walks, zipline facilities, and other entertainments.
We strongly advise visitors to embark on a helicopter tour to explore remote areas of the Smoky Mountains National Park. Adventure is in the air in Sevierville, from zipline and hiking to water sports and exciting barnstorming shows. You can head over to the Tennessee Museum of Aviation to explore the history of the US military aircraft. The Floyd Garrett's Muscle Car Museum enthralls automotive enthusiasts with its fascinating displays and rare collectibles.
You must embrace the traditional Appalachian experience with mountainside music and dance routines. The live music shows are what make Sevierville such an iconic and unforgettable attraction.
2. Pigeon Forge
Travelers often discard pigeon Forge as a tiny alpine city that doesn't deserve more than a day in their itinerary. But if you look closely, this small city is brimming with an exciting array of attractions and recreational activities.
Pigeon Forge is home to an enthrallingly beautiful landscape and scenic views of the Great Smoky Mountains. Nature lovers have much to rejoice in and explore the nature trails leading up to cascading waterfalls and wildflower meadows. We advise exploring the city on foot so you can take in the spectacular views and explore all its confines closely. Head off to The Island to enjoy street food and fine dining establishments that offer incredible farm-to-table experiences.
The Old Mill Square is famous for its southern boutiques and shops selling rare antiques, collectibles, and souvenirs. The Hollywood Wax Museum is a popular attraction to feast your eyes on enthralling lineups.
3. Gatlinburg
Do you see serenity, peace, and tranquility with spectacular views of rolling hills and lush alpine valleys? Head off to Gatlinburg and bask in the serenity of this quaint and peaceful alpine town. Gatlinburg allows travelers to choose their adventures and experiences and explore at their pace.
It offers easy access to the Smoky Mountains National Park and its breathtaking nature trails. It is also one of the best destinations to enjoy the magnificence of the wilderness from afar. It packs up scenic views and allows travelers to enjoy their trip.
We strongly advise travelers to explore the Gatlinburg Aerial Tramway to feast their eyes on the glitzy city skyline. Children adore the Gatlinburg Skybridge and the Gatlinburg Space Needle.
Food is a captivating experience to enjoy in Gatlinburg. We urge you to carve out a balance between the street-side vendors and fine dining establishments to experience the local gastronomy. Gatlinburg is also famous for its festivals celebrating artisanal crafts, the Appalachian culture, and farmer's markets.
4. Nashville
Nashville invites travelers to get their fill of southern hospitality, fried chicken, and soulful country music! It's one of the most iconic cities in Tennessee and the birthplace of country music. Do you seek a big city adventure that delivers an authentic Tennessee experience? It truly doesn't get more exciting than a weekend getaway in Nashville.
There's much to explore and see, for the city is brimming with culinary, retail, cultural, and heritage experiences. Music lovers must head off to the Country Music Hall of Fame and the Grand Ole Opry to pay homage to musical legends.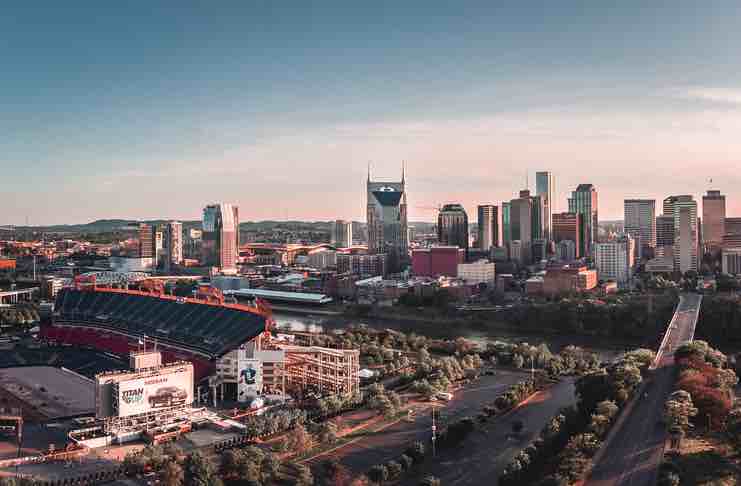 The city is brimming with bars, pubs, and live music halls enthralling music enthusiasts with country music shows. Nashville comes to life once the sun goes down, captivating party-goers with its vibrant nightlife scene. Food is another incredible experience, as Nashville is famous for serving traditional southern cuisine. You can feast on saucy BBQs and spicy fried chicken burgers to your heart's content.
5. Memphis
Memphis attracts travelers with its strong historical heritage, delicious southern cuisine, and the soulful tunes of country music. It offers an eclectic and captivating combination of food, culture, history, and music. Families and couples have much to rejoice in, from adventure sports and fine dining to music, dancing, and historical musings.
Memphis is the birthplace of rock 'n' roll and the blues, alongside a wealth of other genres that melt into country music. You can explore Graceland to educate yourself about the iconic musical maestro Elvis Presley's life and times. Travelers also flock to Sun Studios, Beale Street, and the Rock' n' Soul Museum to learn about the city's musical heritage.
The city is brimming with a wealth of experience, each offering a diverse and enriching educational experience. Memphis's incredible museums make it an excellent destination for families with children. Therefore, we strongly advise visiting the National Civil Rights Museum and the Memphis Brooks Museum of Art. Adventurers and nature lovers can explore the Mud Island River Park to indulge in outdoorsy fun and sports.
6. The Great Smoky Mountains National Park
Indeed, Tennessee's most popular and breathtaking attraction, the Smoky Mountains National Park, is utterly and insanely magnificent. It's the most visited national park in the US and one of the best places to connect with the wilderness.
The Great Smokies offer a delightful escape into the Appalachian Mountains, preserving a beautiful culture and diverse flora and fauna. The park is brimming with serene nature walks. Adventurers can explore over 150 hiking and biking trails.
The park allows adventurers access to the most spectacular portion of the legendary Appalachian Trail. We strongly advise outdoor enthusiasts to embark on this trail and experience Appalachian history with over 80 historic settlements and structures.
Conclusion
Travelers headed to Tennessee will find themselves spoilt for choice and forced to choose between an abundance of attractions. It's wise to set priorities so you can find the experience you crave. Mountain lovers can head over to the Great Smokies, while cosmopolitan travelers can choose between Memphis or Nashville.