Life is a book, and you are the writer. Ask yourself: how many pages have you added to your book so far? Would you like to add another page full of unique experiences? We say you must. Our planet is full of unusual and unique spots, and most of these are untouched. Like, for instance, did you know that you can visit a museum of handmade neon signs? The chances are there are many locations that you have never considered visiting.
So, if you're the kind of traveler who is always on the hunt for unique places to visit, then you've stumbled upon the right page. We have a list of the best of the best spots around the globe. These are strikingly unusual and offer a unique experience of a lifetime.
Scroll down to know more!
Rock-cut tombs, Myra, Turkey
The splendid and spectacular rock-cut tombs in Myra, an ancient town of Lycia, Turkey, tops our list of the best unusual and unique spots to visit. The main attractions are the tombs from the ancient Lycian necropolis with two burial sites – the ocean necropolis and the river necropolis. The 'Painted Tomb' is the most stunning of all; it bears eleven life-sized figures ranging 175 cm to 200 cm.
Rock-cut tombs, a place of historical importance, was unfortunately abandoned by the 11th century, and a large theater was left behind with rock-cut tombs. However, these stunning creations were rediscovered in 1840. As you visit them, you will witness that the tombs on the western side of the theater are aesthetically designed in an asymmetric pattern. Most of them are from the 4th century BC. In contrast, the tombs on the eastern side of the hill are similar to the ones next to the theater.
Watch this video to check it out:
Loktak Lake, Manipur, India
Would you like to experience standing on a piece of land that floats? If that sounds exciting and unusual, then visit Loktak Lake. This place is in the far eastern state of India, Manipur. It is the world's first and only freshwater lake and also the largest freshwater lake. Loktak lake has islands that actually float, and one can reach this island by boat.
People also call this stunning lake the 'Floating Lake.' The lake presents a panoramic view of the plains and meadows making it picturesquely unique. It is located at the foothills of mountains. And if you think that is all, take a look at phumdis. Phumdis are a group of circular masses of vegetation that appear as if someone has laid green colored places on top of the water surface. This unusual ecosystem is definitely a sight to behold and cherish for a long time.
Watch this video to understand what to expect:
Nyaung Ohak, Myanmar
If your quest for unusual places is craving for more, then visit a jungle within a village. Or is it a village within a jungle? We know the description is confusing, but the place is even more. Nyaung Ohak in Myanmar is more unusual and unique than you can think of. But this place is worth visiting at least once in a lifetime apart from other tourist attractions in Myanmar.
Nyaung Ohak features a group of ruined stupas, and these are covered under a blanket of greenery. However, you can still spot some ornate stucco carvings of devas (Hindu Gods), animals, and chinthe (a typical Burmese guardian lion). In addition, there are two ruined stupas situated on conical hills just north of the village. You can reach them via a dirt pathway and is behind Nyaung Ohak.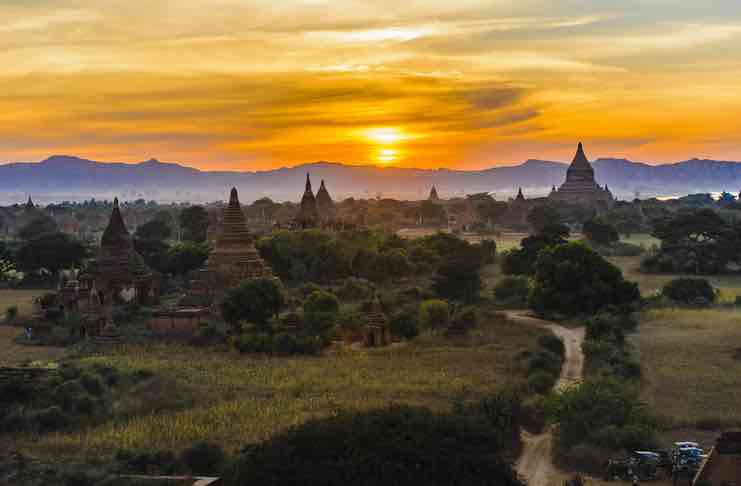 The Giant's Causeway, Northern Ireland
The Giant's Causeway is a natural wonder that you cannot take your eyes off. It is considered a symbol of Northern Ireland and has been attracting visitors for more than 300 years. This Northern Ireland unusual place is at the foot of basalt cliffs on the edge of the Antrim plateau along the seacoast.
The geological studies of the Giant's Causeway credit the volcanic activity (50 to 60 million years ago during the tertiary era) for the development. The unique characteristic of the Giant's causeway is the presence of about 40,000 large, polygonal columns of basalt lying in perfect horizontal sections. These form a beautiful pavement and look amazing. So, would you not want to witness this unique spot in the world of unusual places.
Toilet Theme Park, Suwon, South Korea
A toilet-themed park envisioned by Sim Jae-Duck, also known as Mr. Toilet, played a key role in improving the condition of the city's toilet before the World Cup 2002. He started building a toilet-shaped house in porcelain in 2007 but died in 2009. After his death, his house was converted into a museum and was officially opened for the general public in July 2012.
The museum features a range of toilet styles, such as historical urinals in the shape of little four-legged creatures having a round hole in place of a face, traditional squat toilets of Korea, European chamber pots. Over the years, the park has attracted toilet theme art and even celebrates a Golden Poop Festival. Now, if that doesn't sound unusual, we wonder what can?
Watch this video to get a glimpse of this place:
In addition to these both exotic and bizarre locations, there are endless options for you to choose from. For your next trip, try out something new and unexpected. After all, finding new gems is one of the greatest thrills you can feel during your adventure! However, do not forget to pack all the essentials, from documents to medicine. Also, please make sure to do some research before visiting a specific culture. Find out more about the customs and traditions of each place you visit. Lastly, always connect to a VPN before you decide to use free Wi-Fi when doing your online research. It might be tempting, but free hotspots can lead to loss of data, hacks, and misfortune. Thus, be careful and stay safe wherever you go!