Road trips are a great way to bond with the people you love, and Colorado is one of the best places to spend your time. People recognize Colorado for its beautiful landscapes and massive mountains, making it an excellent road trip state.
Please continue reading to find the most beautiful spots in Colorado that you can drive through with your road trip companions. All the spots on this list are must-see destinations if you're a fan of the mountains and the beautiful outdoors.
1. Peak-to-Peak Highway
The peak-to-peak highway is 55 miles long and offers beautiful views of the forestry in the mountains. The view you have driving on this highway is unlike any other view you'll find in the United States. So, if you want a memorable cruise with people you care about, you should spend some time driving around this road and absorbing the scenery.
Watch this to get a glimpse of Peak-to-Peak Highway:
2. Trail Ridge Road
While road tripping in Colorado, you should take a drive down Trail Ridge Rd because it is the highest paved road in the United States. If you're scared of heights, this might not be your course. Alternatively, if you want a high-point view of nature during your road trip, then Trail Ridge Road can give You Beautiful scenery that you'll remember.
3. Hanging Lake
It would help if you visited Hanging Lake during your road trip because it is a rare geological formation. You'll find waterfalls, hiking trails, and benches that you can relax on at this lake. Hanging lake is a popular tourist destination, so be mindful that many people might be there during your visit.
Every road trip needs spots where you can rest and take in the scenery, and a hanging lake can be this destination for you. Adding a Hanging Lake to your trip row is a great way to unwind and stretch your legs.
4. Red Rocks Amphitheater
Red Rocks Amphitheater is one of the most popular concert venues in the United States, featuring historical musicians over the years. The natural surroundings provide excellent acoustics so the whole crowd can hear the music. During your Colorado road trip, try booking a show at Red Rocks Amphitheater so you can have an authentic Colorado experience.
Watch this amazing place:
To make it to your show, you must drive safely and be cautious because many people might be headed to the same venue.
5. Gold Belt Tour
The Gold Belt tour is one of the most historic byways in Colorado and can help you get a peek into the history of the mining industry. If you want to add this beautiful trip route to your roster, plan for about 6 hours of drive time through this byway. This road is not only historical but also very scenic and relaxing to drive on.
The gold belt tour is about an hour away from Colorado Springs. This tour is a must-see if you and your road trip companions are history buffs.
6. West Elk Loop
If you want to kill a day, you should drive the West Elk Loop, which will take about 10 hours to complete. This loop features unforgettable mountain views and forestry throughout the entire road. This loop also features the Black Canyon of Gunnison National Park, which will leave you and the other people in your car in awe of the landscape.
7. Drive Through Denver
Denver is one of Colorado's biggest and most popular cities, known for its food, culture, and sports. If you want one of your road trip days to be spent enjoying delicious food and getting to know the most popular city in Colorado, then you need to drive through Denver. You can choose to make several stops through this city or drive around and enjoy the scenery.
If you plan several rest stops during your road trip, you can stop at some of Denver's restaurants, museums, and parks. Also, if you're not the vehicle's driver, you can enjoy some of Denver's craft cocktail bars and breweries.
8. Rocky Mountain National Park
Rocky Mountain National Park is a world-renowned park with beautiful mountain views that you can't get anywhere else in the United States. Adding Rocky Mountain National Park to your road trip route is a great way to take in Colorado's nature through the safety of your vehicle. If you want to spend some time out of your car, you can also stop here and take a walk around this National Park to get some fresh air.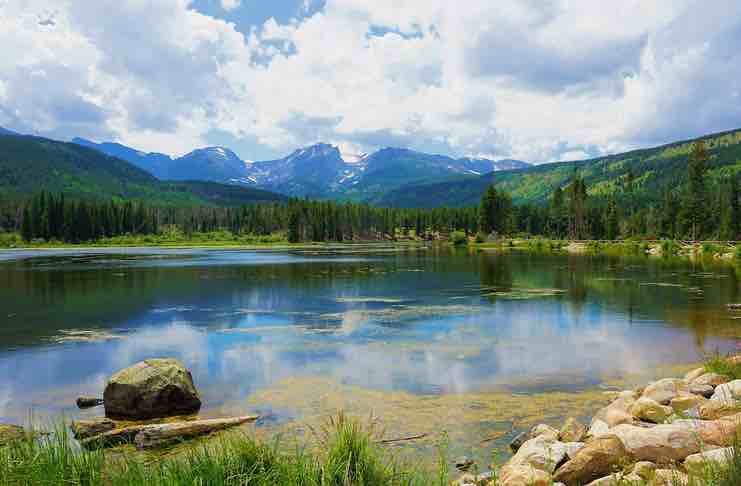 9. Glenwood Springs
Sometimes when you're on a long road trip, your legs cramp up, and you need to get out of the car and relax. Glenwood Springs is great to soak in a hot spring, take a walk, or drive around and enjoy the scenery. Whether you want to continue driving around or take a break, you need to add Glenwood Springs to your Colorado road trip route.
Glenwood Springs features a high elevation like most Colorado places, so you might need to address your fear of heights before your Colorado road trip.
Here's a short clip of the Glenwood Springs:
10. Drive Through Boulder
You can't visit Colorado without visiting Boulder; your road trip is the best time to visit. Boulder Co is one of the most naturally beautiful large cities in the United States, and there are plenty of rest stops you can check out when you add this city to your road trip route. While driving through Boulder, you can hike, eat, or shop.
Finally, and most importantly, before your road trip, ensure that you have good auto insurance coverage that you can afford. Fortunately, CheapInsurance can guide you through your insurance options on their website.
Final Thoughts
Colorado is one of the best states you can visit during your road trip because there are tons of scenic routes you can take. You can choose to spend your whole road trip driving or take a few rest stops and enjoy some of the fun hiking, dining, and drinking opportunities you can find throughout Colorado.