Sydney is a thriving metropolis with all the attributes of a world-class city. Culture, culinary and a dash of chaos are part of the cosmopolitan cocktail.
Thankfully, it presents a laidback parallel reality courtesy of its water-rich location. Sydney Harbor is one of the most beautiful natural harbors in the world and Sydney's Pacific beaches are up there with the best of them. The beach is intrinsically connected to the local lifestyle and a visit is an essential part of the traveler's experience. If you want to get active with the breeze of the salty sea nipping at your neck, book your ticket.
It's a long way to Sydney from the rest of the world, but for some travelers, the connection is getting better. If you're traveling from the U.S., United's new Houston to Sydney flight is a game changer. Though it's still a lengthy flight-8596 miles-the new route is decreasing total airtime for passengers. Travelers from many parts of the country will now require fewer (and more efficient) connections, shaving time off the journey.
After so many hours spent on board, you'll be craving activities in the fresh air and sunshine. Here are our top picks for Sydney's best active adventures.
1. Surf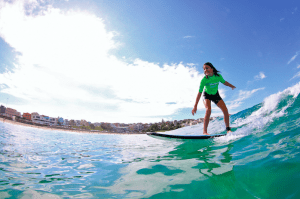 Sydneysiders ride waves as naturally as New Yorkers ride the subway.
It may be second nature for Aussies to hang ten but visitors can learn to surf at famed Bondi Beach. Let's Go Surfing offers private and group lessons. The friendly instructors provide participants with a wetsuit, surfboard and sunscreen, so all you need to bring is a towel and bathing suit. Their oldest student was 93, so you've run out of excuses to not give it a try.
2. Swim 
Sydney's ocean beaches are magnificent, though rough surf and big waves are a definite possibility. Don't let that stop you from diving in. The city's ocean pools are catnip for lap swimmers. Dozens of these seawater pools dot the coastline, like aquamarine charms dangling off an aquatic bracelet. They are encircled by rocks so you may swim in the Pacific Ocean's saline water while in a protected environment.
3. Cycle
There are many biking options in Sydney, but exploring Manly on two-wheels takes the cake. This charming neighborhood, bounded by the sea on three sides, is a favorite Northern beach. It is easy to reach via ferry and the ride itself is part of the fun. Take the traditional green ferry and you'll be there in around 30 minutes.
After a swim at Manly Beach, rent a bike from Manly Bike Tour's fleet of well-maintained mountain bikes, cruisers and tandems. Pedal off and explore Manly's 20 kilometers of dedicated bike paths as they wind through secluded coves, marine reserves and a National Park. Afterwards, relax with a drink at one of the many seaside cafes or indulge in a casual meal of fish and chips, a Manly favorite.
4.Yoga
Yoga suits Sydney's vibe. Whatever style you like to practice, there's a studio or outdoor class to welcome you. Hot Dog Yoga's signature Vinyasa flow class is taught in a heated studio. Your muscles will feel warm and toasty as you use the breath to sequence from posture to posture. Whether you're a seasoned yogi or an absolute beginner, the expert teachers can show you how to modify and individualize your practice.
5. Kayak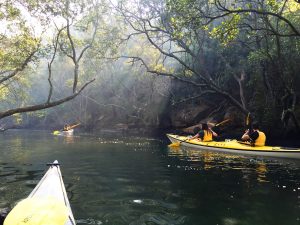 Rent a kayak or stand-up paddleboard from Sydney Harbour Kayaks and you'll glimpse some of this city's most iconic scenery. For a more immersive experience, book the 4-hour eco-tour.
6. Snorkel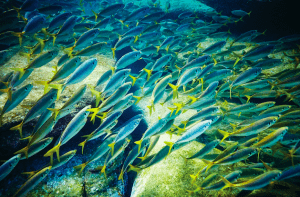 Gordons Bay is a prime spot for snorkeling. Nestled between Coogee Beach and Clovelly Beach, it's only accessible via the Coastal Walk. These water's are home to an underwater nature trail for an eye-catching look at the flora and fauna that thrive under the sea. Bring a snorkel mask and off you'll go.
7. Walk
The Bondi to Coogee Coastal Walk hugs the cliff-tops offering views of Sydney's sparkling Eastern beaches, ocean baths and aboriginal carvings. This relatively easy 6-kilometer stroll starts in Bondi and passes by Tamarama, Bronte and Clovelly on the way to Coogee. If you're visiting in October, you'll also be able to enjoy the massive public art display: Sculpture by the Sea.
Get Here
For passengers with a justifiable concern regarding the negative effects airline travel has on our planet, check out United's carbon offset program. It is designed to alleviate carbon emissions resulting from air travel by allowing passengers to donate award miles and additional charitable contributions to several carbon reduction projects.
The airline has recently started using alternative biofuels in an effort to reduce carbon emissions. They are currently working with AltAir Fuels converting non-edible natural oils and agricultural waste into renewable jet fuel.
United's flight between Houston and Sydney is operated with Boeing 787-9 Dreamliner aircraft. On a flight this long–nearly 17 hours– it is all about encouraging sleep. Sleep enhancements for passengers seated in United Polaris business class include the option of changing into cozy pajamas and slippers to help drift off into dreamland. The airline will donate tens of thousands of pillows, blankets and other inflight service items to Fisher House Foundation.
For additional information, visit www.Sydney.com
Photo credits: Surfing image courtesy of Let's Go Surfing
Cycle, kayak and snorkel images courtesy of Destination NSW 
Featured image, walk and swim courtesy of the author
Yoga image, Bernard Lee