— October 19th, 2017
Today, marks the opening of the 21st Annual Sculpture By the Sea, the world's largest free sculpture exhibition. Every year, the three week exhibition takes over Sydney's Bondi Beach with over 100 sculptures erected on the coastal walk between Bondi and neighboring Tamarama Beach, more than a mile away.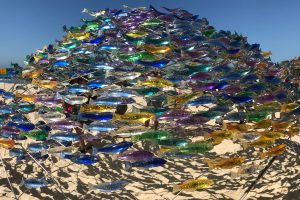 The subjects of the sculptures this year vary widely, so expect to see everything from a robot mosquito to a tram car. Many artists use the nautical landscape as their inspiration, turning to themes of the sea. Multiple canoes, three large scale surfers, a hamburger fish hook and an acrylic school of fish are just a few of the ocean-related pieces visitors will discover along the walk.
We stopped in the 'Inconvenience Store' to chat with its creator, Marina DeBris, a graphic designer turned artist-activist about her inspiration. While many of the installations took on the more traditional form of sculpted material, the 'Inconvenience Store' was a small structure you could walk into and, perhaps, even mistake for a real store.
Yet, inside, as you began to explore the towels rolled up on shelves, or the clothing hung with tags, the seaweed hanging off the sides became more noticeable: everything in the 'Inconvenience Store' is trash. Marina had spent over two years collecting waste from just three of Sydney's beaches to create the piece; "it's about reducing our waste and not using things like water bottles, or things that you just use once. It's not acceptable and all of us have to start figuring our way out of this."
In addition to the temporary installations, Sculpture by the Sea also offers artist talks, walking tours, and the newly added virtual reality experience. If you can't make it to Sydney by November 5th, you can browse the current art online
A few of our favorites:
[rev_slider alias="sculpture-by-the-sea"]