Windstar Cruises are known for their intimate yacht-style voyages to small ports and hidden harbors. Its sailing yachts carry just 148 to 310 guests to some 50 nations, calling at 100 ports throughout Europe, the South Pacific, the Caribbean and Central America. Guest satisfaction and minimizing the impact on the environment are top priorities.
Scenic Pleasures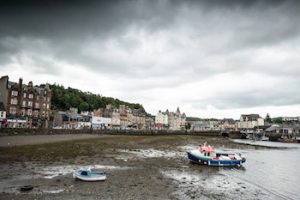 For dramatic scenery, the Gaelic Explorers itinerary is tip-top. You'll discover the mystical Scottish Highlands and remote North Sea islands where haunting beauty steals the show.
Nature has been left to its own devices in this part of the world. Scotland's remote geography of craggy inlets and misty mountains is a bonanza of spellbinding vistas. You will see ruggedly beautiful coastlines, crashing waves and wide-open sky. Marine life thrives so lookout for dolphins frolicking around the ship.
Passengers board in Edinburgh and disembark in Dublin or the reverse, boarding in Dublin and disembarking in Edinburgh. Either way, the ports of call are the identical. You'll stop in Invergordon, the Orkney Islands, Isle of Skye and Oban before a stop in Northern Ireland, the Isle of Man and Dublin.
Shore Excursions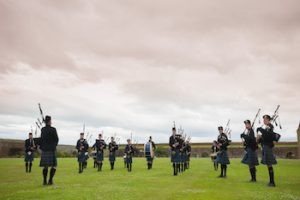 Ports of call along the way give you the option to explore on your own or to book one of the dozens of guided excursions offered. Favorite shore excursions include a visit to Loch Ness and the chance to see Nessie, aka the Loch Ness Monster.
In Portree on the lush Isle of Skye, a shore excursion to Eilean Donan Castle is loaded with eye-candy. The castle has been featured in numerous films, so it may look familiar to movie buffs.
All passengers are treated to a free excursion, the Fort George: Beating Retreat. The fort is the only ancient monument in Scotland still functioning as a working army barracks. Although the "Beating Retreat" is purely a ceremonial occasion these days, its origins are founded in the military routine of the past. In the 16th century the drum was a means of battlefield communication. After a spectacular extravaganza of pipes and drums, you'll nibble and nosh on fine Champagne, homegrown whisky and delectable canapés.
Culinary Scene
The kitchen goes as bold as the Scottish scenery with food options that are clever and delicious. This is to be expected from Windstar, thanks to their recent partnering with the James Beard Foundation.
The James Beard Foundation was founded to advance America's culinary arts and to celebrate the chefs, writers and restaurateurs whose excellence elevates it. Several Windstar cruises will have James Beard Award winners and nominees on board, cooking for and interacting with guests.
Star Pride's Indian-born chef offers spicy variations that stray from cookie-cutter cruise ships standards. He teases the adventurous palate with a delectable selection of Indian dishes. Feast on lamb biryani, butter chicken and shrimp curry, served with authentic naan bread, homemade chutney and cooling raita, a yogurt-based sauce.
If you're hungry for patriotism on a plate, many meals lean local with treats such as Scottish salmon sourced from fisherman in ports along the journey.
A Whisky Whirlwind
Thirsty passengers with a penchant for aqua vitae can visit several distilleries as part of guided shore excursions. The cruise can easily become a mobile whisky feast if sipping and sampling Scotland's favorite liquid is up your alley.
Independent travelers may visit distilleries solo. The Oban Distillery is just steps from port, so it's a snap to get to. The whisky is displayed with the care of a well-curated museum exhibit. The tour ends with a wee dram of their unforgettable 14-year-old single malt whisky.
Star Pride Details
The 106 suites on the Star Pride all have ocean views and have been recently refurbished. Each is oversized, so there's plenty of room to relax. Thoughtful touches like fresh flowers, luxurious linens and a flat screen television are perfect perks. The on board laundry service is efficient, so pack lightly.
The crew is uniformly polite and goes the extra mile to pamper to passenger whims so you'll feel like royalty.
Despite the high level of service and elegant features, the vibe on board is as casual as you want it to be. Unlike many high-end cruises, there are no formal nights in the dining room, so no jacket and tie or evening gowns are required.
Windstar's Environmental Commitment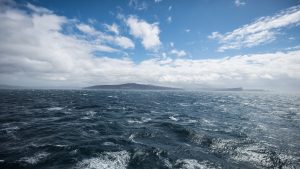 To ensure the highest standards of environmental stewardship, a senior member of the crew is designated as the ship's Environmental Officer. These officers are responsible for maintaining robust standards to protect the marine environment and its inhabitants. The crew receives comprehensive environmental training each year.
Windstar Cruises aims at reducing fuel consumption through increased use of ship's sails and through itinerary revision. The ships use fuel that is cleaner-burning with lower sulfur content to minimize environmental impact.
Windstar Advantages
There are many advantages to the Star Pride's manageable size, including the open bridge policy. The Captain and his crew welcome passengers to stop by, ask questions, explore the navigational tools or just say hello.
Multiple daily lectures on a range of topics that pertain to Celtic topics are eye-openers that will keep your brain stimulated as some of the most breathtaking scenery on the planet passes you by.
For more information, visit Windstar Cruises. To learn more about Scotland, head to Visit Scotland and Visit Britain.
Photo credits: The author, Visit Scotland and Windstar Cruises