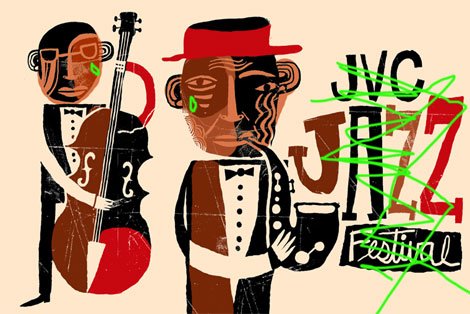 Jazz feels like New York. There's no city with greater historical ties to this truly American genre. Chicago, New Orleans, and Kansas City are worthy competitors, but as in most things, you can't beat New York. Top names in jazz have called New York home, like John Coltrane, Ella Fitzgerald and Thelonious Monk, Count Basie, Benny Goodman and Louis Armstrong. And the list goes on.
This past June was the first time in 37 years that New York City did not host a jazz festival. Thanks to the good people at CareFusion, a global health care company, the Jazz Festival will be brought back to New York from June 17 – 26, 2010.
George Wein created the famed Newport Jazz Festival in 1954, which started the "festival era" and advanced the concept of live music. He's producing the series that will come to such esteemed New York venues like Carnegie Hall, Central Park's SummerStage, Crotona Park in the Bronx, Harlem Stage Gatehouse, The Jazz Gallery, Jazz Standard, (Le) Poisson Rouge, Louis Armstrong House Museum, Music Hall of Williamsburg, and Prospect Park's Bandshell: Celebrate Brooklyn. The various shows will typically be priced between $15-$20, making it more accessible for all to enjoy the different performances.
CareFusion is also sponsoring the annual Jazz Festival in Newport this summer, which drew 13,000 people last year. These festivals sample the range of talent on the current jazz landscape, bringing established giants of the genre together with up and coming artists. And if you haven't gotten your fill in June, Newport serves up a tidy weekend getaway on August 6-8.  With the bitter winter upon us, it's nice to start thinking about warmer weather at the end of the tunnel. So you can stay local, plan an escape, or indulge in both because there's nothing quite like jazz on a summer's day.
For more information or to keep updated on the lineup, visit nycjazzfestival.com. Photo courtesy BrooklynVegan.