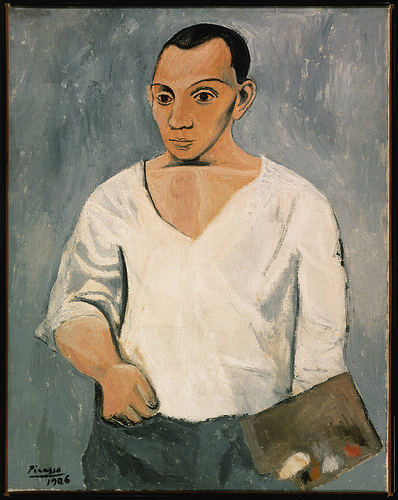 What: Picasso and the Avant-Garde in Paris exhibition
Where: The Philadelphia Museum of Art, 26th Street and the Benjamin Franklin Parkway, Philadelphia, PA
When: Wednesday, February 26 through Sunday, April 25
Why: Picasso. Paris. Artsy expats: all combine to create a sweeping museum show. The Philadelphia Museum of Art's exhibition begins in 1904 with a restless young Pablo Picasso, who at age 23 decided to move to Paris, during its bohemian and cultural heyday. There, he met up with fellow artists like Georges Braque and Juan Gris, and together they formed a lively, avant-garde society known as the School of Paris. They bantered about in smoke-filled cafes with other creative sorts, drinking absinthe and debating life, art, politics, and everything in between.

The artists' shared philosophies influenced each other's works, which is a concept explored in the museum's exhibition. Some of Picasso's most pioneering paintings (Self-Portrait with Palette, Man with a Guitar), sculptures, and drawings are set among that of his contemporaries, in a series of 11 galleries. It's the first time many of these pieces have been seen together, connecting the visual dots between techniques that would lead to Collage, Cubism, and Surrealism.
The "Salon Cubism" gallery is particularly cool to explore as it partially recreates the famous Salon d'Automne of 1912, when the Parisian public got their first glimpse of Cubism. Here, you'll find Marcel Duchamp's controversial Nude Descending a Staircase (No. 2) with its disconnected planes and fragmented lines, which critics compared to an "explosion in a shingle factory."
You wind down in the "Death and Sacrifice" gallery, and as you can guess from its name, it's not a happy ending. It highlights works by Picasso and others during the German occupation of Paris, at the start of the second World War. Picasso's Man with a Lamb is a tension-filled depiction of strife and suffering. And his Black Pitcher and Skull speaks for itself as quite, er, bleak. But who needs everything tied up neatly with a bow? This kind of ending leaves you wanting to talk about the art, which is exactly the point.
Bonus features: Check out the museum's online gallery guide, which replaces the traditional bound book for the exhibition, thereby saving thousands of trees. It links you to the virtual gallery where you can re-visit all the masterpieces (no lines!), read more about the works, and watch videos from the museum's director, curator, and conservationist from your iPhone or laptop.
Cost: Adults, $20; Students and youth (13-18), $16; Kids (5-8), $7; Children under 4, free
How to get there: Consult the Philadelphia Transportation guide in the Transportation Advisor section of offManhattan. (Philadelphia Museum of Art, 26th Street and the Benjamin Franklin Parkway, Philadelphia, 215.763.8100, philamuseum.org)

Consider staying overnight, as many Philadelphia hotels are offering discounted rates. Preferred hotel packages include one night accommodation, two VIP tickets to Picasso and the Avant-Garde in Paris exhibition, and other perks. For information on these packages, visit the philamuseum.org.