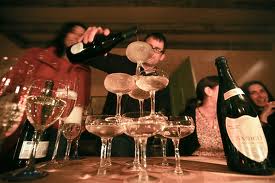 What: 3rd Ward's New Lost City/New Years Eve Party
Where: Two former factories in East Williamsburg, Brooklyn
When: Dec 31st, 9:00 p.m.—7:00 a.m.
Why: Across two buildings and five themed spaces, not too far from the frigid Times Square ball drop celebration, an end-of-the-decade party awaits like you've never experienced. Brooklyn locals and outer-borough bashers will pop champagne and shake away the last hours of 2009 with the help of 13 DJ's and more than a dozen artists. 10-9-8-7-6-5-4-3-2-1. . .

First up, the finer side of New York with the City of Grit room. Enjoy live art, cheap drinks, and Afro-beat rhythms by Dundee. Bring your inner glam to the lush City of Glamour loft sounding off depression-era techno à la John Margulies. Head to the terrace for heated conversations next to a wood-burning stove, then cool things off in the City of Ice room. Finish your glass of bubbly and wind your way down to the Winter Wonderland room for a snowy layout and spiked cider, courtesy of The Modern Dance Awareness Society. And lastly, you will find the wild spirit of NYC is alive and well in the room dubbed City of Fire. Expect stripper poles and pianos and brass brands like Stumblebum and Raya Brass. As the clock strikes '10, kiss a friend, chase a glass of champagne, and dance the night away.
(Psst, those with feather masks will get free champagne and gifts.)
Cost: $29
How to get there: Take the F train to 14th street and transfer to the L train. Take the L from 6th Avenue going to Brooklyn. Get off at Morgan Avenue, exiting near Harrison Place and Morgan Ave. Head North on Morgan towards Ingraham Street. For further directions visit the website. (3rd Ward, 195 Morgan Avenue, Williamsburg, 718.715.4961, 3rdward.com)
Photo: Courtesy of sgoralnick