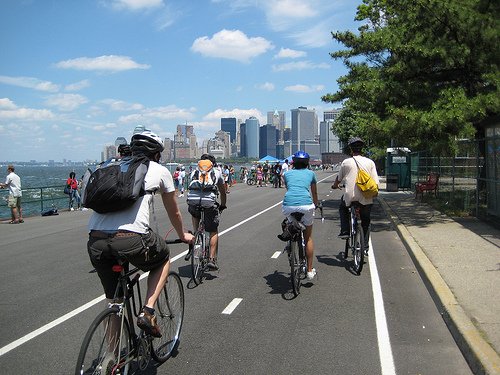 What: Gears and Grub Bike Ride
Where: Grand Army Plaza Arch, Brooklyn
When: Sunday, October 25th, 11 a.m.
Why: Lately, it feels like fall is on a seesaw with winter. Although it's always hard to know whether we'll need to pull on high boots, tote an umbrella or layer up with cardigans and scarves, event organizers are still playing out of borough and out of doors.
Anita Singh, Brooklyn By Bike's ride organizer, and host Daniel Delaney of the curbside based show, Vendr TV, are leading a bike crawl through Brooklyn in search of its best street food. Although Singh's last tour – El Tour De Taco – was a success, this ride plans to pedal to just five locations covering up to twenty manageable miles. The tour will include Chinese Food in Sunset Park, Latin food in Red Hook, and Swedish Meatballs with Drinks at Eurotrash in Williamsburg.
"The thrill for me is exploring my own boro on a bicycle to neighborhoods I haven't seen, places I haven't eaten. Cycling makes me feel so connected to my city," said Singh.
How to get there: Take the B and exit at 7th Avenue. Exit near Park Place and Carlton Ave. Head South on Carlton towards Flatbush. Make a right onto Grand Army Plaza and meet at the Arch Follow @brooklynbybike and @danieldelaney for live streaming and Twitter updates to meet up at any point during the day.