You've had enough of New York City's ultra urban nighttime offerings and want a decisively non-trendy, hipster-free way to kick up your heels and indulge. From 6:00 p.m. to 11:00 p.m. every Saturday in Rye Brook, New York at the Doral Arrowwood hotel, a four-piece band serenades an audience with a roster of classic, danceable tunes. Add to this a sumptuous buffet dinner, and you have a gloriously retro way to spend a Saturday night with your sweetheart.
I had spent many warm nights this summer dancing under the stars at Lincoln Center's midsummer's night swing, where my husband and I enjoyed the live salsa, swing, and tango music. Like a school kid, I didn't want summer's end to signify the end of fun. Not yet ready to hang up my red shoes, I convinced my partner in life and on the dance floor to venture north to the wilds of Westchester.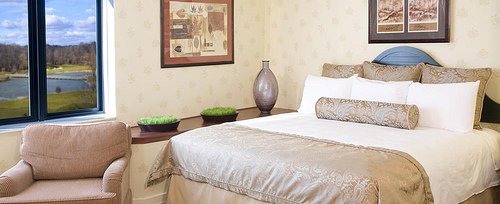 The total travel time—from the Upper West Side to Grand Central for the Metro North's New Haven Line to Port Chester to a waiting taxi for the three-minute ride to Arrowwood—took less than an hour. After arriving at the 114 acre resort, we were escorted to the glass-paneled atrium that instantly warmed our wind-chilled bodies with the sounds of Girl From Ipanema and the smells of seafood and garlic. Without wasting any time, we joined our fellow dancers—an adorable toddler dressed in her finest white ensemble with a pink sash, merrily twirling in her grandfather's arms alongside several couples, both young adults and older folks—who swayed to standards like The Lady is a Tramp.
In the dining room, the sommelier appeared when needed to assist in pairing a 2007 Chardonnay from the Acacia vineyards in Sonoma with shellfish. The fresh and colorful buffet could feed a ravenous team of Yankees. We started with oysters and clams at the raw bar. Next, the appetizer station had a dozen choices, including a lightly seared yellow fin tuna that earned five stars at our table. Everything tasted farm fresh, from the heavily stocked salad bar with micro greens and peppery arugula to the numerous fish entrees; my favorite was the poached Atlantic salmon with edamame beans and soy ginger glaze, while my husband preferred the baked cod with ratatouille. Soft shell crabs and Prince Edward Island mussels did not disappoint. We hardly had any room left to eat our Maine lobsters, the only item that is not picked up at the buffet, but ordered directly from your waiter. One per person is included in the buffet price, served traditional style, boiled and plated with drawn butter and lemon. We sacrificed our waistlines and got cracking, literally, as soon as we were handed our lobster bibs.
Looming large with a sign that says 'Danger Zone' hanging over it, the dessert bar was a sweet tooth's fantasy. The Belgian chocolate fountain centerpiece was accompanied by a variety of dunk-worthy fruits and goodies. I indulged in a cinnamon apple torte, the fresh fruit artfully displayed on a buttery short crust pastry. My husband went for the brownie and ice cream combo. We didn't take another look back, though it required serious self-control not to return for the coconut and chocolate layer cakes.
The buffet menu changes with the seasons, but the music, dancing, and atmosphere remain constant. It almost seemed like a time warp, but in a good way, a panacea from the complications that life in the big city can bring. It was comforting. It was fun. It was far enough out of town to feel distant and different, yet is so easy to reach. At $50 per person for such a deluxe, limitless spread, and an evening of live music and dancing, the price was right. Heading deeper into the season, expect lower prices and cooler weather favorites like lamb chops, grilled 12 oz. NY Sirloin, and pan seared Chilean sea bass.
To enjoy the indoor pool, golf clinics, Saturday Night Dinner Dance, Sunday brunch, and other fall/winter activities in the countryside, check out Arrowwood's various overnight packages, which begin at $159.
How to get there: Go to Grand Central and take Metro-North's New Haven Line to Port Chester, then hop a taxi three minutes to the hotel. (Doral Arrowwood Resort, 975 Anderson Hill Road, Rye Brook, NY, 914.939.5500, doralarrowwood.com)
Allison is a native New Yorker, who has lived in Rome, Tuscany, Melbourne, Toronto and Los Angeles. She frequently contributes travel pieces to Family Travel Forum, using her own children as guinea pigs as they travel the globe. She is fluent in Italian and Spanish and laughably adequate in French. Her background as an Early Childhood Educator gives her an added understanding of what it takes to travel with kids in tow. She firmly believes that the most important part of education takes place outside of the classroom, on the road, around the world. She never misses a chance to sample local delicacies, as her love for travel goes hand-in-hand with her love for food and wine. Follow Allison at @gourmetrav.