Winter in Boston may not be for the faint-hearted, but if you're willing to brave the cold, you'll discover a magical wonderland that's unlike any other season. America's walking city transforms into a glistening masterpiece during the snowy months, and as your trusty travel guide, I'm here to reveal the top ten cold-weather attractions you won't want to miss. So grab your mittens, and let's embark on a chilly adventure filled with surprises, cozy moments, and unforgettable experiences.
Traveling to Boston During Winter: The Journey Begins
Before we dive into the winter wonderland of Boston, let's discuss the best ways to get here, especially if you're coming from the bustling metropolis of New York City. There are several options, each with its unique charm, offering travelers various ways to embark on their adventure to Boston.
If you're seeking speed and convenience, flying is often the way to go. I recently had an exceptional experience using JustFly.com to book my flight from NYC to Boston. I found JustFly.com to be a perfect match for my travel style and a reliable choice for those looking to make a swift journey.

Aside from flying, travelers have a range of other options when journeying from NYC to Boston, each catering to different preferences. Those who appreciate scenic views and a leisurely voyage can opt for a train ride, where changing landscapes provide a picturesque journey. For a relaxed experience, bus travel offers affordability and the opportunity to enjoy a good book or the passing scenery. Alternatively, a road trip allows for personal exploration, albeit with a need for winter preparedness due to potential road challenges.
And now, without further ado – let's delve into our favorite cold-weather attractions in Boston:
1. Freedom Trail in Frosty Silence
You might think the iconic Freedom Trail is best explored under the summer sun, but there's a quiet beauty in wandering this historic path in the winter. The red-brick line stands out against the snow, offering a serene atmosphere with fewer tourists. You'll find yourself in the footsteps of history, contemplating the bravery of revolutionaries while enjoying the crisp winter air.
Check out this video to see how the Freedom Trail continues during Winter:
2. Ice Skating at Frog Pond
Who says ice skating is just for the pros? Frog Pond, situated in Boston Common, welcomes skaters of all levels to glide on its frozen surface. If you're lucky, you might even catch a snowfall while circling the ice. Be prepared for a few tumbles and lots of laughter; it's all part of the fun.
Watch this video to get a glimpse:
3. Beacon Hill's Holiday Magic
Wander through Beacon Hill's cobblestone streets, and you'll feel like you've stepped into a Hallmark Christmas movie. The historic neighborhood takes holiday decorations seriously. The gas lamps adorned with wreaths, the doors wrapped in red ribbons, and the windows displaying festive scenes make Beacon Hill an enchanting place to explore.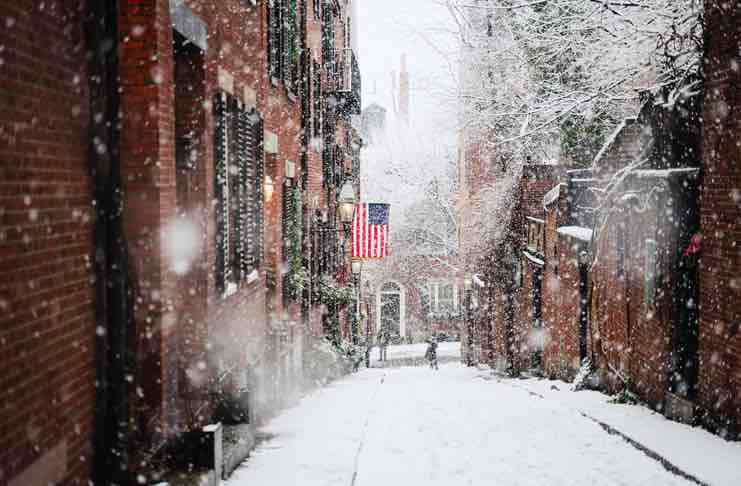 4. Whale Watching in the Winter Ocean
As strange as it may sound, winter is an excellent time for whale watching around Boston. When you board a whale-watching tour, you'll have a chance to see magnificent creatures like humpback and minke whales. They migrate south in the colder months, and your expert guide will provide you with fascinating insights into these gentle giants.
Watch this video to get a glimpse:
5. Boston's Museums: Inside Story
Boston's museums are a warm refuge when the weather outside is frightful. The Museum of Fine Arts and the New England Aquarium are top picks for art and marine enthusiasts. Explore fascinating exhibitions, engage in interactive displays, and find solace in the depths of the ocean or within the brushstrokes of timeless masterpieces.
6. Sam Adams Brewery Tour: A Toast to Winter
What better way to warm up in winter than with a cold beer? Sam Adams Brewery offers informative and entertaining tours of their facilities. You'll learn about the beer-making process and get a taste of their famous brews. It's a chance to indulge in the rich, malty flavors of New England, and you'll leave with a newfound appreciation for craft beer.
Watch this video to learn more:
7. Skiers' Paradise at Wachusett Mountain
Ready to hit the slopes? Wachusett Mountain, located a short drive from Boston, is a skier's paradise in the winter months. Whether you're a seasoned pro or a novice, you'll find trails to suit your skill level. It's an exhilarating way to embrace the frosty season and get your adrenaline pumping.
Watch this video to get a glimpse:
8. Cozy Moments in Quincy Market
Quincy Market at Faneuil Hall is a year-round hub of activity, but it takes on a different charm in winter. Heaters are scattered around the market, creating pockets of warmth to escape the cold. Indulge in a cup of clam chowder or some warm apple cider while enjoying live street performances.
Watch this video to get a glimpse:
9. A Relaxing Stroll Along the Harborwalk
Even in winter, Boston's Harborwalk offers breathtaking views. It's a peaceful escape from the city's hustle and bustle, with serene waters, waterfront parks, and the occasional burst of color from the historic ships and boats. The salty air and the gentle lapping of the waves make for a tranquil experience.
Watch this video to get a glimpse:
10. A Night at Fenway Park
Fenway Park is an iconic baseball stadium, but during winter, it transforms into a snowy wonderland. The annual "Frozen Fenway" event allows ice skaters to glide around the infield. Whether you're a Red Sox fan or not, there's something magical about skating beneath the stadium's bright lights and watching the snowflakes fall onto the rink.
Watch this video to get a glimpse:
To Conclude…
Boston's winter wonderland might have its frosty challenges, but for those willing to embrace the chill, it offers unique experiences and moments of pure enchantment. From the Freedom Trail's icy silence to the cozy warmth of Quincy Market, the city's cold-weather attractions reveal a different side of Boston's vibrant culture and history.
The symbolism of Boston's winter lies in its resilience and the ability to find joy in the midst of frost and snow. It's a reminder that life's beauty often emerges in unexpected places and moments, just like the way the city's streets are magically transformed when the snow begins to fall.
So, fellow travelers, pack your winter gear and embark on an adventure that promises to be filled with surprises, laughter, and a whole lot of heartwarming experiences. There's a reason Boston's winter wonderland is the stuff of dreams, and you'll be creating cherished memories as you explore its top cold-weather attractions.
Want to read more of our latest posts? Check out what's happening this year in the Uptown and Bronx Night Market, or the best things to do in Forest Hills, Queens.
Alex is a computer geek, programmer, who loves traveling. Not the usual mix, but Alex is always with his laptop – no matter how high the mountain he's hiking on. On every peak he reaches, he writes a story that captures it all.