Forest Hills, Queens, a gem hidden amidst the hustle and bustle of the Big Apple. It's like finding a quiet oasis in the midst of a storm—well, maybe not quite a storm, but you get the idea. This year, I ventured into the charming neighborhood of Forest Hills to uncover the best things to do, and boy, was it a pleasant surprise.
Now, imagine starting your Forest Hills journey at Eddie's Sweet Shop, an old-school ice cream parlor dating back to 1909. It's no exaggeration to say it's one of the best ice cream shops I've ever had the pleasure of visiting. The sundaes are legendary, and the atmosphere drips with nostalgia, making each scoop a memorable journey.
If you do start your visit at Eddie's Sweet Shop, be prepared for some serious indulgence, and I'm not just talking about a sugar rush. The sheer delight of their ice cream creations might even warrant a visit to an emergency dentist in Forest Hills, NY. Your taste buds will thank you, but your sweet tooth might stage a minor rebellion.
Watch this video to get a glimpse:
1. Forest Hills Stadium: A Musical Journey Through Time
Kicking off our adventure is the iconic Forest Hills Stadium. Stepping into this historic venue is like finding a time capsule filled with musical legends like The Beatles and Bob Dylan. Attending a concert here is an electrifying experience, whether you're a superfan or just looking to soak up the atmosphere.
2. Forest Park: Nature's Oasis
A short walk from the stadium leads you to Forest Park, the lungs of Queens. With winding trails, lush woodlands, and even a golf course, it's a haven for nature enthusiasts. The unexpected gem within the park is the Shakespearean theater, adding a touch of culture to your nature escapade.
3. Queens Museum: Where History and Art Collide
The Queens Museum offers a unique experience every visit. The iconic Unisphere, a giant steel globe, is a time machine taking you to the future as imagined in the past. The museum's collection spans from historical artifacts to contemporary art, ensuring there's something for every curious mind. Check out our post about more NYC museums.
Watch this video to get a glimpse:
4. Agnanti Meze: A Taste of Greece
For an authentic taste of Greece, Agnanti Meze is the place to be. From saganaki's dramatic table-side flambe to mouthwatering Greek dishes, this restaurant provides a sensory journey for both your taste buds and your eyes.
5. Terraza 7: The Heart of Arts and Culture
Terraza 7 is a vibrant music venue and cultural space where you can immerse yourself in live jazz, Latin music, and open-mic nights. The energy is infectious, offering a glimpse into the heart of the neighborhood's arts and culture scene.
Watch this video to get a glimpse:
6. West Side Tennis Club: A Slice of Tennis History
Tennis enthusiasts should not miss the West Side Tennis Club, once the venue for the U.S. National Championships (now known as the U.S. Open). Its lush grass courts provide a setting reminiscent of a British novel. Even non-tennis lovers will appreciate its history and charm.
Watch this video to learn more:
7. The Hidden Speakeasy: London Lennie's
Our suspense and surprise reveal leads us to London Lennie's, a charming seafood restaurant with a concealed secret, the "Lennie's Speakeasy." Accessed through a hidden door at the back, it's a cozy, underground club reminiscent of the Prohibition era. The cocktails are exceptional, but shh, it's a well-kept secret.
Watch this video to get a glimpse:
Conclusion: Forest Hills – A Hidden Treasure
In Forest Hills, Queens, I found my playground, sanctuary, and a treasure trove of hidden gems. There's so much to see, do, and experience in this charming neighborhood, and its status as a bit of an undiscovered secret only adds to its allure. So, whether you're a local or visiting from afar, put on your exploring shoes and discover the magic of Forest Hills. It's a journey that's undoubtedly worth every step.
Cheers to the unexpected and the hidden treasures that turn each day into an adventure. Forest Hills, I'll be seeing you again soon!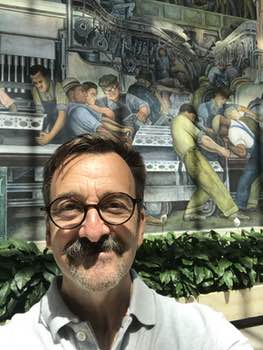 "The Jaded Traveler". Ron Rossi was born and raised in New York. A globalist at heart, Ron is a marketing director by trade, and has lived and worked around the world including Asia, Europe, Africa, and South America. Food is one of the best ways to learn about a country, a people and a culture. So, Ron is always looking for the best in mid-range to budget and street food. He is always on the hunt for a good meal anyone can afford. It is the food of the average citizen that excites him. And with having visited close to 100 countries on 6 continents so far, there have been some pretty good meals.