It's time to tickle those ivories and dance to the rhythm of the piano keys because, folks, something legendary is about to happen. And trust me, this isn't just another spin on the piano stool!
Imagine strolling down the corridors of music history, surrounded by the soul-stirring tunes of one of the world's greatest piano men. Can't fathom it? Well, no need for a time machine because the Long Island Music and Entertainment Hall of Fame (LIMEHOF) has got you covered. After nearly a year of preparation, they've officially announced the grand opening of the first-ever exhibit dedicated exclusively to none other than the legendary Long Island Musician, Billy Joel!
Hold onto your top hats and fedoras because on November 24th, 2023, at the stroke of noon, the doors of LIMEHOF's Stony Brook museum will swing open, revealing a treasure trove of rock 'n' roll history. It's a bit like Willy Wonka opening the doors to his magical chocolate factory, only instead of candy, you'll be surrounded by rock 'n' roll and piano melodies. I swear I can almost hear the sweet sound of "Piano Man" in the background.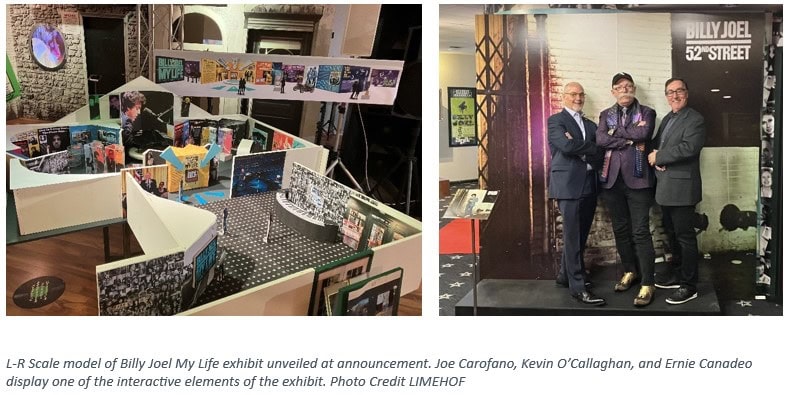 Billy Joel- My Life, A Piano Man's Journey
This exhibit, appropriately titled "Billy Joel- My Life, A Piano Man's Journey," will transport you through over 50 years of musical enchantment. Get ready to be serenaded by rare memorabilia, sneak peeks behind the scenes, a glittering hoard of awards, unheard audio and video recordings, vintage instruments, and photos so historic you'll feel like you've traveled through time. Many of these treasures were personally donated by the Piano Man himself, and some have never seen the light of day.
Ernie Canadeo, LIMEHOF Chairman, is thrilled and honored, just like a kid in a candy store, to present this exhibition of epic proportions. It's a nod to Long Island's most successful entertainer, and what better place to celebrate the man who has been serenading the world with his songs for decades?
Watch this video to get a glimpse:
But wait, there's more! This exhibit is designed by the brilliant Kevin O'Callaghan, a LIMEHOF board member who has an eye for creating magic. He's the same magician who conjured up the designs for the Hall of Fame and its previous exhibit. Billy Joel himself was involved in the planning, and he has given his input throughout the year. So, this exhibition is nothing short of a symphony composed by the maestro himself.
Kevin O'Callaghan, LIMEHOF Creative Director, summed it up perfectly. "It has been a thrill and an honor to work with Billy in creating this extraordinary testament to his life and music."
But the music doesn't stop there. This fantastic exhibit is brought to you by a chorus of sponsors, including Catholic Health, The Joel Foundation, Madison Square Garden Entertainment, Jake's 58 Casino Hotel, The Haugland Group, M&T Bank, The EGC Group, and Lessing's Hospitality. It's like having a world-class orchestra backing up the headlining act!
Catholic Health is the presenting sponsor, and Joe Carofano, Senior Vice President of Strategy and Chief Marketing Officer of Catholic Health, couldn't be prouder. He sees this exhibition as a harmonious celebration of Long Island, its spirit, its heritage, and its unique character.
How to get your Ticket
And now, drumroll please… tickets! You can grab your golden ticket to this musical wonderland at www.TheBillyJoelExhibit.com or in person at LIMEHOF. The exhibit is a timed entry one, so you can choose your time block or go all out with VIP "any time" tickets, allowing you to visit any time during the exhibit's duration. ?
So, folks, don your best rock 'n' roll attire, practice your air piano, and get ready to waltz into the incredible world of Billy Joel. It's not just an exhibit; it's an experience that will have you humming "Uptown Girl" and swaying to the rhythm of Long Island's piano legend. ??
And as for me, I'll be there too, in spirit, ready to dance my heart out to the Piano Man's greatest hits. Because some moments in life deserve a standing ovation!
Karen works for a big hedge fund, she's awesome with numbers and loves what she does, but above all – she loves traveling. Whenever she's on the road, she tries to get into the gritty tiny details of every location she explores.