It is an early Monday evening, and I am ready for bed. The prospect of delicious Indian cuisine, however, fuels me into a wakened state and my eating companion and I walk faster than normal in our quest to find the restaurant. aRoqa has a large, built-out façade to accommodate their outdoor dining; we open the doors to the true interior and are greeted with tall, planked ceilings that are arranged in several descending archways.
I give my name and we are immediately escorted to a central table. We cast a swift glance at the menu and are immediately smitten by its artistic design as if it were conjured by the deft hands of creatives who all they do is study menu design. Yet, a delightful twist awaits: Word has it that the culinary narrative will be woven solely by the maestro chef and the skilled hands of his team. Thus, armed with ravenous bellies and brimming optimism, we embrace the tantalizing prospect that lies ahead in this gustatory journey.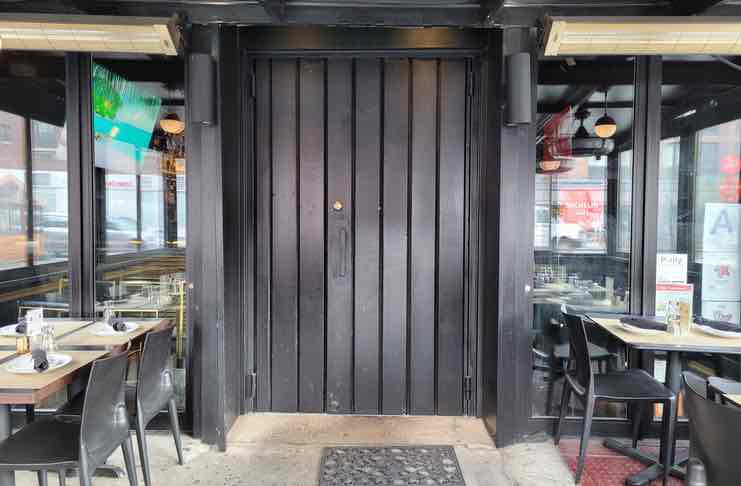 The Beverages at aRoqa
Our waiter gives us recommendations for our first round of drinks – the Marigold & Smoke, served in a two-part glass with liquid nitrogen enveloping our table; and The Inferno, which is lit aflame tableside. The former tastes like it contains a lifetime supply of turmeric, while the latter tastes like carrot ginger juice. Neither are spectacular and I would have preferred a less fussy entrance with contents that taste less like health drinks and more like drink drinks.
We wisely opt to choose our second round, getting a Spice Sensation, which is a superb party drink with chamomile tea infused scotch, pineapple, at least three colors, and pebbly ice; and a Bombay Getaway, the most refreshing of the four, with kaffir lime and lemon grass livening up the gin. This second set is much more satisfying than the first, with both beverages pairing well together thanks to their tropical notes of pineapple and lime.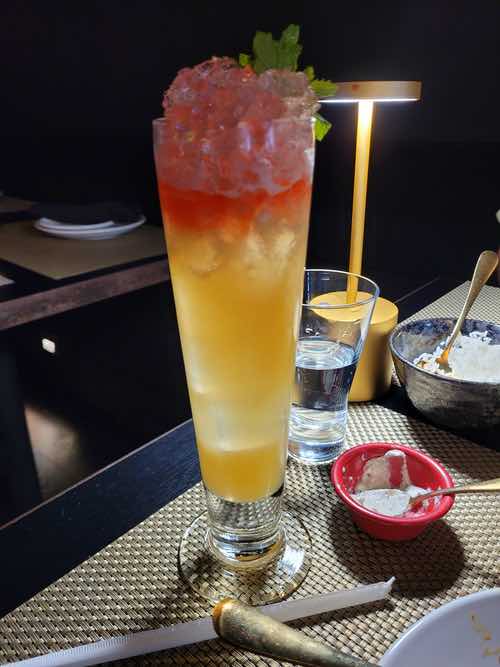 Taste plates
The wait staff, subpar beverage recommendations aside, are all excellent. They are quiet, efficient, and move with deadly precision as they effortlessly glide around us, refilling water and slowly bringing out each dish.
First comes the lasuni gobi, gram flour battered cauliflower. It looks and smells like a delicious chicken wing with an Indian spice twist. It is crispy and fried to perfection, the cauliflower is tender, and the sauce is tangy with a bit of heat.
The corn paddu follows, deep fried corn and rice fritters. The paddu themselves are dense; my companion remarks upon their similarity to glutinous rice dough. They don't present much besides tasting salty. The coconut kaffir lime chutney, however, is delicious. Dairy-free and filled with a nutty texture, it is equally sweet and savory.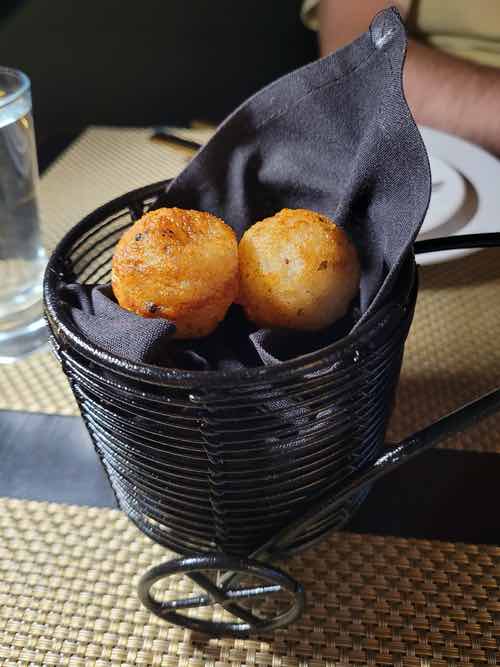 When the cutlet arrives, my dining companion and I try to guess if it is the sweet potato or the shrimp. I guess sweet potato and happily lose. The chunks of shrimp are excellently cooked, and perfectly springy, and the panko crust tastes clean and has a satisfying crunch. It arrives on a bed of lima beans and corn, cooked with South Indian spices, and these are tasty as well, not mushy or grainy at all.
The final appetizer is the Bhatti murgh chop, which is served with rum flambé and once more looks more dazzling than it tastes. The chicken toes the line between charred and burnt, and the gram flour chutney tastes like a spicy version of the plasticky, pre-bagged icing found in ready-to-make gingerbread house kits. I want my shrimp cutlet back.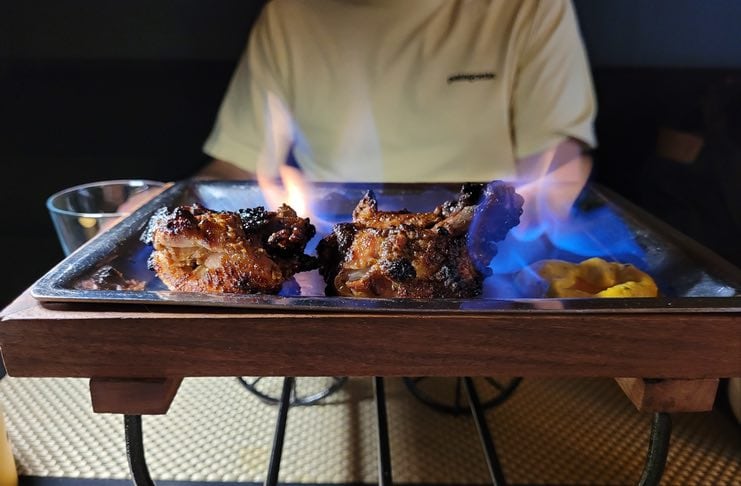 Shared plates & sides
The shared plates and sides all arrive simultaneously in a rustle of quiet action. The aRoqa Okra Special is one of the better utilization of okra I have experienced, neither too salty nor slimy, but instead perfectly cooked and mildly vegetal. It is accompanied with a sauce of blended onion and tomato, surprisingly rich and savory with a peppery punch.
The Goan Shrimp Curry
The second shared plate is their Goan shrimp curry, which elevates everything I know about coconut curries. Impossibly soft and velvety, the curry coats the pristine shrimp in a luxurious bath of warm spice.
The shrimp themselves, much like those found in the prawn cutlets, are masterfully prepared: tender and snappy without a hint of rubber or stringiness. I accidentally eat a dried pepper, thinking it is a piece of okra, and my companion watches with a fair amount of glee as I suffer dramatically for several minutes.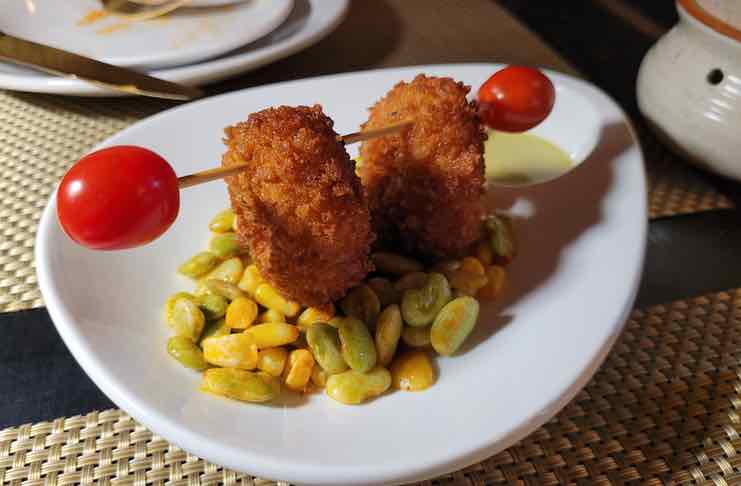 Steamed jasmine rice is the standard accompaniment for each plate, and each grain is fragrant and fluffy. It is the perfect vessel for sauce and spice, for contrasting flavor and texture.
The Garlic Naan
It is the garlic naan, however, that takes everything I have eaten so far – some of it shamefully plastic, and some of it truly excellent – and blows it out of the water. This is the platonic ideal of naan. Slapped onto the side of a blistering hot tandoor oven, emerging moments later like Venus from the seafoam, completely transformed.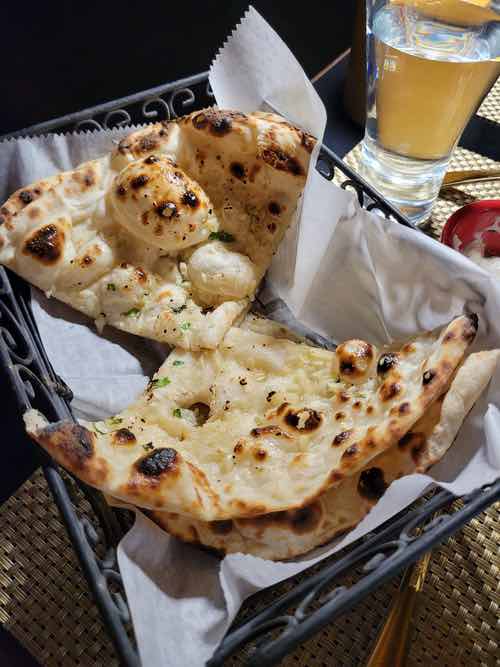 Each bite yields something different. The air bubbles are sometimes soft, sometimes crispy, and always puffy. The edges are charred and smoky. The middle is ethereal and yeasty and never dense. The entire thing is slathered in garlic butter and creates the most magical aroma.
The garlic is tender but retains the slightest bite; the butter is melted on the hot bread and mixes with the scents of garlic, smoke, and fresh dough to fill the room with an almost indescribably delicious scent. It can be eaten alone or with anything. My companion and I are especially fond of dipping it in shrimp curry. The butter and garlic enhance the shrimp, while the sturdiness of the naan provides the coziest, tastiest bed for the curry to dive into.
Dessert
After the garlic naan, I am satiated (a marvelous occasion marked mostly for its rarity). Rose pudding with gulab jamun arrives at the table for dessert, but my companion and I merely pick at it. We each try the gulab jamun, which are the sweet fried milk balls, and find them tasty, while the rose rice pudding is neither too rosy nor overly sweet. It is a well-composed dessert and very nicely plated. I, however, only had eyes for the garlic naan, from the time it was set down to the very last bite.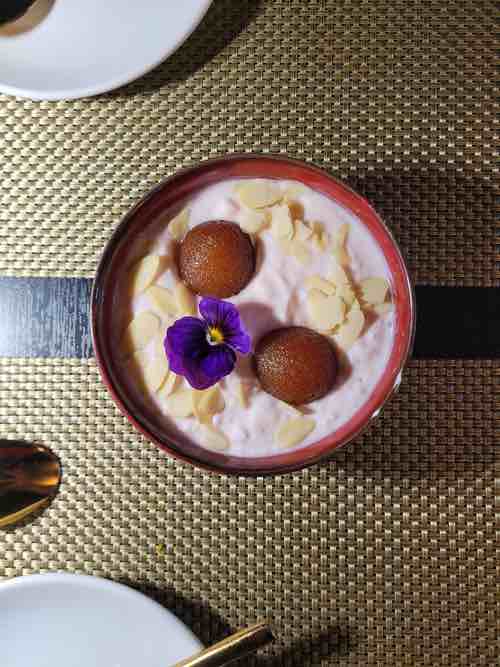 Final thoughts
This restaurant oozes intimacy from the moment you walk in. The wait staff is quiet and perfectly attentive. Our waters are never empty, and empty plates never linger.
The space emphasizes the height and graceful slope of the ceilings; the furniture is dark and blends in with the ground. The food is beautifully served and plated, bright colors contrast with the otherwise darkened space. The food is perhaps a tad expensive, the beverages certainly so.
After the stand-outs I have mentioned, the rest of the food appears elevated more in design than in thoughtful flavor. I am not sure what to make of an upscale restaurant whose best dish is their bread; clearly, they have mastered the basics.
Something in the experience felt like it was missing, and I suspect I would find it in the beating, lost heart of its chef. If every dish were treated as lovingly as their garlic naan, this would be a fearsome establishment indeed.
Three best bites
3. Prawn cutlet: exceptionally crispy exterior yielding perfectly cooked shrimp.
2. Goan shrimp curry: impossibly rich and creamy, with snappy shrimp and just the right hint of spice (do avoid the dried peppers, please and thank you).
Garlic naan: this could be the hottest of hot takes, but I fully endorse this beautiful bread that is equal parts puffy and charred.
Bathroom corner
Dimly lit and moody, nonetheless with adequate paper supplies and soap. Fair warning: you must pass a sign depicting two bananas spooning each other.
You can follow aRoqa on Instagram.
Want to read more of Katie's latest reviews? Read about her visit to Kaiten Zushi Nomad and her visit to Filthy Flats in Brooklyn.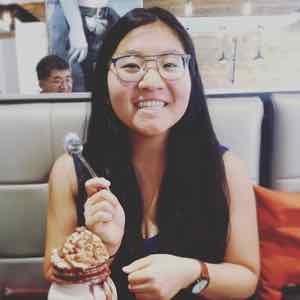 Katherine Chin was raised in upstate New York and grew up with the mindset that good food can, and does, exist anywhere. Now living and working around Manhattan, she spends most of her breakfasts pondering what she'll eat for dinner. She advocates for food that tastes good, and believes that sharing is caring – the best food is often eaten together. You can find her either walking or eating anywhere in Manhattan, when she's not planning her next food-centric adventure.