The day has finally arrived when I must dine solo. Unfortunately traveling hiccups have prevented my trusty photographer and dining companion from joining me, so I hop on the A train and prepare myself for a long, if not straightforward, journey.
From High Street, it's a quick ten-minute jaunt to reach Filthy Flats, which has no indoor seating and boasts three high-top tables out front. It has music blaring, and its bright signage and red awning pop against the otherwise drab Brooklyn scenery. Inside, there are a few beverage displays (they serve hot and cold beverages and are open for breakfast, lunch, and dinner) but most of the space is dedicated to large ovens for broiling the open-faced sandwiches. Ty, the manager, is friendly and tries to get me to eat the entire menu.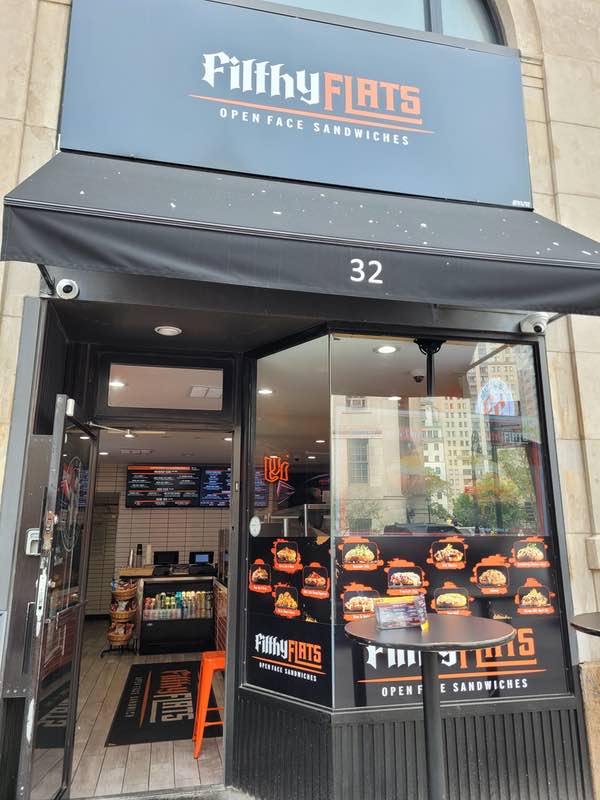 He also invites me to the back-of-house area to see where the sandwiches are made – everything is made to order, and the ovens are impressive in an operation of this scale. I order quite a lot, considering it is just me, and they even get a stool so I can sit outside (it's typically standing room only). It is warm and humid out, but thankfully no sun; there are, however, enough park benches nearby to find shade if needed.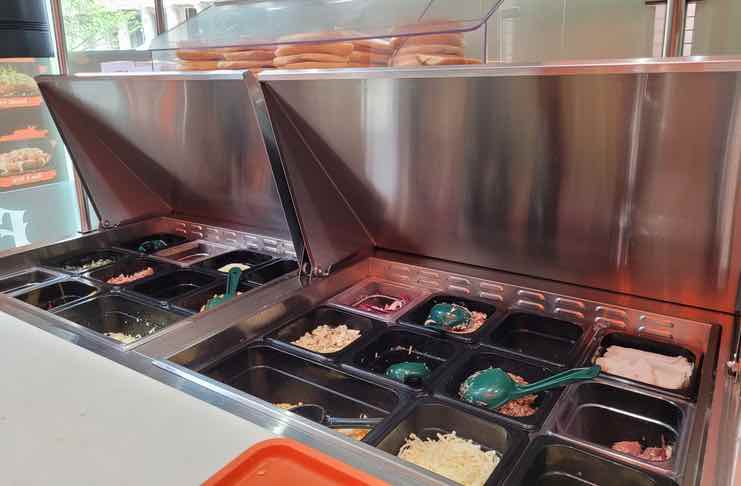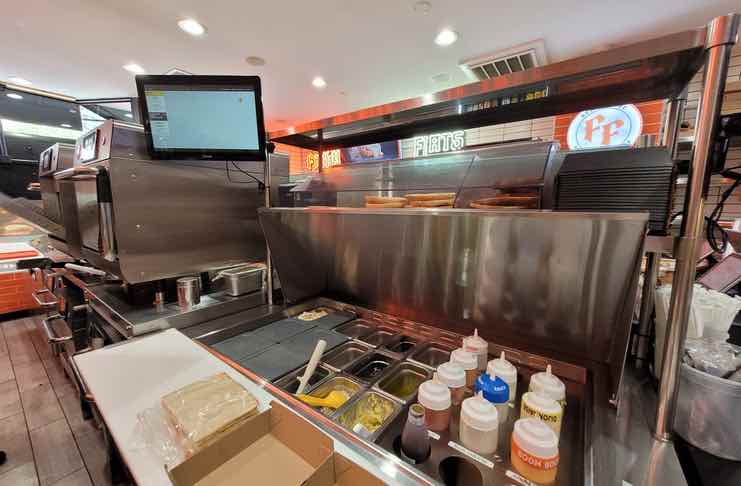 The Beverages at Filthy Flats
Most of the variety is found in cans and bottles of various teas and juices; however, there is freshly brewed hot coffee, as well as sweetened iced tea, pink lemonade, and iced coffee. There is also a marvelous water dispenser – the fancy kind that releases lots of tiny ice cubes instead of the massive ones that splash you no matter how much you angle your cup.
I opt for the house iced tea first, but since I don't have much of a sweet tooth, I opt to dilute it slightly with water and a lot of ice. It's brisk and refreshing. Later, I refill the cup with a combination of the slightly diluted iced tea and pink lemonade. Absolutely delicious; the lemonade's tartness overcomes any additional sweetness. I would highly recommend this, over any of the canned beverages, on a hot day.
Tots
My life motto is something akin to, "If you see a potato, eat the potato." This, obviously, applies to any shape and form of potato; thus, when tater tots are on a menu, I must order them. If they are offered with cheese, I must order them with cheese. Filthy Flats also does a version with cheese and bacon, if you're feeling extra ambitious.
I'm on a mission, however, and must pace myself. I have several sandwiches that will soon need to be consumed, after all. The serving size for the cheese tots is fairly standard, and they are not overwhelming in any way. The tots themselves are crispy but not alive with that fresh-out-of-the-fryer crackle; they are warm but not hot.
The sauce is smooth and definitely a little industrial. However, they will most certainly satisfy a craving for cheese-covered tater tots, and I'm not expecting the world's best potatoes here. At this price point (extremely reasonable) and location, I am more than happy with them.
The Flats
The only other employee aside from Ty is a young woman behind the cashier named Daniela, and she is not only attentive but excellent when it comes to getting recommendations. She lists several, and I order them all. Please note that these are all served with gluten-free cauliflower flatbread, instead of their typical bagel flats. My photographer doesn't have any allergies, so I normally order more variety, but today we are staying strictly gluten-free.
Ty graciously allows me to look at the regular bagels, though, and they do look delicious. Wider and flatter than a typical New York-style bagel, they're almost the size of my head, with an even, dense crumb. Their dessert options are all served on special rainbow bagel flats, which are vibrant and most likely just as tasty as they are aesthetic. I consult with Ty and Daniela, however, and we all agree that trying to make a gluten-free cauliflower flatbread into a dessert just doesn't seem like the right move, so I decide to opt out of dessert for this adventure.
The Breakfast Flat
The breakfast flat arrives first. Turkey sausage, eggs, and cheddar jack cheese, it is piping hot and smells very enticing. The ovens do a fine job at browning the cheese; I can see the beautifully blistered edges of the flatbread as well. It is very good – the flatbread is surprisingly hardy, and despite having two eggs, a large sausage, and a mountain of cheese on top, it holds up well and does not crumble, flake apart, or threaten to tear.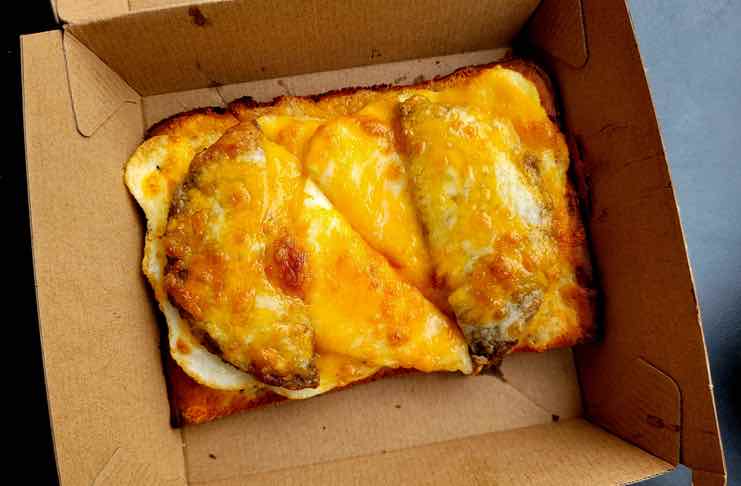 The yolk is not runny like it is in the picture, but is not so cooked that the edge of the yolk turns green, either. The turkey sausage adds salinity and additional savoriness and spice; the cheese is both crispy and gooey in the best way possible. An elevated version of a fast-food breakfast staple.
The Korean BBQ Flat
Ty's favorite is the Korean barbecue short rib flat, and when I open the box, it's easy to see why. A generous portion of short rib covers the entire flatbread, which is then smothered with several different sauces, cheese, and crispy shallots. True to authentic Korean cuisine, I find this dish a bit too sweet, but on the whole, it is tasty.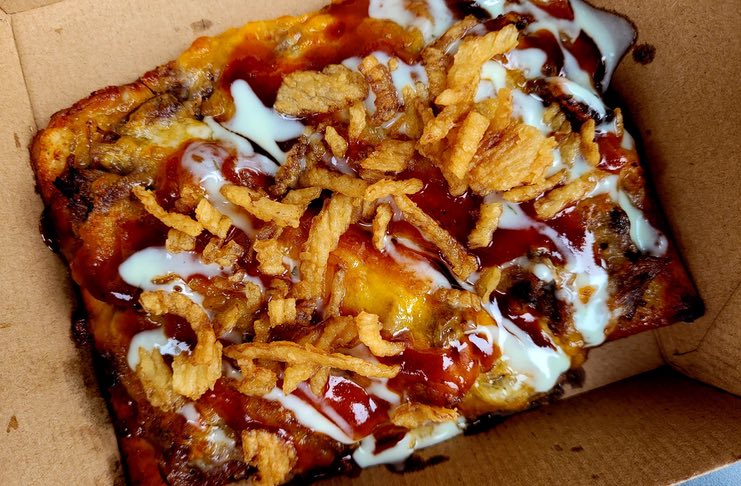 The sauces are pleasantly nuanced, so despite their sweetness, I am welcomed with spice and acidity as well. The short rib is excellent, rich and fatty and beefy, and the entire sandwich is made both more luxurious and more Korean with the addition of cheese. The crispy shallots are a nice touch, adding umami to combat the sugar and a fun textural element to a sandwich that is otherwise heavy and soft.
The Cranberry Chicken Salad Flat
When I ask them to choose between the Reuben and the cranberry chicken salad, I am surprised – but gratified – to hear Ty advocate for the latter. Truly, chicken salad is a dark horse. Often overworked with too much mayonnaise and not enough salt, or bogged down with excessive celery to cut cost, it is an underrated sandwich filling but excellent if done well.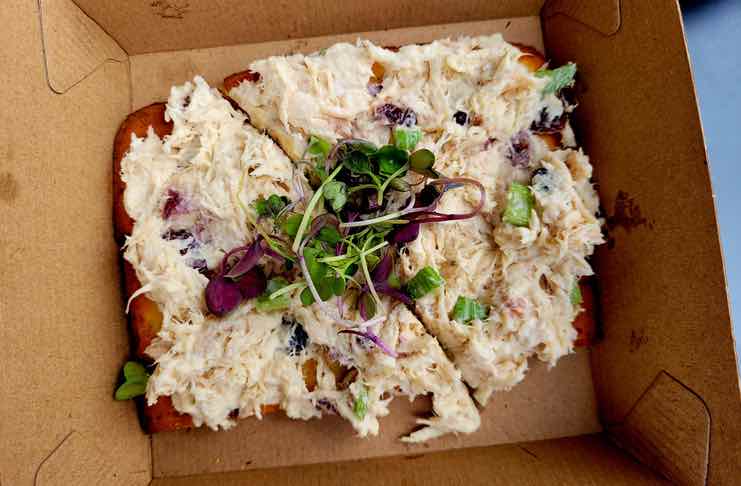 I am happy to report that Filthy Flats makes a pretty darn good chicken salad. They use shredded chicken, they are not too heavy-handed with the mayo, and the entire thing is well-seasoned and balanced. The cranberries add tartness and a different texture; the flatbread gives it more oomph and satiety.
The Hot Honey Pepperoni Flat
Between the four pizza flats offered, Daniela immediately suggests the Mike's Hot Honey pepperoni flat. It arrives, gorgeously burnished and messy. The pepperoni is not thick-cut enough to curl up into oil-containing cups, so the grease mixes with the honey to great effect. The honey complements the heavy meatiness of the pepperoni and combines with the spread of oil to allow for a more even flavor distribution across the palate.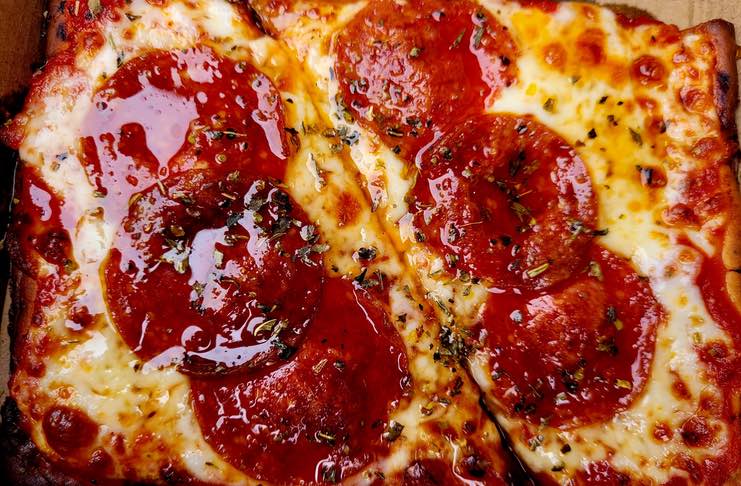 The pizza sauce is nothing special, but there is a substantial amount of cheese, which is always appreciated. The gluten-free cauliflower flatbread is really shining here – very nice, crunchy edges yield to a softer middle that still never shreds under the weight of its toppings. Very respectable.
The Cubano Flat
The last flat is the Cubano, and is the one I am the most excited for. I love the shredded roast pork, the mustard, the Swiss cheese. I even love the pickles, and I am decidedly not a pickle person. So I perhaps have higher hopes for this sandwich than I do all the rest, and I am not disappointed.
This sandwich is laden with meat; a generous pile of roast pork acts as the base. Covering this is thinly sliced ham, edges perfectly crisped up by the oven. Then comes the Swiss cheese, one of the very few times Swiss cheeses is acceptable on anything, then the pickles (a perfect amount of them, too), and finally a spiced, creamy, mustardy sauce.
It is a magnificent sandwich and a small miracle that they managed to cram all of it onto a square of flatbread the size of a Pop-Tart. The flavors are excellently balanced. The ham (my least favorite part) is not slimy or too sweet. The roast pork is deeply flavorful and fatty.
The Swiss cheese is existing on a sandwich and is not making me upset, which is an accomplishment in its own right. The pickles are the tiniest bit watery, as though they leapt eagerly out of the jar and forgot to towel off, but the pickle brine ends up blending perfectly with the creamy sauce. It is unabashedly savory, yet never treads into "too salty" territory.
Final Thoughts
If there is one thing life in the food industry has taught me, it's that you cannot pay people enough to care. They either care, or they do not. And Ty cares. From the moment he greets me, the pride he holds in his establishment is evident.
He happily shows me his ovens, the counters, the pastrami in the fridge. Everything is spotless. Fresh coffee is brewed while I am eating, and I notice Ty constantly on the move. He's cleaning, he's organizing. Daniela frequently checks on me and gives me extra napkins before the messier sandwiches. Customer service is second to none, and it is experiences like these that make or break fast-casual dining. Highly recommend.
Check them out on Instagram.
Note: There's no bathroom, but the closest one is a block away, and it's free.
Three Best Bites
Cranberry chicken salad flat – a classic, done right.
2. Turkey sausage, eggs, and cheese – well executed, tasty, and elevated by the heat of their ovens.
The Cubano – a shamelessly umami-filled sandwich.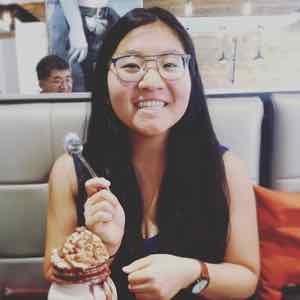 Katherine Chin was raised in upstate New York and grew up with the mindset that good food can, and does, exist anywhere. Now living and working around Manhattan, she spends most of her breakfasts pondering what she'll eat for dinner. She advocates for food that tastes good, and believes that sharing is caring – the best food is often eaten together. You can find her either walking or eating anywhere in Manhattan, when she's not planning her next food-centric adventure.