There are 1001 things, actually, scrap that … there are a million things to do in New York City, outdoors. Here are just a few of the things to do in NYC that we covered in the past. If you plan to go there, April to June is the best time to visit, when the weather is great and you can have fun outdoors. September to November can also be lovely weather.
However, it won't be every time that you'll visit NYC when the weather is right, and you can have fun outdoors. If your days in the city turn out to be rainy or snowy, do not stay coupled up in your hotel room.
There are still hundreds of things to see and experience as an indoor tourist, especially if you are a couple. Of course, you can lease a car and see the city in all of its expansiveness tucked up warmly in the car. In this case, we'd recommend doing your research before by getting info from Auto Renting Tutors. But if that is not possible, you can still explore the fun indoor scene of NYC by public transport.
1. Visit the Met
The MET brings you pieces of art that stretch to over 5000 years of culture, evolution, and the coming-to-age of the world.
When booking your ticket to the MET, different packages are available. The most common one gives 2 to 3 hours in the museum, but some allow you to stay even up to 4 hours.
You need a strategy to have fun in this huge museum. For instance, instead of trying to see everything during this one time, see a few selected pieces.
Since you cannot see everything on the first visit to the Met, be sure to catch the $45 million Madonna.
Watch this video by Here Be Barr to learn more about visiting the Met:
Also, be sure to catch tidbits of history stretching to over 5000 years in the past. You can see artifacts from the prehistory era to date. There are millions of artifacts on display, each telling its own story.
2. See the St. Patrick's Cathedral
On 50th Street & 5th Avenue lies one of the most beautiful cathedrals in the world. It attracts close to 6 million visitors per year, and it can sit 2,400 faithfuls for one service.
This church is an embodiment of many things, having been built with donations from the faithfuls more than 200 years ago.
The pure, untainted beauty of Neo-Gothic cathedral architecture is very evident in the St. Patrick's Cathedral in New York.
If you would like to immerse yourself in this type of pure beauty, you should see this place. You can also visit it if you love to worship.
Watch this video to get a glimpse of the church:
With a history that is longer than 200 years, this cathedral will take you many years back. There are free guided tours starting at 10.00 AM on the weekdays. Anyone is welcome to visit the Cathedral, light a candle, or even worship there.
3. Beat your partner at indoor golf
You can visit the Chelsea Piers and bring out the Tiger Woods in you at a game of indoor golf. The Chelsea Piers Golf Club has some of the best indoor golf-playing facilities.
It does not matter whether you have played golf before or not, because they have a simulator that is a lot of fun for beginners.
You can consider this a sort of golf boot camp for adults where you can learn the basics of the game, and have fun at the same time.
The stalls are heated, so you can go there and hit all the balls that you want without feeling the cold. This is what makes the golf range at the Chelsea Piers so good for couples during the winter. It will cost you some money to hit a certain number of balls, but it will be worth it.
Watch this video to get a glimpse of this awesome place:
4. Catch a movie
New York City is the home of everything, including entertainment. Thus, one of the best things to do as a couple in New York is to catch a movie with your partner.
There are so many places for this such as Angelika Film Center, AMC Lincoln Square 13, IFC Center, and the Nitehawk Cinema. Here, you will have waiters serving you right at your table as you enjoy the pick of the day.
The Cinepolis Theater has nice and comfortable seats. The staffs are very helpful, and they run good movies all the time.
Watch this video to learn about the best movie theaters in NYC:
5. AMNH – Museum of Natural History
Your indoor tourism experience in New York City cannot be complete if you don't visit the AMNH.
The American Museum of Natural History is not only the largest of its kind in the world, but it is also a perfect tourist spot for families as well as singles.
To enjoy your time in the museum, go at 10.00 AM when the crowds haven't built up. You could also go at 3.00 PM.
Watch this to get a glimpse of one of the city's most exciting museums:
If you have children, they will learn about planets, black holes, and other theories of space, wildlife, and humanity. There is so much to admire and learn in this museum.
6. Try indoor ice skating
Take the bad weather in NYC as an opportunity to learn something new, such as indoor ice skating. You can choose to take your partner for ice skating at the City Ice Pavilion, which is located in Long Island City.
Another place where you can enjoy ice skating indoors includes the Aviator Sports and Events Center.
Watch this video to get a glimpse of the place:
View this post on Instagram
These skating centers are open throughout the year, you can go and have fun for affordable fees. You will get the equipment at the sites, so you don't have to worry about bringing any.
7. Shop 'till you drop
NYC is home to all the well-established and start-up brands in the world. There are incredible, world-class malls. You can eat and shop, have coffee, watch movies, and do much more.
If you want the top fashion brands, they are available. If you want thrift stores, they come in their numbers. Some places to shop at include Macy's Herald Square, Bergdorf Goodman, and Brookfield Place.
Watch this video to learn about the best shopping malls in NYC:
8. Dine in world-class restaurants
A couple that eats together stays together. Get busy and book a table in one of the best restaurants in the world. There are extravagant as well as affordable restaurants, so your budget will definitely get you something to eat.
The best places to eat in NYC include Papaye which cooks West African dishes, to be precise, from Ghana. Sylvia's is popular for its southern foods, the Grand Central Oyster Bar for its seafood, and Keens Steakhouse for its selection of meats.
Watch this video to see some of the best restaurants in NYC:
9. Get a spa massage
There are hundreds of massage spas in this city, and it would be too unfair of you to leave without such treatment. You will feel revitalized and full of energy after a deep tissue massage and proper kneading on the back.
Some top places to get your spa treatment include the Peninsula Spa, Grand Central Bodywork, The Wall Street Bath, and Energy Bodywork to name but a few.
Check out this video of the Wall Street Bath:
Conclusion
If only for once in a lifetime, try to visit New York City. A few days in this bustling city will leave a lasting impression on your mind.
You can visit NYC any time of the year. There are thousands of things to do and see in summer, winter, or fall, so you can go there whenever you have the time.
Even when it snows heavily in winter, don't stay in your room. There are several indoor attractions to see.
New York City's indoor scene has something for everyone. Indoor as well as outdoor lovers find many things to do, all the time of the year.
Nothing short of a hurricane should keep you indoors in NYC. Get out and catch some indoor tourism adventure.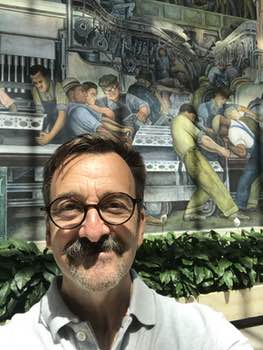 "The Jaded Traveler". Ron Rossi was born and raised in New York. A globalist at heart, Ron is a marketing director by trade, and has lived and worked around the world including Asia, Europe, Africa, and South America. Food is one of the best ways to learn about a country, a people and a culture. So, Ron is always looking for the best in mid-range to budget and street food. He is always on the hunt for a good meal anyone can afford. It is the food of the average citizen that excites him. And with having visited close to 100 countries on 6 continents so far, there have been some pretty good meals.