Sign up now to take part in 100+ shoreline cleanups and plantings happening on 1 day, NYC to the Adirondacks!
For all who find themselves drawn to the water's edge when it's time to unwind – for hiking, paddling, strolling, swimming – here's your chance to give something back to these cherished places.
On May 6, the annual Riverkeeper Sweep is back, and 2,000 volunteers will meet up in 100 locations along waterways in New York City and the Hudson Valley to clean up trash, clear invasive plants and foster healthy vegetation.
For more info and registration click here.
You can sign up now at Riverkeeper.org/sweep to take part in a shoreline cleanup or planting project that day, rain or shine, at any of the locations from Staten Island all the way north along the Hudson to the Adirondacks.
Watch this video to get a glimpse:
The Interactive Map
The website has an interactive map where you can search for a project in the five boroughs or up along the Hudson and its tributaries. You can also buy a T-shirt (there's a new color every year) and support the work of Riverkeeper, a 57-year-old organization advocating for the protection and restoration of the Hudson.
Many project locations are steps from the Metro-North Hudson Line – Tarrytown, Beacon and Poughkeepsie among them. The largest cleanup happens on Flushing Bay in NYC, along Malcolm X Promenade. The northernmost location is North Creek, known for whitewater rafting, where the Hudson courses through the Adirondack Mountains. Some volunteer teams head out in kayaks to gather trash along Hudson Valley creeks.
Whether you choose a project in your own neighborhood or venture out to another location, you'll find locally-led teams welcoming extra hands to gather pervasive shoreline trash and care for beloved community spaces.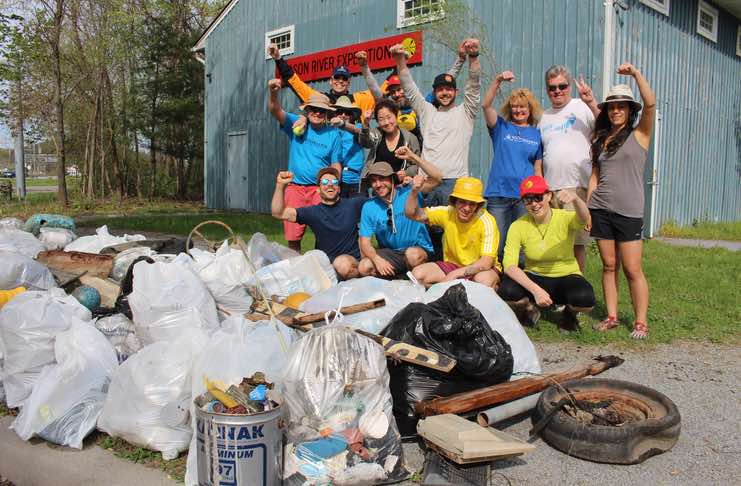 The Extra Perk
And there's an extra perk: By tradition, volunteers gather afterward at 26 participating microbreweries and restaurants to celebrate their teamwork and enjoy a beverage on the house.
A little Background about the Annual Riverkeeper Sweep in NY
The annual Riverkeeper Sweep in New York is an event that brings together volunteers to clean up the Hudson River, its tributaries, and surrounding areas. This event has been taking place every year since 2011 and has grown to become one of the largest river clean-up events in the United States.
The Hudson River has a rich history, both as an important transportation route and as a natural resource that supports a wide variety of plant and animal life. However, over the years, industrialization and urbanization have taken their toll on the river, leading to pollution and environmental degradation. The Riverkeeper organization, which is responsible for organizing the Sweep, was founded in 1966 with the mission of protecting the Hudson River and its surrounding communities. The Sweep is just one of the ways in which the organization carries out this mission.
Each year, the Sweep brings together thousands of volunteers from across the state, who work together to clean up trash and debris from the river and its banks. The volunteers come from all walks of life and range in age from young children to retirees. They work in teams, each focusing on a specific section of the river, and use boats, canoes, and kayaks to access hard-to-reach areas.
Why Is It So Important
The work done during the Sweep is vitally important for a number of reasons. First and foremost, it helps to remove pollutants and debris from the river, which can harm the environment and the wildlife that depends on it. This includes not only visible trash, but also hazardous materials like oil, chemicals, and other pollutants that can leach into the water and cause long-term damage.
In addition to its environmental benefits, the Sweep also has a number of social and educational benefits. By bringing together volunteers from diverse backgrounds and communities, it helps to build a sense of community and promote social cohesion. It also provides an opportunity for people to learn about the river and its importance, and to see first-hand the impact that pollution and other environmental threats can have on the natural world.
The Riverkeeper Sweep has had a significant impact since it was first launched in 2011. In its first year, just over 450 volunteers participated in the event. Since then, the number of volunteers has grown steadily, with as many as 2,600. Together, these volunteers have collected thousands of pounds of trash and debris from the river and its banks.
The success of the Riverkeeper Sweep is a testament to the power of community action and the importance of protecting our natural resources. It shows that, with a little effort and a lot of determination, we can make a real difference in the world around us. The Sweep also serves as a reminder that we all have a role to play in protecting our environment, whether that means volunteering our time, reducing our own environmental footprint, or advocating for policies that promote sustainability and protect our natural resources.
In Conclusion…Join!
The Riverkeeper Sweep is an important event that brings together volunteers to clean up the Hudson River and its surrounding areas. It has a number of environmental, social, and educational benefits, and has had a significant impact since it was first launched in 2011. By working together to protect our natural resources, we can help to build a better future for ourselves and for generations to come.
This event makes a real, noticeable difference for shoreline gathering spots, and for our rivers. In 11 years, Riverkeeper Sweep volunteers have removed 324 tons of debris, including 1,810 tires, from the shorelines. Imagine having a hand in that.