As a hunter, you're always on the lookout for the best hunting grounds. Whether you're a seasoned one or just starting, New York is a veritable haven for hunting enthusiasts that you simply can't miss. This state offers an exceptional range of unparalleled and thrilling hunting experiences that are hard to match anywhere else.
Why hunt in New York?
NY boasts an assortment of deer species, including the elusive sika deer recently sighted in Long Island. Although officials have urged hunters to help control the sika deer population to mitigate the risk of disease transmission, encountering one of these majestic creatures remains a rare and exhilarating feat. Moreover, according to the statistics released by the New York Department of Environmental Conservation (DEC), approximately 211,269 deer were harvested by hunters during the 2021-22 hunting seasons in the state.
However, the state of NY isn't limited to just deer hunting. It offers a wide variety of hunting opportunities, such as black bear, quail, fox, wild turkey, and numerous other species bound to satisfy any hunting enthusiast's craving. What's more, if you're fortunate enough, you may even encounter an elusive and uncommon animal that'll make your expedition all the more unforgettable.
So, if you're ready to embark on an exceptional hunting adventure, check out these most beautiful places to hunt in New York. You'll also learn here must-know tips when hunting. You'll undoubtedly discover the thrill and stimulation you seek in the Empire State.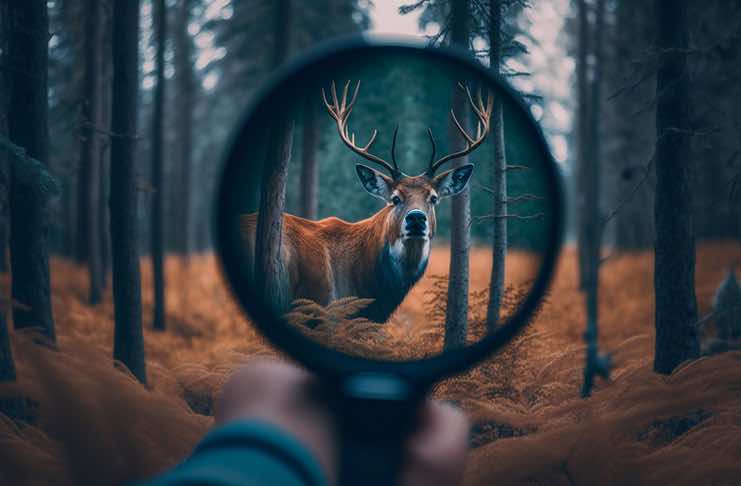 Most Beautiful Places To Hunt In New York
For those more interested in duck hunting than deer, the Bear Swamp State Forest in New York is an absolute must-visit hunting spot. New York is home to a varied assortment of duck species and other aquatic birds. As they fly south for the winter, many ducks pause in New York before continuing their journey to warmer southern regions. Some of the most commonly sighted duck species in New York include mallards, wood ducks, black ducks, blue-winged teals, gadwalls, and sea ducks.
To enhance your chances of a fruitful waterfowl hunting expedition, it's crucial to have the appropriate equipment and gear tailored to the hunting style, location, and weather conditions. While duck hunting can involve an array of equipment, you'll learn which items are indispensable and which you can forego over time.
A shotgun is a primary tool for duck hunting, and a 12 or 20-gauge shotgun is the typically preferred choice, with 3″ shells as the standard ammo choice. You can also check here if you're looking for shotgun loads for duck hunting. Protecting your shotgun from moisture is essential; a gun case or bag can help safeguard your equipment.
Watch this video to get a glimpse of Bear Swamp State Forest:
To add, your choice of duck blind or boat blind can significantly influence your hunting success. Depending on your preference, you may opt for shore-side blinds, boats, kayaks, or canoes, among other options. Whatever type of blind you choose, blending in with your surroundings is crucial to avoid scaring off potential targets.
If you're seeking a delightful wildlife retreat, head to the Town of Greenwich's Carters Pond Wildlife Management Area, a 446.5-acre state property that welcomes visitors for year-round wildlife-related activities. With an amalgam of woodlands, open areas, brush, and wetlands, the management area harbors an assortment of animal species, offering an ideal natural sanctuary for any outdoor enthusiast.
Carters Pond Wildlife Management Area is a favored destination among hunters, who typically flock to the area during the peak hunting season in October and November to search for a wide array of game, such as ducks, woodcocks, grouse, pheasants, and deer. Small-game hunting is especially popular. Every year, the DEC frees ring-necked pheasants into the management area prior to the youth and regular hunting seasons. This provides an exciting opportunity for hunters to test their skills in capturing these tiny birds.
Alternatively, you can choose to immerse yourself in the traditional deer hunting experience and explore the area's vast wilderness.
Watch this video to get a glimpse of Craters Pond:
If your hunting preferences tend towards feathered prey, you'll undoubtedly relish the opportunity to bag some wild snow geese and turkey on the Fort Drum Military Base in Jefferson County. Whether you're an active-duty military member or a civilian, you're welcome to explore this land's vast hunting grounds.
During spring, hunters can revel in the thrill of capturing a gaggle of snow geese that call the area home. Alternatively, if you're on the hunt for larger fowl, you're encouraged to scour the terrain for wild turkeys known to roam these parts.
Spanning a vast expanse of over 107,000 acres, Fort Drum Military Base is an idyllic haven for outdoor enthusiasts. Renowned for its diverse range of outdoor recreational activities, this location offers something for everyone, including hunting, fishing, trapping, camping, and berry picking.
Watch this video of the place during extreme weather:
Final words
Are any of these hunting paradises calling out to you? If so, it's time to start planning your next adventure and discover why New York is a beloved hub for hunters. No wonder it ranks 39 among the States with the highest number of registered hunters, boasting 550,868 total paid hunting license holders.
But before you go, remember to acquire a NY State hunting license and any additional permits or stamps required to hunt specific games like waterfowl and turkeys. Always stay within the designated property lines of each area and abide by the local hunting regulations.
In addition to public hunting grounds, you can also opt to hunt on private preserves such as Easton View Outfitters in Valley Falls Pheasant and Ridge Hunting Preserve in Greenwich, though participation fees may apply.
No matter which location you choose, a hunting trip in New York promises to be an unforgettable outdoor experience.
Karen works for a big hedge fund, she's awesome with numbers and loves what she does, but above all – she loves traveling. Whenever she's on the road, she tries to get into the gritty tiny details of every location she explores.