When we think about visiting New York there are a lot of things that come to mind. The Statue of Liberty, Broadway, the Empire State Building, Times Square, the Brooklyn Bridge, well-known museums, the most exclusive hotels, and many other world-famous attractions of the greatest cities in the world.
But the 'Concrete Jungle'' – as some like to call it – can offer different experiences as well. One of the surprising facts is that New York City has around 1,700 parks in various parts of the city.
Also, New York can pride itself on many stunning rooftop gardens and farms that are built to preserve biodiversity, reduce gas emissions, preserve native pollinators, protect from floods as well as for food production.
Some of these green rooftop havens are not open to tourists – but most of them you can put on your bucket list of attractions to see when visiting NYC. Here are some of the locations we found most interesting.
1. NYC's largest rooftop park is at Pier 57
New York City's largest public rooftop park was opened in the middle of April at Pier 57 in Chelsea.
The park spreads over an almost 2-acre space and is open for the public all year long from 7 AM until 10 PM. Park was a part of a $410 million renovation of the Hudson River Park structure which now features 350,000 square feet of offices with lush green plants – and Google rents the majority of office spaces. The park recently served as an outdoor screening location for the 2022 TriBeCa Film Festival.
If you want to visit – you must first reach Pier 57 (obviously) – and go to the south side near City Winery to access the rooftop park. The main entrance is from the south side of the pier that faces the water. When you reach the inside, go to the elevator or stairs to reach the roof.
View this post on Instagram
2. Rooftop farm on Staten Island
Nearly at the same time New York City's largest public rooftop park was opened, Mayor Adams opened a rooftop farm on Staten Island where organic food will be produced.
This unique rooftop vegetable garden spreads on an approximately 32,000-square-foot roof and besides organic vegetables – the roof is planted with perennial wildflowers. The main goal is to absorb millions of gallons of rain that falls on it in a typical year and decrease neighborhood flooding. The second and also very important role of the farm is the production of fresh vegetables that will be accessible to the local community.
New York City Department of Buildings Acting Commissioner Constadino 'Gus' Sirakis said that green rooftops are a "go-to tool to increase resiliency in flood-prone neighborhoods".
Anastasia Cole Plakias, co-founder, and chief impact officer, of Brooklyn Grange, said that they are thrilled to have partnered with the Nicotra Group and DEP on this innovative project.
Watch the opening ceremony of the park:
"Every new building in New York City should have a green roof as beautiful and productive as this one. Not only is this roof providing much-needed environmental benefits and climate resiliency to our city, but it's also a unique destination that supports economic opportunity and job creation on Staten Island.", concluded Anastasia Cole Plakias.
3. The High Line park above the streets in Manhattan
The High Line is one more public park in New York. It is built on a historic freight rail line elevated above the streets on Manhattan's West Side. The rail line was set for demolition but neighborhood residents and the City of New York saved it.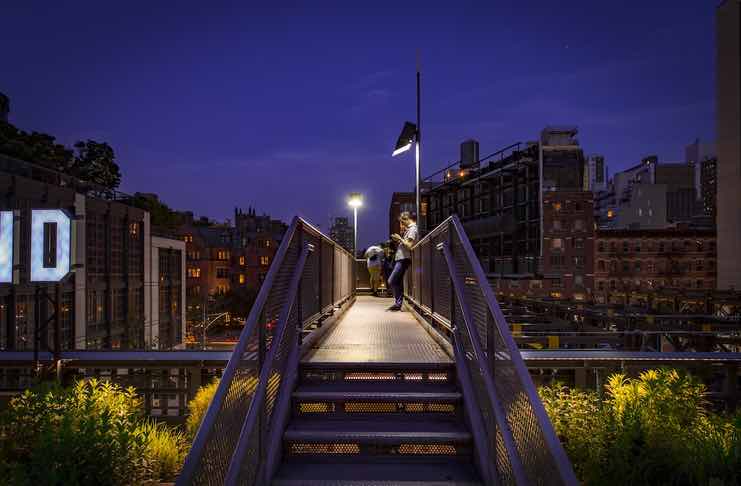 Today, the High Line is a hybrid public space where visitors can enjoy nature, art, and design.
The High Line is open daily from 7 am – 7 pm. In High Line park, you can even adopt an insect or a plant! You can adopt them for yourself or as a gift, and you or a recipient of your choice will receive a certificate of adoption via email.
This is a great gift for nature lovers since in that way you are helping the High Line and its tiniest residents thrive. The High Line is a non-profit organization committed to environmental sustainability and the organization is almost 100% funded through donations.
4. Lush greenery in the largest rooftop bar in NYC
Greenery is not reserved only for rooftop parks and farms in NYC. Many rooftop bars are proud of their beautiful rooftop gardens. One of them is 230 Fifth – the largest rooftop bar in New York City with 33000 sq ft of indoor and outdoor space.
The bar is open all year long. In the warm season, the guest can enjoy the lush green terraces and unique natural sculptures. In the winter, the rooftop bar is still open and the guests can enjoy hot cocktails in heated igloos.
View this post on Instagram
5. Rooftop aeroponic garden of the restaurant Bell, Book & Candle
The majority of the ingredients – stunning 60%- in the restaurant, Bell Book & Candle in Greenwich Village is produced on their rooftop aeroponic garden. This is why Washington Square News described this restaurant as green and sustainable – which is not easy at all.
According to the restaurant website – the whole menu revolves around local, organic, sustainable, and overall responsible supplies. The main chef is always thinking about seasonal plants that grow in the aeroponic rooftop garden, and the menu is adjusted accordingly.
View this post on Instagram
One of the interesting facts about the menu is that it is very simple and it offers a few refined main dishes, appetizers, and desserts. Nevertheless, the guests seem to enjoy the quality and simplicity.
"The food is simply incredible. Best baked oysters ever. Great service too! Very fairly priced!", and "Absolutely delicious. We had the short ribs and the hanger steak. Both were excellent.", these are some of the most recent reviews on their Facebook page.
Seems like a place worth visiting. And who knows, if you ask maybe they will show you their unique aeroponic garden. This is the method to grow plants without soil, and they excel in that.
6. New York's best-kept secret: discover Gallow Green
The rooftop bar Gallow Green at The McKittrick Hotel is often called New York's best-kept secret. The bar is romantically decorated in vintage and the natural ways are full of flowers and trellises where you can forget about the time and enjoy yourself with your friends.
View this post on Instagram
The whole place has the charm of an old country garden that was left unmaintained but it is surprisingly stunning and cozy. If you want to visit you must make a reservation. You can choose to enjoy live music performances or popular interactive theater performances from Sleep No More.
7. Kingsland Wildflowers and native pollinators
Kingsland Wildflowers is a 25,000-square-foot garden built to preserve native pollinators in Greenpoint Brooklyn's industrial zone. The green roof is open to the public during public events and by appointment Monday-Friday 10 am-5 pm. Since the place is popular – I recommend making reservations ahead of time.
View this post on Instagram
The park is a venue for The Kingsland Wildflowers Festival where residents are invited to explore the garden and enjoy music and dance performances from local artists. The Festival is trying to engage people from communities of all ages by hosting many family-friendly, all-age activities.
Wrapping up
Besides these stunning rooftop gardens, New York has also many hidden gems that you won't find in tourist brochures. You just have to dig a little deeper.
For example, if you are into history, you have to see Old City Hall Subway Station. It is one of the most beautiful and romantic stations but unfortunately, it is closed. But, if you are determined there is a way to visit it.
Here is how: take the 6 train downtown; stay on the train after the last station; when the train departs the station it will pass through the Old City Hall Subway Station and that is when you can get a glimpse of it.
We could write more about the endless possibilities that "the city that never sleeps" offers to its visitors but it would be much better if you would discover it yourself. If you have some great tips on hidden NYC gems – please tell us in the comments below.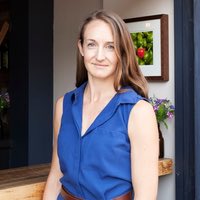 Annie is an avid nature lover from rural Australia. After some international adventures, she settled in New York City.