Searching for some must-visit places for book lovers in New York? You've reached the right place. Books are intricately tied to the places they are set in, with cities almost playing the role of additional 'characters' in many best-selling novels.
If you read Carloz Ruiz Zafón's
Shadow in the Wind series
, for instance, then you know that Barcelona's intricate streets, mysterious Gothic quarter, and Tibidabo hill are now the subject of literary tours for Zafón fans.
Like Barcelona, the Big Apple is also famed both for the cultural significance of many of its iconic buildings and streets, and the myriad of bookstores it is home to. On your next visit to the city of dreams, make sure to stop at
the following iconic spots
.
Legendary Bookshops
New York City is home to a host of shops selling classics and new releases alike. It is also an active, lively hub, with stores like the Astoria Bookshop hosting a
myriad of creative writing workshops
, talks by top authors, and story time sessions for kids.
If you'd love to
inspire your children to read more
, then signing them up for these sessions is a great way to get them excited about new releases and the possibility of meeting new friends. Lead by example, attending literary events and enriching your library and theirs.
Many children and older teens dream of meeting iconic authors like David Walliams, Alice Oseman, or Stephenie Meyer. Other iconic bookshops with reading material for older and younger readers alike are Poets House (which, as its name suggests, is heavily centered on poetry), the Greenlight Bookstore (which also hosts numerous events, readings, and author signings), and The Strand Bookstore (with over three floors of fabulous books).
Check out this clip to get a glimpse into the Poets House:
Legendary Libraries and Museums
During your visit, make the most of public libraries and museums that are literature-focused. The New York Public Library, ensconced by the well-known Patience and Fortitude lion statues, has enormous reading rooms where you can spend a whole afternoon perusing a host of books, photographs, and news archives.
The Library regularly hosts talks by renowned authors and art exhibitions, so you can satisfy quite a few interests with one visit. Equally recommendable is the Morgan Library and Museum, which is right by Grand Central Station.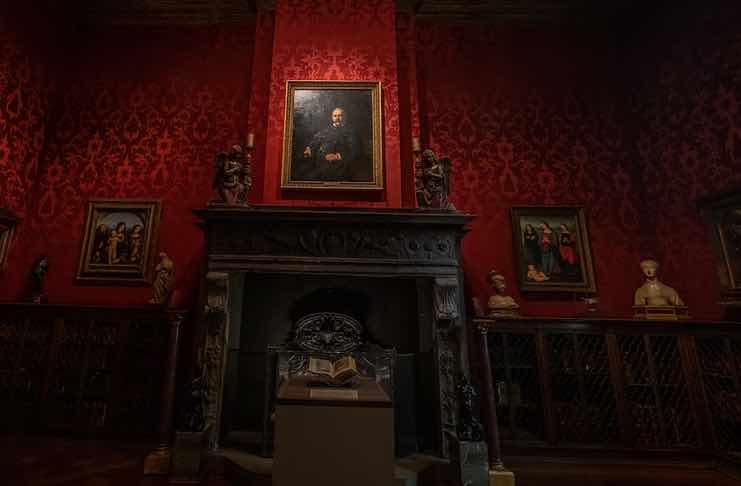 The Museum offers dedicated tours and hosts various activities and exhibitions. Until early October 2022,
you can view the exhibition
,
One Hundred Years of James Joyce's Ulysses
.
Meaningful Sites from Best-Selling Books
Depending on the books you love, make sure to draft a bucket list of sites to visit. For instance, if you are a Salinger fan and
The Catcher in the Rye
captivated your attention, you might want to wander to the spots visited by Holden Caulfield—including
The Museum of Natural History
.
To relive the glamour of The Great Gatsby, head to The Plaza Hotel—the backdrop against which Daisy leaves Gatsby in the lurch, siding with her conniving husband. Grand Central Terminal, meanwhile, is present in a plethora of books—including Edith Wharton's The House of Mirth, Fiona Davis' The Masterpiece, and Diane Duane's The Book of Night with Moon (Cats of Grand Central, #1).
Watch this scene from The Great Gatsby to see the Plaza Hotel:
When you are truly enraptured by a book, few things can seem quite as exciting as visiting some of the places it is set in. Grand Central Station, The New York Public Library, and the Morgan Library and Museum are just three places worth seeing in person. There are numerous bookstores whose event lists will inform you regarding workshops, talks, and other cultural events.