Are you planning a Philly weekend getaway? Looking for some insider tips and a fun itinerary? You've found the right place. Our entire team at offMetro.com loves the City of Brotherly Love and tends to visit it at least 3-4 times a year. In this post, we'll give you a few ideas on which you can build your weekend itinerary.
If you're into history and want to explore some of the most influential American history sites, Philadelphia is the place to visit. The city is known for its rich history. Philly was the center of the 1st and 2nd Continental Congresses during the American Revolution. Following the Revolution, Philadelphia was chosen as the country's temporary capital. This is where our nation's founding fathers wrote and signed the Declaration of Independence in 1776.
The city of brotherly love is mainly known for its delicious cheesesteaks and soft pretzels, the iconic Rocky stairs, Liberty Bell, the William Penn Statue, the massive Fairmont Park, as well as its beautiful murals that transformed the city into a unique outdoor art gallery.
What to pack for a Philly Weekend Getaway?
As for most short getaways, we always recommend packing smart. Here's a quick round-up of the essential stuff you'll need for your Philly weekend getaway:
A comfortable weekender backpack

Gadgets: cellphone, charger, laptop (if you need to work). Here's the perfect

tech survival kit

you should follow.

Toiletry: sunscreen, alcohol or sanitizer, a few face masks, toothpaste and toothbrush, medications (always bring Aspirin)

Comfortable shoes for walking (if in winter then also boots, and if in summer then a pair of sandals)

Comfortable pants and t-shirts (and long sleeves for the winter)

2-3 pairs of undergarments and socks, plus one nightwear

For winter getaways: a good waterproof jacket, scarf, one thermal long-sleeve, gloves, and a warm cap

Other essentials: sunglasses and a beach towel (if you plan to go on a beach).
Itinerary For Your Weekend Getaway in Philadelphia
With two days in Philly, you may not see all the beautiful attractions the city has to offer, but you can see some of its most iconic sites.
Here are my tips for your weekend getaway in Philly:
Day 1 in Philly
I love starting my getaway days early in the morning with a long walk or a bike ride. Luckily, Philly is super walkable and has lots of beautiful parks.
Race Street Pier or Rail Park
Go for a long walk or run along Race Street Pier, which has become a famous sporty pier for runners. You'll see ships sailing by on the Delaware river, families having lovely riverside picnics, and much more.
Another option for a fun morning walk is the Rail Park. This relatively new green space in Philly has old unused rail lines that were turned into a gorgeous public space. If you didn't have breakfast, go to Philly's Chinatown, just nearby, for an Asian-style morning meal.
Independence Hall
Following your morning walk and breakfast, start your history tour by visiting one of the most important sites in our nation's history, Independence Hall. Some call it "America's Birthplace," where the Declaration of Independence and our Constitution were signed.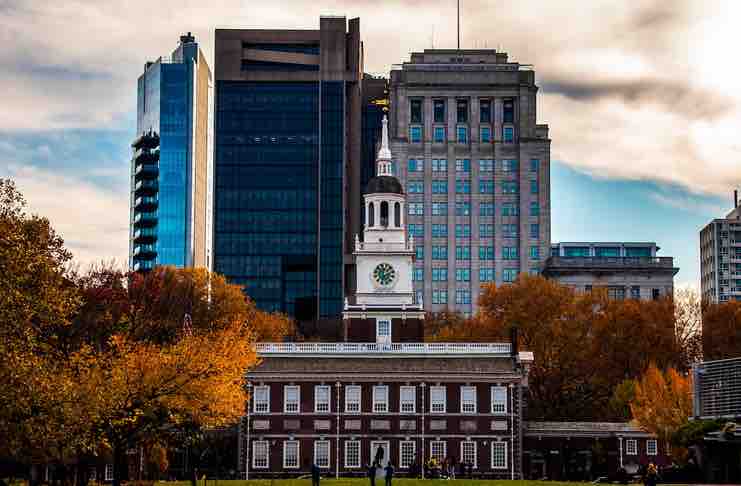 Betsey Ross House
For another history stop, visit the Betsey Ross House, where the Stars and Strips flag, our 'Old Glory,' was born. It was here where American upholsterer, Betsey Ross, made flags for over 50 years. One of these, the Stars and Stripes, was adopted by Congress as our official national flag.
Fireman's Hall
If you're up for another historical stop before lunch, visit the place where the first volunteer Fire company was born. Fireman's Hall was created by Benjamin Franklin back in 1736. It's a unique museum about firefighting, including helpful fire-safety tips and much more.
The LOVE Statue at LOVE Park
You've probably seen this statue a thousand times on Facebook, Instagram, or other social media platforms. LOVE Park is one of the most popular sites in Philly for taking photos, with the LOVE statue as the background. Head there for your evening stroll to end your 1st day in Philly on a beautiful note. There are also lots of food trucks and places to sit throughout the park, so you can easily have your dinner there.
If you prefer to go out to a nice restaurant – I recommend reading our mini guide to Philly's Northern Liberties Neighborhood – where we list some of our top favorite restaurants in the city. If you're looking for a good place to have a beer, later on, check out our list of the best breweries in Philadelphia.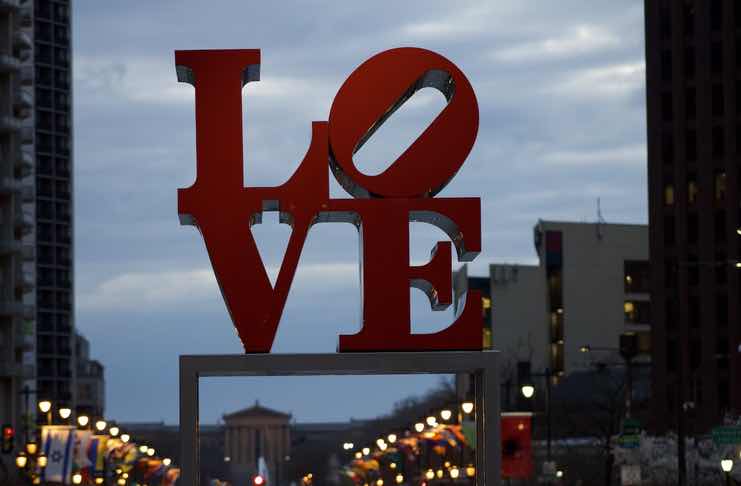 Day 2 in Philly
As in day 1, I recommend starting your day with a lovely walk, bike, or even a hike, but this time in Fairmount Park.
Fairmount Park
This fantastic park boasts more than 270 miles of beautiful trails, perfect for walking, biking, or hiking. But that's not all. Fairmount Park is connected with other Philly greeneries like the Schuykill Banks and Boardwalk – which was listed as one of the best riverwalks in the country.
Bartram's Garden
Along the Schuylkill River, you'll find America's first botanical garden – Bartram's Garden. This magical place covers more than 45 acres and includes lovely trails and historical buildings from the 17th and 18th centuries, like the Bartram family's stone house, named National Historic Landmark.
The President's House
A must-visit to start the history tour of your 2nd day in Philly is the location of America's first White House. Since Philly was once our capital, this house served as the first President House (or White House) from 1790 to 1800.
Weitzman National Museum of American Jewish History
Another interesting historic site I recommend is the Weitzman National Museum of American Jewish History. I love the "Only in America" gallery on the 1st floor, where you'll see Jewish Americans' challenges and unbelievable stories on their way to success.
Elfreth's Alley Museum
How about a visit to America's oldest inhabited residential street? Located in Philly's Old City, this enchanting cobblestone alley, also a National Historic Landmark, dates back to the 1700s. The 32 historic houses on the alley are adorable, and people still live there! Two houses function as a museum and gift shop.
Philadelphia's Magic Gardens
After lunch, I recommend a visit to Philadelphia's Magic Gardens. What's magical about this place? Well, it's made from handmade tiles, mirrors, bottles, bike wheels, and other unique artwork.
Rocky Stairs
Finish your Philly Weekend Getaway with a run up the iconic Rocky Stairs. We all know Rocky and its world-famous movie scene where he climbs up the stairs to the east entrance of the Philadelphia Museum of Art. It's another great video for your Instagram or TikTok memories.
Watch this clip from Rocky to see how it looks like:
Conclusion
Philadelphia has a lot to offer to any tourist, starting with its rich American History, beautiful parks, museums, and so much more. I hope these tips will make your Philly weekend getaway a memorable one!
Karen works for a big hedge fund, she's awesome with numbers and loves what she does, but above all – she loves traveling. Whenever she's on the road, she tries to get into the gritty tiny details of every location she explores.