As a Jewish person visiting or living in New York, or if you're just interested in Jewish history, one of the must-see attractions is undoubtedly the Jewish Museum in New York, which sits on 1109 fifth avenue, alongside Museum Mile.
In order to get to grips with the Jewish roots and learn more about the religion and it's ancient history, a museum like this is perfect, both for its intriguing exhibits and fascinating insights into the past. It is, in many ways, a snapshot of Jewish history. A portal into events which took place hundreds of years ago, shaping the religion into what it has become today.
Watch this clip to get a glimpse into the Jewish Museum in New York:
As with every museum, however, it can be a little difficult to seek out and take in every single exhibit, especially on a typically busy New York day. This museum has nearly 30,000 objects which span back 4000 years, so you're forgiven if you need to visit twice (or as many times you need to see everything). If that is not possible, however, then below are five exhibits that you absolutely must see before you walk out of the door:
Tiered Seder Set
During the first night of Passover, Jews around the world hold a service named seder, which includes symbolic foods to tell the story of the Exodus and how the Israelites escaped to the promised land. A seder set is something that is widely used for modern celebration, which makes this tiered seder set exhibit a fascinating and beautiful glimpse into celebrations of the past.
Dated around the eighteenth century, this unique set is quite different to any of the other eighteenth or nineteenth seder sets that have been uncovered. It is beautifully designed, with lions carved into the silverwork, each one holding cartouches which bear the blessings to be recited over the food. It is quite unlike anything you would have seen before and well worth a look.
Watch this video of Poet Douglas Ridloff talking about Seder art in the Museum:
Marc Chagall's "Old Man With Beard"
There are many artworks to gaze over in this museum, but none are quite as moving as Marc Chagall's piece "Old Man With Beard". This depicts the figure of a Jew standing in the snow just outside a Russian village.
It is a timeless image, rendered with modernist and folklore elements that only add to the intricacy and strangeness of the piece itself. Chagall's works, as a Jewish artist, are something you have to see in the flesh to fully appreciate, which is why this painting should definitely be on your list in the museum.
Thomas Sully's "Sally Etting"
Another painting, but this one is just as remarkable as the last. Created in 1808, this portrait of Sally Etting shows just a fraction of Sully's work in recording and highlighting the small Jewish population in America at the time. During his life, he created a number of Jewish portraits, all of which give a fascinating snapshot into the Jewish side of post-revolution life.
Sabbath Festival Lamp
Going right back to the 14th century, this star-shaped hanging lamp is a characteristic, Gothic piece of metalwork that would have been used for rituals such as the Sabbath and Havdalah. It's small and simple but perfect for anyone who enjoys exhibits that delve further back and present a look into more ancient rituals and ways of life.
Harley Swedeler's "Mezuzah In Case"
For modern Jews acquiring a household mezuzah, the norm is to utilize online merchants such as the Nadav Art site to pick out a design and secure the case. For Harley Swedeler, however, he was not only content to handcraft his own but make it into a complete work of art.
In his mezuzah, you will find words such as "obligation" and "covenant" inscribed into the glass, with the form of the piece and the seven bronze ribs reflecting the spiritualism of the text and the binding of its protection to the Jewish door.
For more info you can follow the Jewish Museum in New York on their Instagram.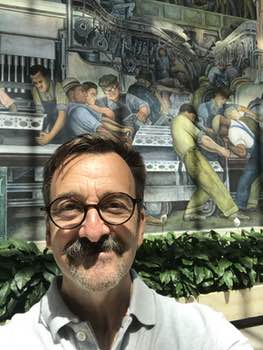 "The Jaded Traveler". Ron Rossi was born and raised in New York. A globalist at heart, Ron is a marketing director by trade, and has lived and worked around the world including Asia, Europe, Africa, and South America. Food is one of the best ways to learn about a country, a people and a culture. So, Ron is always looking for the best in mid-range to budget and street food. He is always on the hunt for a good meal anyone can afford. It is the food of the average citizen that excites him. And with having visited close to 100 countries on 6 continents so far, there have been some pretty good meals.