Disclaimer: I'm an introvert who jumps at loud noises, about to join my first-ever margarita-making class, to enjoy my first-ever margarita. But let's back up and explore the scene of Margaritaville Resort Times Square, the restaurant.
Margaritaville Resort Times Square: The Restaurant
You can look for prices online, but you won't find them. Other than that, there is little to no mystery in the dining experience. Strobe lights and Margaritaville music appear on the hour, sparkling over a towering top half of the Statue of Liberty.
Everyone is wearing tropical-colored shirts. The tables are laminate and the glasses are plastic. It has the air of a family-friendly vacation, minus the fact that it is pouring rain outside and we're in the heart of what equates to a New Yorker's worst nightmare – Times Square.
The Entrees
The ahi tuna tartare is served with crispy chips so brittle, they shatter under the weight of the tuna. It's fun but messy; you're probably better off intentionally breaking the chips and sprinkling them on the tartare like a garnish.
The tuna itself is supple and well flavored, with hints of soy and sesame punctured by lime. The guacamole, too, is perfectly fine (at the time of this writing, we have yet to be affected by The Great Avocado Shortage of 2022).
The entrees are vastly different. The "wagyu" stir fry is below mediocre, with slices of beef that, while tender, could never truly be considered like wagyu of the Japanese variety. To be fair, it is very ambiguous on the menu, offering no quality confirmations. The sauce, however, is irreparably salty, saved not even by the otherwise delightful and crispy deep-fried yucca.
The fish tacos are not worlds apart, but galaxies. The perfectly charred tortilla, the mild heat from the habanero crema, more of that guacamole I can't complain about. The fish is well-fried, toeing the line of crispy and crunchy, not too oily, and the fish is pleasantly meaty in texture.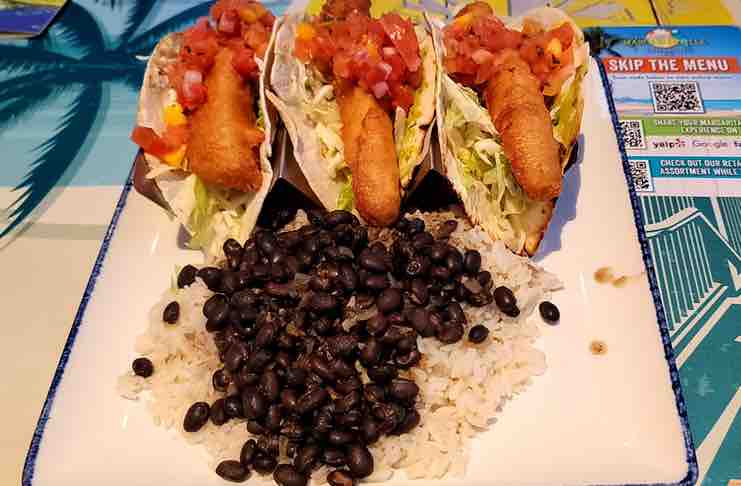 The whole taco is then topped with a generous portion of mango pico de gallo, which is lovely and tropical and cuts the grease to the point where you almost believe this is healthy – it's not; every dish has a calorie count and this one is up there.
We round out the meal with made-from-scratch key lime pie. Simple and tart, it brings back fond memories of Florida's Publix grocer, which has a well-deserved cult following. The crust is warm and buttery and toothsome enough to hold its own against the tidal wave of creamy lime filling. It is the only moment where I feel, albeit temporarily, transported.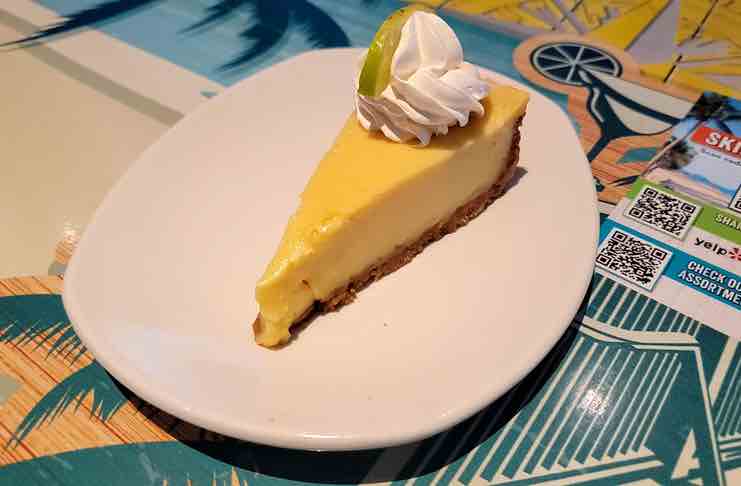 The Class
We head to the 32nd floor of the Margaritaville Resort, to a bar called 5 o'Clock Somewhere. It is a dark and stormy night, and although I suspect that the views are typically a draw for patrons, right now you can't see further than the balcony outside.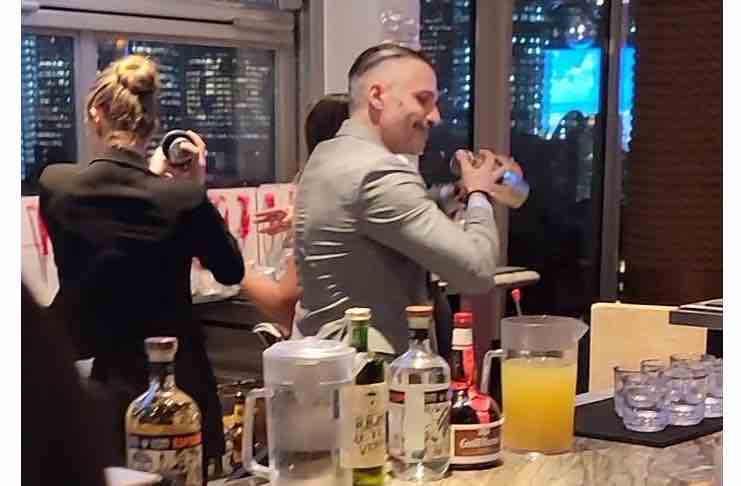 The Margarita Making Class offers two different beverages but little to no hands-on instruction. Instead, there is a charismatic Frenchman explaining the history of margaritas and touting Grand Marnier. Another info session follows, this time about the Espolòn tequila – it is made with hand-harvested 100% Blue Weber Agave.
Both special guests do their best to engage the audience, but the class would have been significantly more captivating with increased interaction.
I am constantly jostled by extremely tall, well-dressed New Yorkers who are loudly talking, laughing, and taking pictures or recording videos. There is no time or space to develop a rapport with or even properly listen to, either of the speakers.
The two included drinks are a black salt margarita and a Grand margarita. Each has its own appeal but both are strong and alcohol forward. The former is citrusy and peppery with a strong aftertaste and is made with the unaged blanco tequila.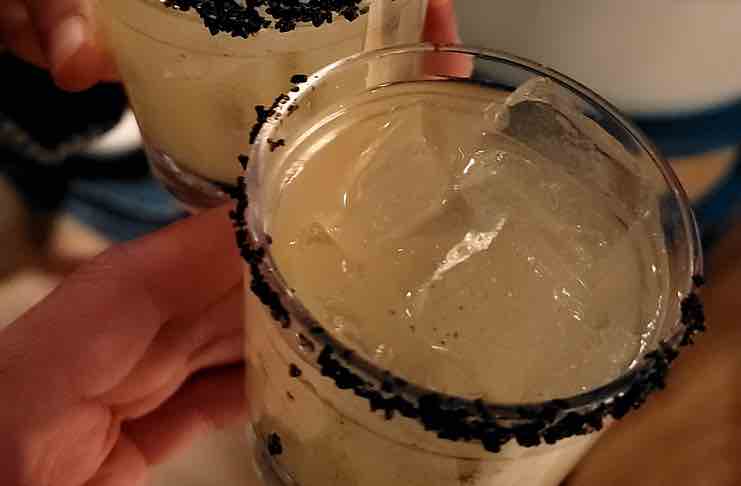 The latter has notes of caramel and warm spice, utilizing Grand Marnier as a modifier and an aged reposado tequila. It is my favorite of the two.
I walk away from the class with slightly more knowledge than I had to begin with but can't completely shake the feeling of missing out, despite quite literally being present. The drinks were fine, but alcohol is only as good as the company, which was distinctly lacking in intimacy.
Most people were clearly only there to receive their two included drinks, snap several obligatory selfies, and leave. I can't blame them – as soon as we are done with the last margarita, we take one last photo and head for the elevator.
The Hotel
The hotel room, while hewn from a different aesthetic than a Courtyard Marriot, offers a standard assortment of amenities. We are in Times Square, after all, and assuming the rooms would be spacious is foolish.
Nonetheless, it is bright, clean, and has a working thermostat. We make the mistake of pressing a "service" button out of sheer curiosity, only to come back an hour later and find that the room has indeed been tidied with fresh towels and the curtains drawn.
The water pressure is manageable and the soap isn't horribly drying (always a plus). The bed is comfortable, although most beds are wont to be after a full day of working on one's feet.
Compared to the restaurant and bar, the room is positively serene, swathed in off-white and true blue. A tropical oasis? Not quite. But a properly cleaned room with a working television gets the job done, and I sleep like a baby.
Overall Thoughts
Was it mildly fun? Yes. Did I vaguely learn something? Yes. Would I pay to do it again? Probably not. Please remember, I am a person who loves neither large crowds nor most alcoholic beverages, and take this review with a grain of salt.
The hospitality at Margaritaville is perfectly fine, as are most of the food and beverage options. When you are in Manhattan, however, I can't help but feel like you can – and should – do better than "fine." Even if you're in Times Square.
Three Best Bites
The first bite of the fish taco.

The second bite of the fish taco.

The key lime pie.
Want to read more of our latest posts? check out our review of The Ear Inn in NYC.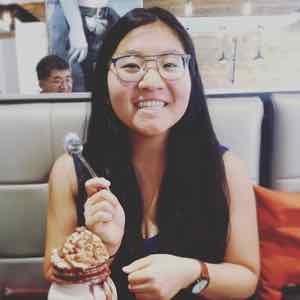 Katherine Chin was raised in upstate New York and grew up with the mindset that good food can, and does, exist anywhere. Now living and working around Manhattan, she spends most of her breakfasts pondering what she'll eat for dinner. She advocates for food that tastes good, and believes that sharing is caring – the best food is often eaten together. You can find her either walking or eating anywhere in Manhattan, when she's not planning her next food-centric adventure.