Empire State Building, Statue of Liberty, and Tavern on the Green.
The must-see of any visit to NYC.
Tavern on the Green was built in the 1880s to house the seven hundred Southdown sheep that grazed in Central Park's Sheep Meadow.
One of my often-frequented spots during many NY summers.
Tavern on the Green: How Did It Start?
It became a restaurant in 1934, by Robert Moses during his park renovations.
Iconic NY spot and star of many NY film sites.
Sadly, the news that Tavern on the Green would close in 2009 came as a shock but that is what happens.
Best NY story is when one of our iconic establishments is saved. Enter Jim Caiola and David Salama, previously of Philadelphia, came to the rescue it in 2013 and reopened Tavern on the Green in April 2014.
Historical Tavern on the Green in Central Park is the place you must go to when visiting NYC.
The grounds are stunning and even after the renovation preserved that historical feel.
The Beauty Tavern on the Green are the three indoor and three outdoor spaces with views of Central Park and/or the New York City skyline everywhere you look.
Such a recognized star when reliving my favorite movie locations.
NYC has been on the supporting cast of numerous movies and Tavern has been right there.
Coming to America best scene ever featuring the Duke Brothers from Trading Places.
A few other of my favorite movies featuring Tavern on the Green are great for playing what scene was Tavern on the Green and in what movie.
An Unmarried Woman, It's My Turn, Arthur, Ghostbusters, Heartburn, Mr. Popper's Penguins to name a few.
Visiting The Tavern During Restaurant Week
This cold wintery evening we received an invite to a tasting.
Restaurant Week in NY is always exciting and gives everyone a taste of what restaurants have to offer with an attractive price that otherwise may be quite costly.
Tavern on the Green – WINTER RESTAURANT WEEK 1/18 – 2/13
Three-Course Menu
Monday to Friday
Lunch $39
11am – 4pm
Dinner $59
5pm to 9pm
We tried the Lobster Bisque fritter and More…
We also had the Beef Cheek Bourguignonne with potato puree and root vegetables.
Finishing the meal with Chocolate Crème Brulé with chocolate pearls.
The best part of the lobster bisque was the fritters. How genius and delicious.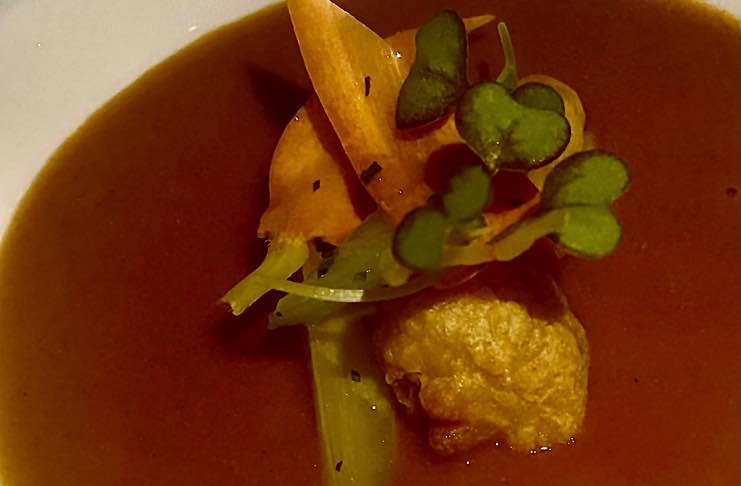 The presentation of the Beef Cheek Bourguignonne was lovely. I am partial to Potato puree, and this was one of the best. I know, it is such a simple dish yet not always executed well.
Lovely root vegetables rounded out the dish. I craved more sauce.
Crème Brulé is always our pick. As I missed traditional Crème Brulé this chocolate Brulé with chocolate pearls was a surprise.
Mike ate it all.
After years of attending many wish list restaurants during Restaurant Week I now always ask what their best dish is. I am writing a review for all to see. My goal is always to spread the word featuring the chef's best dish and help these restaurants that so generously invite me to come in.
So, the best thing on this menu is the Short Ribs.
CHARDONNAY BRAISED SHORT RIB OF BEEF
Aligot Cheesy Potatoes, Grilled King Oyster Mushrooms
There are meals that take you to a place of joy.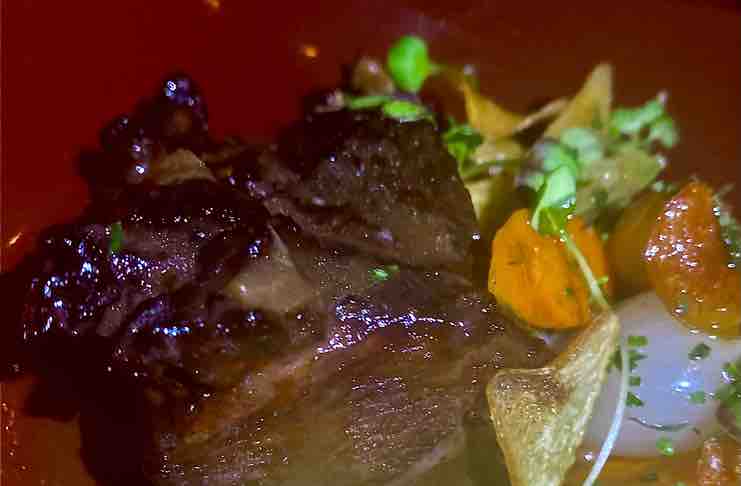 These short ribs were quite possibly the perfect dish.
Every bite was better than the last. Braised in a lovely chardonnay created the amazing sauce that gets into the plate licking category. My love for whipped potatoes is well known. Add Aligot cheese and you made potato heaven. Now throw in some grilled king oyster mushrooms and you have made the perfect dish.
Tavern on the Green should be on your wish list. Have a drink at this beautiful bar or have a meal.
Take in the gorgeous décor and lovely hospitality.
Relive your favorite NY based movie and fall in love with Central Park and Tavern on the Green.
Be in your own movie and have the short ribs.
Check out their website.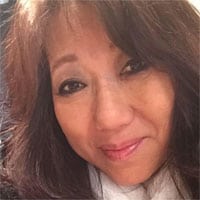 Living and loving in NYC, food has been a passion of hers. East Coast to West, Faith's goal is to explore and learn with the contribution of other like-minded foodies. Faith Rein has written for 2Girlsfromabar@blogspot.com. Youtube channel – faith.rein, love food love faith. You can find her @: Faith.rein/facebook (always looking to add friends) / faith rein@twitter / faith.rein@instagram /